Managing Clients in Custody X Change
In Custody X Change, you can store information for an unlimited number of clients, plus collaborate with those clients.
Adding a client
To add a client, click the "new client" button and enter their name.
After clicking "next":
If this is your first client, you're done creating them.
If this is an additional client, you'll be asked whether you want to use an existing client's calendars and parenting plans...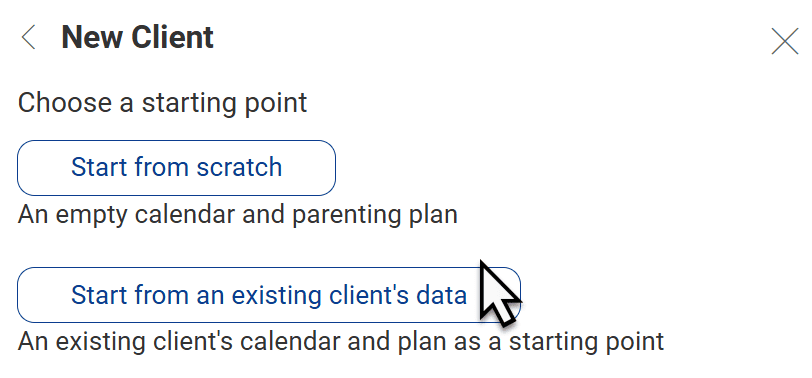 ...and if so, whose.
Now your client has been created in Custody X Change. The app brings you to their settings page, where you can input their information and assign them an icon (man, woman, or first initial) along with a color for calendars.
To see your colleague's clients so you can work on those accounts as well, create a professional group.
Renaming, archiving or deleting a client
To update a client, select their name in your client list.
You can change the client's name by using the "rename" button.
You can click "archive" for a client you're no longer working with actively. This removes them from the initial list of clients you see, but it does not delete their information.
You can permanently remove the client by using the red "delete" button.
If you're an admin in a professional group, you'll also see a button for assigning the client to a different group member.

Navigating between clients
The first time you sign in to a professional account, you'll add your clients (explained above).
The next time you sign in, you'll be taken to the calendar of the last client you worked on.
To switch clients, click the current client's name at the far left of the blue navigation bar. This will take you to your client list, from which you can select a different client.
Once you select a client, clicking any button in the blue navigation bar will pull up information specific to that client.
Sharing with a client
When you and your client link your Custody X Change accounts, you can collaborate in real time.
"Sharing" sends your client an invitation to link accounts. Clients can also initiate sharing.
To share, select your client's name from your client list. (If you need to add the client first, see above.) Then, on the left side of the page (or at the top if you're on a phone), click the blue "share" button that appears.

Type in your client's information, and hit "send invitation."
When the client accepts your invite, your two accounts will be linked, and you'll see "shared" next to their name.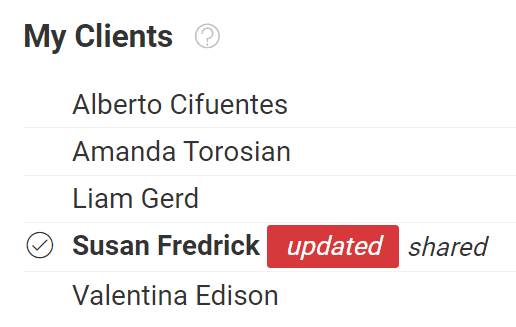 A red "updated" icon will appear next to a linked client's name when the client — or an account linked to theirs — updates their:
Calendar
Child info
Activities
Messages
Expenses
To see what was updated, click the client's name, then the bell icon at the top right of the app. You'll also receive notifications by email. Adjust your notifications settings to receive push notifications on your devices or to opt out of email updates.
To unshare, click the client's name in your client list. Then hit "unshare" on the left side of the page (or at the top of the page if you're on a phone).

Updating a client's settings
To update settings specific to one client — such as their case number, location and co-parent's name — first select them from your client list.
Next, click the person icon at the top right of your screen, then "client settings."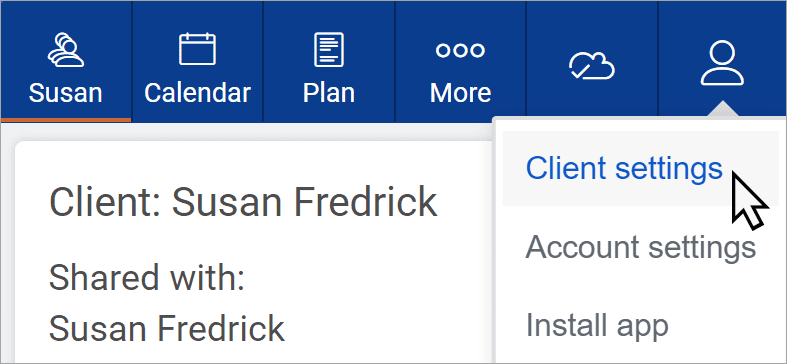 There, you'll see a list of settings you can adjust by clicking "edit."