Selecting Parenting Plan Provisions
Custody X Change walks you through popular parenting plan provisions so you get a plan that's tailored to your family and meets court standards.
Before you begin, check if your location requires or prefers certain provisions, and talk to a lawyer if you have questions about your specific situation.
When you're ready to start making selections, click the "parenting plan" tab.
More than 25 provision categories will appear. Go through them one by one and choose the terms you want to include in your plan. You may want to do this with the other parent, your mediator or your lawyer.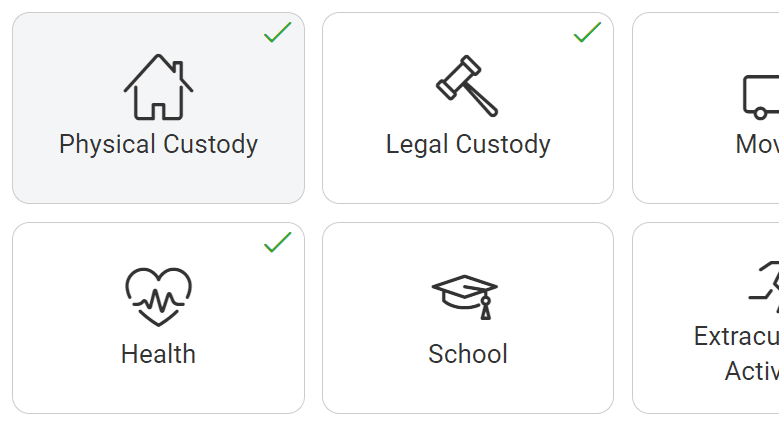 Don't rush through the process; take time to think about every situation that could arise before your child becomes an adult. This often takes more than one sitting. You may even want to create multiple drafts to compare or to present to the other parent.
It's especially important you avoid the temptation to skip over categories that don't immediately strike you as relevant. They may contain key provisions you haven't considered.
Categories in which you don't make selections will not appear in your plan. Categories in which you have made selections display green check marks (as shown above). This tells you they've been added to your plan.
Tips for selecting provisions
Hit "save" at the bottom of each category page to keep your selections.
Hit "delete" at the bottom of a category to clear all of your selections.
If the title of a category doesn't make sense for you situation, change it. Titles appear in your plan as subheadings.
When you're unsure if a provision is necessary, err on the side of caution and include it. You'll be glad to have a clear approach instead of a dispute. If the terms don't work in the future, you can modify your plan.
Skip over any provisions that aren't relevant to your family. Making one selection within a category doesn't require you to fill out the rest of the category.
When you have concerns that aren't addressed by the provisions in the app, add custom provisions (more information below).
To see how your selections appear in the plan, head to print preview. If you're not happy with what you see, you have several options for editing your plan.
Key provisions
What's key to your family will differ from what's key to the next family. Nonetheless, the provisions below are generally considered important components of a parenting plan. You should at least consider them while making your plan.
For more ideas, take a look at other common parenting provisions.
From the physical custody category:
Physical custody: Select whether the parents will share joint physical custody or one will have sole physical custody and be designated the custodial parent. This is a required element in any parenting plan.
From the legal custody category:
Legal custody: Select whether the parents will share joint legal custody or one parent will have sole legal custody. This is another required element of a plan.
Failure to reach agreement: You can check a box here to stipulate that the parents must work with a counselor or mediator if they cannot reach a mutual decision required by the plan. Some courts won't approve a plan without this provision.
From the moving category:
Moving restrictions for the child: In this section, you can check a box to prevent parents from moving the child's residence outside of a particular area. Type in the city, school zone or other area that applies in your situation.
Notification of proposed move: Set whether parents must notify each other when they plan to move the child's residence. You can also set deadlines for giving notice and for objecting to the move.
From the exchanges category:
Exchange location: Determine where parents will exchange the child. If you will use the parents' homes, it's usually smart to have the parent who is starting their time pick the child up. This often leads to more punctual exchanges than relying on the other parent.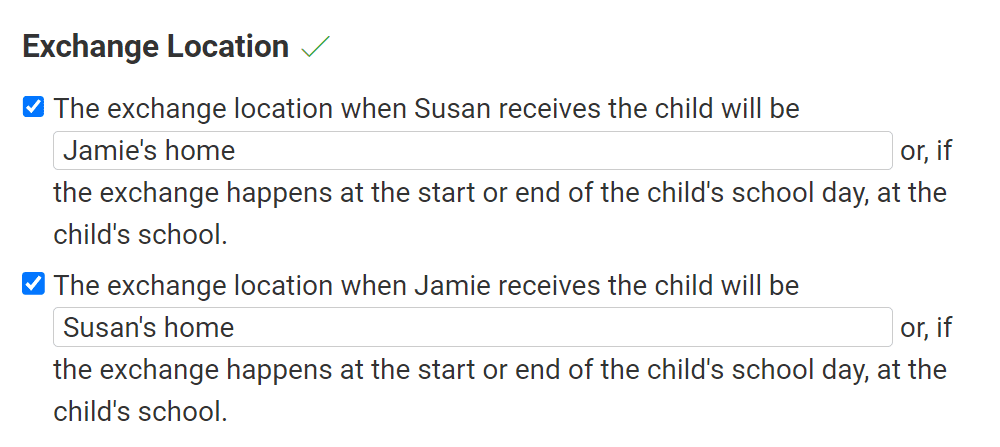 From the changes to parenting time category:
Notification: Choose how many days of notice a parent must give when requesting a temporary change to the schedule.
Makeup time: Should a parent be guaranteed a minimum amount of time with the child each month?
From the health category:
Child's health conditions: You have space to enter health conditions specific to your child so that each parent must follow medical advice about those conditions.
Sharing health treatment information: You can choose how soon parents have to notify each other of health procedures the child undergoes.
From the school category:
School enrollment and attendance: You can check a box here to require each parent to notify the other as soon as possible if the child will arrive late to school, leave early or miss school entirely.
From the out-of-area travel category:
Permitted destinations: If a parent must have written permission from the other to take the child to out of a region, fill in that region here. It might be your city, country, etc.
From the communication between parents category:
Limits on contact: Specify the times during which parents can contact one another (outside of emergencies), and how many times they may get in contact within a 24 hour period.
Response time: Here, you can choose how many days a parent has to respond to questions and requests from the other.

From the expenses and money category:
Health care: Courts in the U.S. often require information on which parent will pay for health insurance and if/how parents will split uncovered medical expenses. Indicate your selections here.

From the child support category:
Child support: Define which parent will pay child support, how much and how often. You may be required to follow your location's child support formula.
From the future revisions category:
Changes to parenting plan: Select whether parents will have to put minor changes to the plan in writing when they agree on them.
Custom provisions
At the bottom of each category, you'll find blank provisions. Use these to add clauses specific to your situation. Or if a provision suggested by the app doesn't meet your needs perfectly, paste the text here and change it accordingly.
You can add as many custom provisions as you need. Just click on the most appropriate category, and scroll to the custom provision section. Enter your first provision — in language that's specific yet applicable to all possible situations. Another blank provision will appear automatically.
Hit "save" when you're done adding provisions for that category.