Linking Custody X Change Accounts
Setting up linked Custody X Change accounts allows you to share custody information instantly and automatically with whomever you choose — your child, the other parent, your attorney or others.
Any account linked to yours, including a free edition, can see changes to your calendar in real time, plus make changes to your activities. This is great for coordinating with older children.
If the other parent opens a paid account, linking it enables him or her to make changes to your calendar and shared expenses tracker. This can simplify co-parenting and keep everyone organized.
A linked professional account can also make those changes, as well as view and edit your parenting plan, actual parenting time tracker and custody journal. This way your attorney has access to nearly all of your account to guide you and remain informed.
Find details on how to link accounts below.
If you want to share your Custody X Change documents without linking an account, review all the options for sharing your calendar and ways to share your parenting plan.
Linking accounts
You'll land in your account settings page. Scroll down to the linked accounts section, and click where it says "edit."

Select the "share" button from the appropriate column, based on whether you're linking a free, paid or professional account.

Type in the other person's information, and send your invitation.
When they accept your invite, the two accounts will be automatically linked. They can also initiate the process, if they already have a Custody X Change account.
Unlinking accounts
To manage your linked accounts at any time, follow Steps 1 and 2 above.
Toward the bottom of the next page, find the name of the person you no longer want to link with. Click "unshare."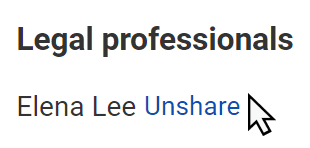 If your invitation to link accounts is still waiting, click "cancel" instead.
Adjusting notifications
You automatically get an alert inside the app when a linked account makes a change to your calendar, activities or shared expenses. Alerts appear under the bell icon at the top right of your screen.
Adjust your notifications settings to stay informed of changes without opening the app — by email or push notification.
Since your parenting plan, actual time tracker and custody journal are accessible only to you and your linked professional, these features don't have alerts. If you've linked with your attorney, ask them to notify you when updating these items.