Changing Your Activities Settings
Your activities center is where you enter events that don't affect who has custody or visitation. It's a place for tracking where you need to be and when you need to be there.
Once you know how to enter and edit activities, personalize your settings to get the most out of this tool. You can change what appears in your activities center, who has access to it, and how you're reminded of upcoming events.
See below for details on adjusting each of your activities settings.
Viewing calendars
If you have multiple custody calendars, you can choose which ones display in your activities center.
You may want to see information from all your calendars; you may want to exclude information from calendars you're using as drafts; you may want to display details from one calendar now and another later. It's entirely up to you.
Each activity is connected to a calendar, so viewing or hiding a calendar will view or hide its associated activities. The calendars you select also determine the exchanges you see.
To choose which calendars display:
Click the gear icon at the top right of the screen.

A list of your calendars will open. Calendars set to appear in your activities center have check marks to the left of their names.

To select or deselect a calendar, click its name. You'll see its content appear or disappear in the activities center instantly.
You may change the color assigned to each calendar so that you can tell which activities belong to which calendar. Just click "change colors" beneath the list of calendar names, check off the colors you want, and hit "save."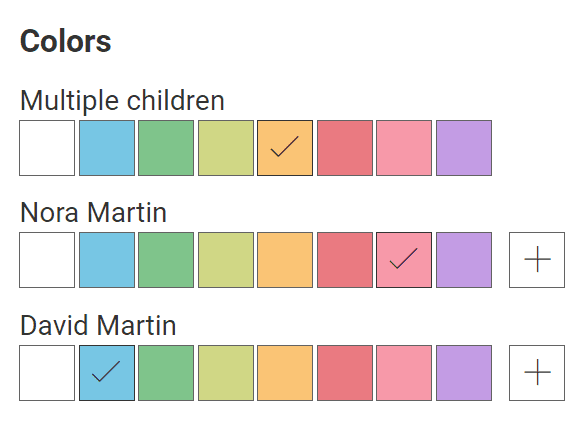 Note that if you have only one calendar selected, the activities center is shaded with a parent's assigned color whenever they have custody time. (You can assign each parent a color in your account settings.) If you have more than one calendar selected, this shading goes away.
Choosing which exchanges to show
If your custody schedule uses third-party time, some exchanges don't involve you: when the other parent hands the child off to the third-party caretaker or vice versa.
To elect not to see those exchanges in your activities center:
Click the activities tab, then the gear icon at the top right of the screen.
If you don't use third-party time, there's no difference between "show all exchanges" and "show my exchanges." As long as at least one is checked, you'll see every planned transfer.
To remove all exchanges from the activities center, uncheck both boxes. Now your activities will appear without any exchanges alongside them.
Linking accounts
To let another Custody X Change subscriber view and edit your activities, link accounts by visiting your account settings.
This is great for coordinating with the other parent or older children.
Setting up notifications
Custody X Change automatically notifies you inside the app when a linked account edits your activities (under the bell icon at the top right of your screen).
To receive notifications outside the app — about revisions by a linked account, as well as upcoming activities and exchanges — adjust your notifications settings. You can also set notifications when you enter an activity into Custody X Change.