How to Make Your Parenting Plan or Agreement
Your parenting plan or custody agreement outlines how you and the other parent will continue to care and provide for your children after you separate. An effective plan is personalized to fit the needs of your family situation and contains the following information.
Custody X Change is software that creates professional parenting plan documents and parenting time schedules.
Parenting time schedule
Your parenting time schedule shows when your child is with each parent. Your schedule should include the daily living schedule, holidays and vacation time. Consider the physical, emotional and social needs of your child as you make your schedule.
Your plan must describe your schedule very clearly in legal terms.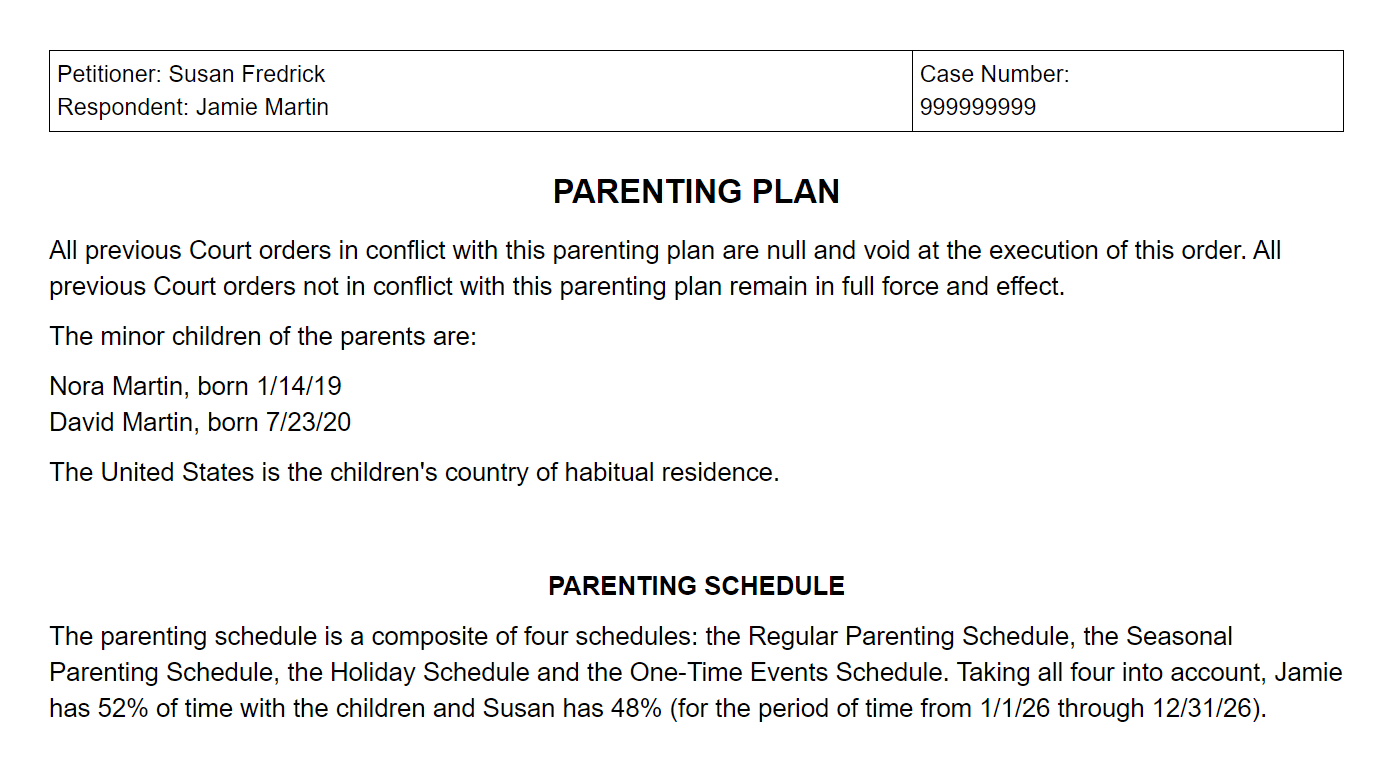 You can also make a calendar to show visually when the children will be with each parent.
Legal custody
Your plan must designate if one parent has sole legal custody or if parents share joint legal custody. This determines who has the authority to make decisions for and about your children. You can also specify if one or both of the parents will have access to a child's school or medical records.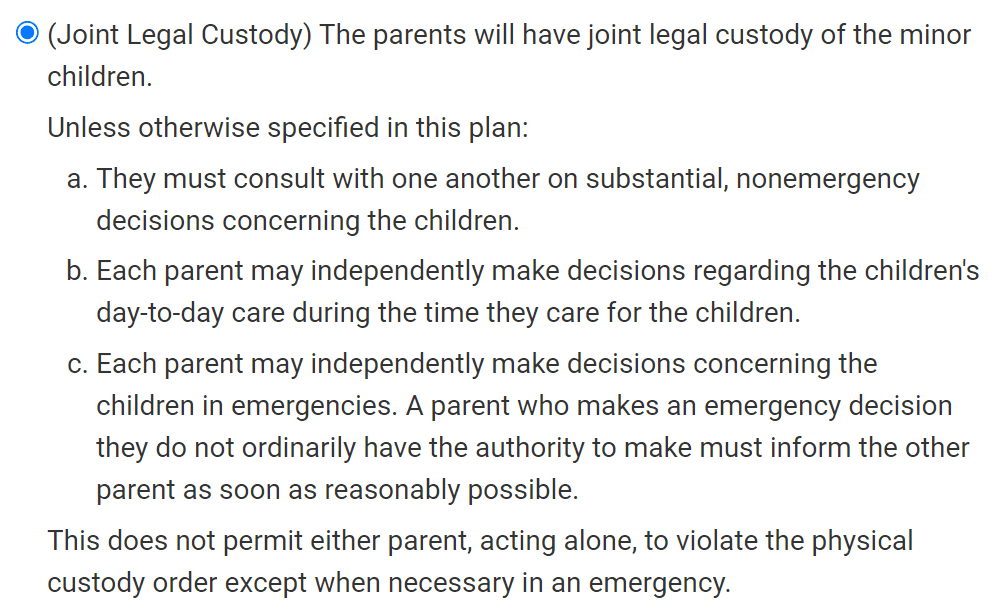 Medical and health care
Your plan should contain medical and health care information that explains how the parents will pay for medical and dental costs and how the parents will provide medical insurance for the children.
Your plan can also include information about how the parents will choose health providers for the children, who is responsible for making health appointments, and who will take care of a sick child who needs to stay home.
Education and extracurricular activities
The education information in your plan includes where your child will attend school, how the parents will choose the child's school, who pays for school expenses, and who attends parent-teacher conferences and school open houses.
You can also have information about how the parents decide on extracurricular activities for the child, who attends the activities, and who pays for them.

Exchanges
Information about exchanges in your plan help your schedule run smoothly. You need to decide where exchanges take place and who drives the children for exchanges.
Your plan can also explain how the parents will communicate about schedule changes and rescheduling parenting time.
Parenting guidelines
Parenting guidelines are rules in the parenting plan that both parents agree to follow as they raise the children. You can have guidelines about discipline, food and diet, bedtime routines, tobacco and alcohol use around the children, etc.
You can also have rules about who is able to live in the household when a parent has the child.
Child and parent relationships
Your plan can protect your child's relationships with both parents. You can include information about telephone and video calls and other communication between the child and the parents.
You can also specify that each parent will encourage the child to have a good relationship with the other parent, that neither parent will speak negative comments about the other parent in front of the child, and that the parents will not use the child as a messenger.

Child care
Your plan can explain where your child goes for child care when the parents work, how the parents will decide on child care for the child, and who will pay for child care.
You can also include the right of first option, which says that if a parent isn't available for scheduled parenting time, the other parent is offered the time first.

Parent communication
The information in your plan about parent communication should include how the parents will communicate and what issues they will communicate about. You should also describe how the parents will resolve disputes and make changes to the plan.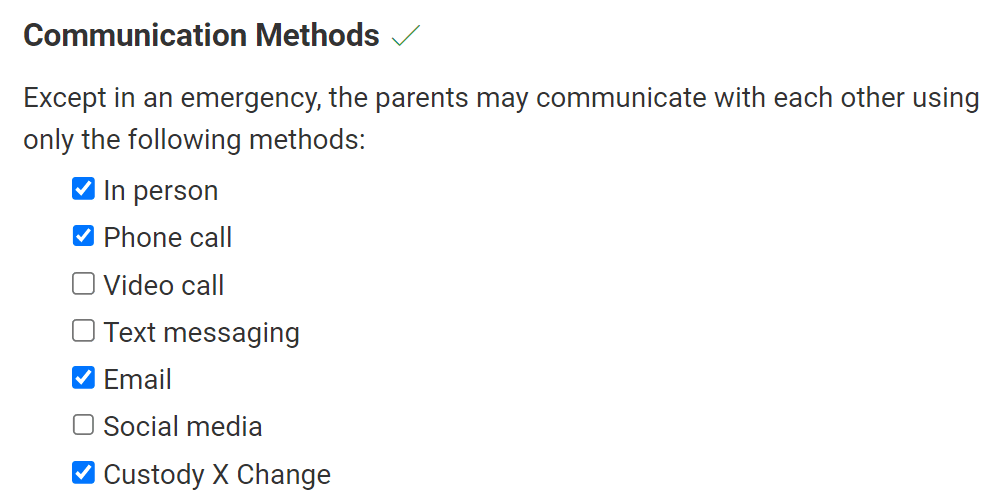 Your plan can also say that the parents will have updated contact information for each other.
Traveling and relocating with the child
Your plan can say how much vacation time each parent has with the child each year and include provisions about traveling and relocating with the child.
Travel provisions could include requirements about obtaining and using a passport for the child, providing an itinerary to the other parent when traveling with the child, and/or having a parent give notification when traveling with the child.
Relocating provisions can include that a parent cannot move the child out of a city or county and that notice must be given if a parent is moving a child.
Revising the plan
Your plan must contain information about how you and the other parent will revise the plan as it becomes necessary. You can have a process for reviewing the plan and making revisions, have information about how a parent can suggest changes to the plan, and have a way for the parents to resolve disagreements about revisions to the plan.

Child support and financial information
Your plan can include your child support information, specify which parent will claim the child as a dependent for taxes, and describe how parents will handle reimbursement when one parent pays for something that both parents are responsible for.
Special needs of the child
You can include provisions in your plan to address any special considerations for your child or your family situation.
Considerations when making your parenting plan
Here are some things to consider as you make your custody plan:
The childcare responsibilities that each parent has had before the separation.
The involvement of each parent in the child's recreational and extracurricular activities.
The individual needs of your child and the important issues for each of your children.
The strengths of each parent.
How the parents want to share parenting responsibilities.
Your children's relationships with each other and if your children need individual time with each parent.
Your children's preferences.
How you and the other parent will put your children's needs above your own.
How you and the other parent will protect your children from conflict and disagreements between the parents.
How you will tell your children the details of your parenting plan.
Your should also remember that:
Get help with your parenting plan or agreement
Creating a parenting plan on your own can feel overwhelming. You have to be sure to use airtight legal language and can't omit any required information.
Use technology to take the guesswork out of the equation. The Custody X Change app walks you through each step of creating a comprehensive parenting plan.
The result is a professional document that demonstrates your competence as a parent and secures your child's future.
The easiest and most reliable way to make a parenting plan is with Custody X Change.
Custody X Change is software that creates professional parenting plan documents and parenting time schedules.