Parenting Guidelines Provision Examples
You can pick and choose from these parenting guidelines to include in your parenting plan.
These example provisions are flexible. You can include parts of them or alter the wording to fit your situation. You can also write additional provisions for your plan.
Check your location's custody guidelines to find out if your plan must include certain provisions about parenting. Your plan can have extra provisions along with the required ones.
You'll find many more provisions in the Custody X Change parenting plan template.
Visualize your schedule. Get a written parenting plan. Calculate your parenting time.
Discipline
Each parent will be responsible for discipline during the time they care for the child. If a problem requires further discipline, the parent who was first made aware must contact the other parent to agree on a course of action.

No disciplinary measure will override the parenting schedule unless both parents agree.
Each parent must train the child to obey and respect the child's teachers and the law.
Health
Each parent must provide a healthy, balanced diet while caring for the child, including appropriate meals and snacks.
Each parent must encourage and enable the child to get a healthy amount of physical activity.
During their parenting time, each parent must ensure the child practices proper hygiene, including regular bathing, teeth brushing and hair combing as applicable.
Child's possessions
The parents will require the child to wear clothing that is age- and weather-appropriate.

The child will be allowed to leave a reasonable amount of clothing, toys, and other possessions of their choosing at each parent's home.
At each parent's home, the child will be allowed to display photos of the other parent and of the other parent's family and friends.
The easiest way to make a parenting plan
Creating a parenting plan on your own can feel overwhelming. You have to address all possible situations while using airtight legal language.
Use technology to take the guesswork out of the equation. The Custody X Change app walks you through each step of creating a plan.
For provisions about parenting guidelines, you'll work mostly in the app's "child rearing" category. It includes the provisions you see above, plus many others.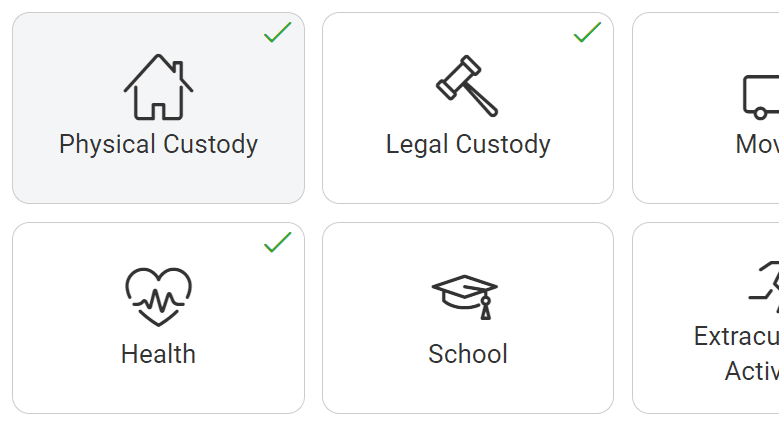 The result will be a professional document that demonstrates your competence as a parent and secures your child's future.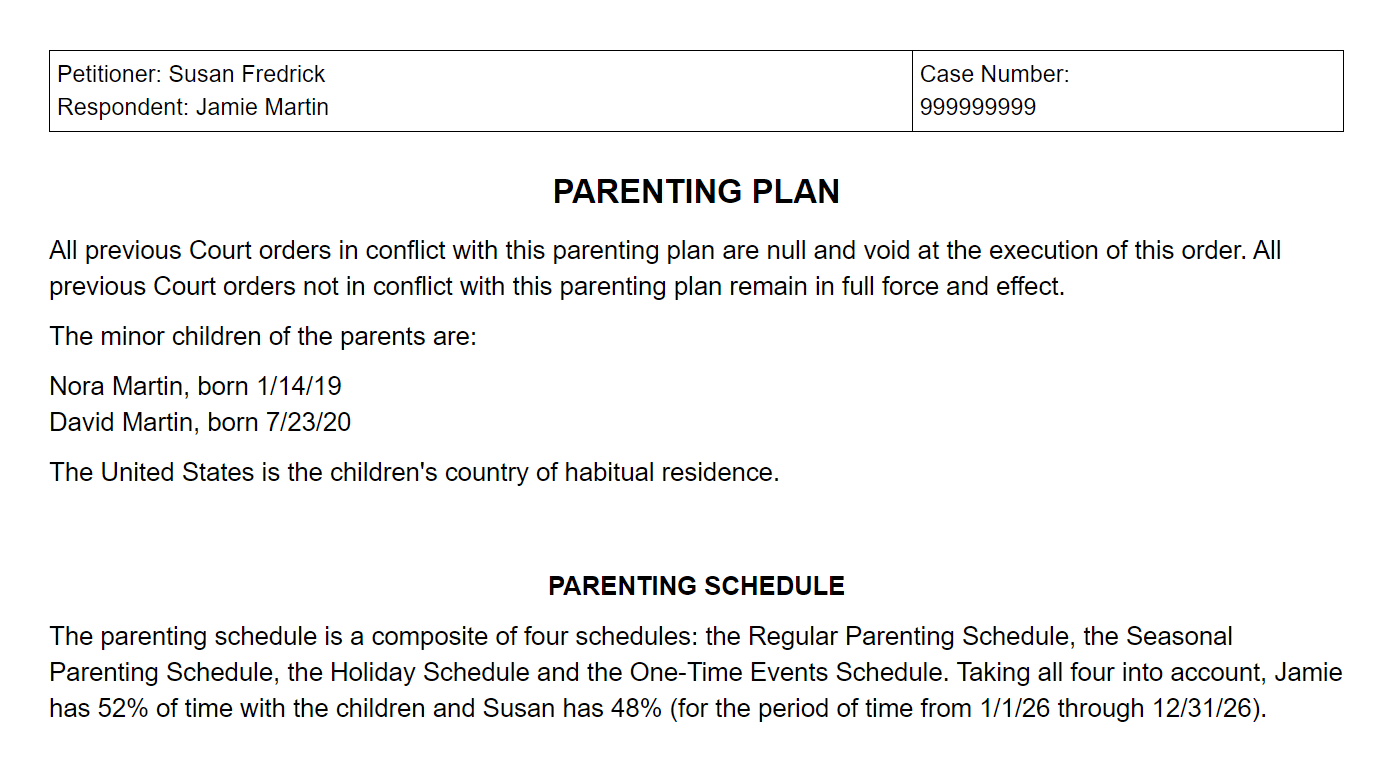 The easiest and most reliable way to make a parenting plan is with Custody X Change.
Visualize your schedule. Get a written parenting plan. Calculate your parenting time.