Editing Your Parenting Plan: 4 Options
Before you start editing, look at your plan in print preview mode and decide what kind of changes you need to make.
Then, choose from the options below to make your edits.
When you're done, you may want to share or print your plan.
Update your account settings
Go to your account settings to make changes that apply to your entire Custody X Change account, including your parenting plans and calendars.
For example, under account settings you can change:
Each parent's name, icon and assigned color
Whether you have a court case (and, if so, its details)
Whether parenting time is calculated by hours or overnights
Update your plan settings
In your plan settings, you can make changes that affect only your parenting plan. To access your plan settings, click the "parenting plan" tab.
At the top of the screen, you'll see "location." Click "edit" to select the country and state/province/territory your children live in. Your plan will adjust accordingly.
Under "location," you'll see settings categories.

In the "child" category, you'll see your children's names and birth dates (and you can enter or update them here if you need to). Choose whether this parenting plan applies to all your children or just certain ones.
In "schedules," you can pull one of your Custody X Change calendars into your plan. Alternatively, you can write your own description of a parenting schedule or opt not to include one.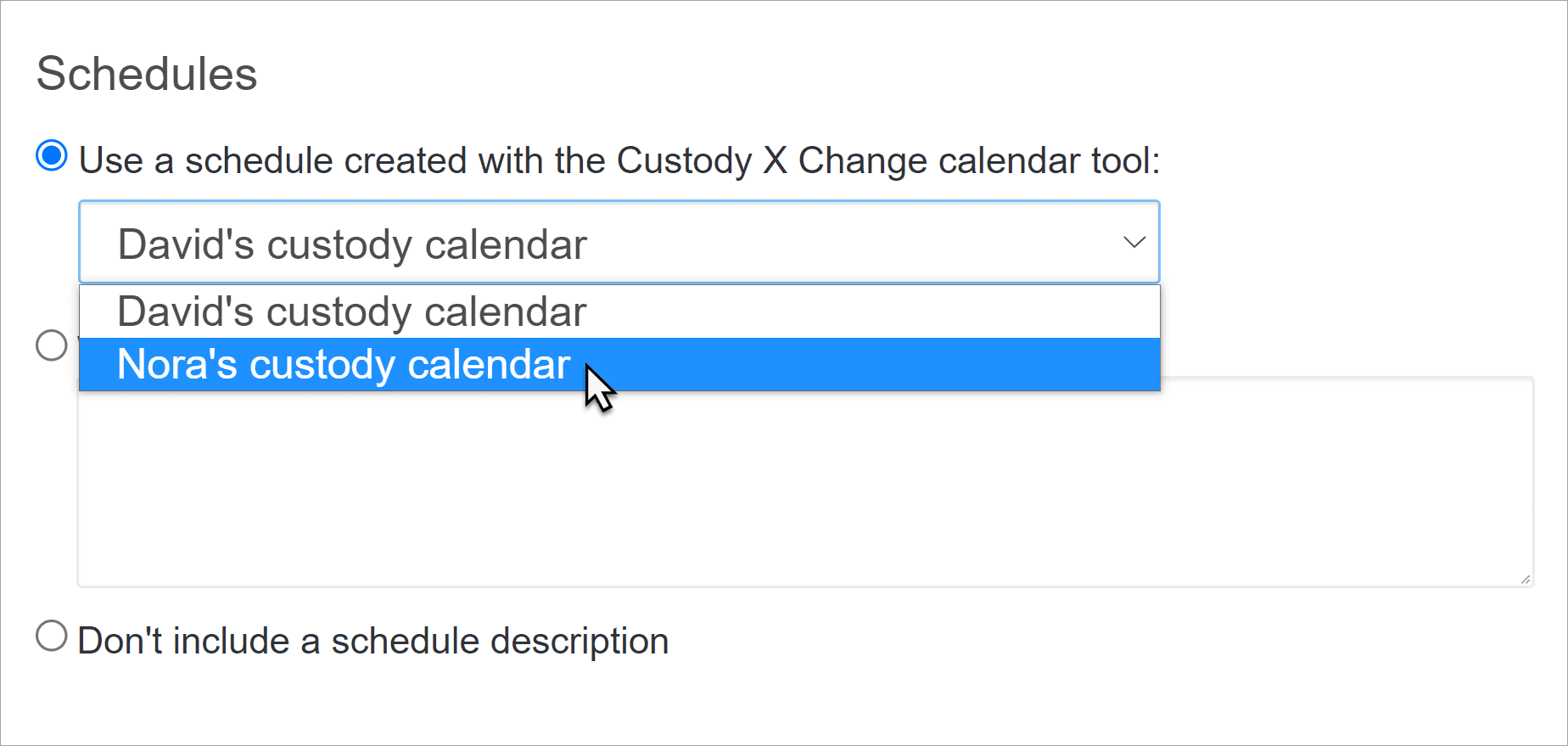 If you have a Gold subscription, the "schedules" category is also where you'll choose a time frame for the plan's parenting time calculations: one year, two years or custom.
In the "signatures" category, decide whether you want a space for parent signatures and for notarization. You can add each parent's contact information, too.
Edit by category
To change any details that come under the "parenting provisions" header in your plan, head to Step 2 in your parenting plan center. This is where you can go through your provisions category by category.

For example, go into the "communication between parents" category if you want to set how quickly parents must respond to questions from one another.

You can change any category's name and enter custom provisions into any category.
Edit in Word
If you need to change anything else in your plan — margins, spacing, wording, etc. — save the plan as a Word document.
Then you can open and edit the document in any text editor. This is particularly useful if your court has unique requirements for parenting plans.