Updating Your Parenting Plan Settings
In your parenting plan settings, you can change preferences specific to your plan. This is different from account settings, where you make changes that affect your entire account.
To begin, click the "parenting plan" tab.
Note: Each plan has its own settings (besides location, which applies to all your plans). If you have multiple plans, click your current plan's name at the top left of your screen. Then select the plan you want to update from the drop-down menu. You'll see the name of the calendar you're working with next to it.
At the top of your parenting plan homepage, you'll see your location and the three settings categories. Follow the instructions below to make adjustments in each. (If you're looking to make changes not covered here, explore other ways to edit your plan.)

When you finish updating each category, scroll to the bottom of it and hit "save." To see how your changes affect the document, view your plan in print preview.
Location
Above your parenting plan settings, you'll see your location. To change it, click "edit."
From the drop-down menus, select the country and the state/province/territory (if applicable) that your child lives in.
These locations will show at the top of your parenting plan, and the rest of your plan will adjust accordingly.
Child
For your plan to be enforceable, it must include the full names of all the children it applies to — and generally their birth dates as well.
Once you add your child's information, make sure the box next to their name is checked. This enters their information into the document.
Schedules
This is where you select parenting time schedules to include in your plan.
To use schedules from a Custody X Change calendar, select the first radio button. (If you have multiple calendars, use the drop-down menu to select one.) Now your plan will show a written and visual version of each schedule contained within that calendar.
To write your own schedule description instead, select the second radio button. Make sure to give a clear, detailed description of when each parent will spend time with the child. Don't forget to explain how parenting time will work during special occasions, school breaks and vacations.
To go without a schedule, select the third radio button. This is not recommended because parents need to know when each one may spend time with the child.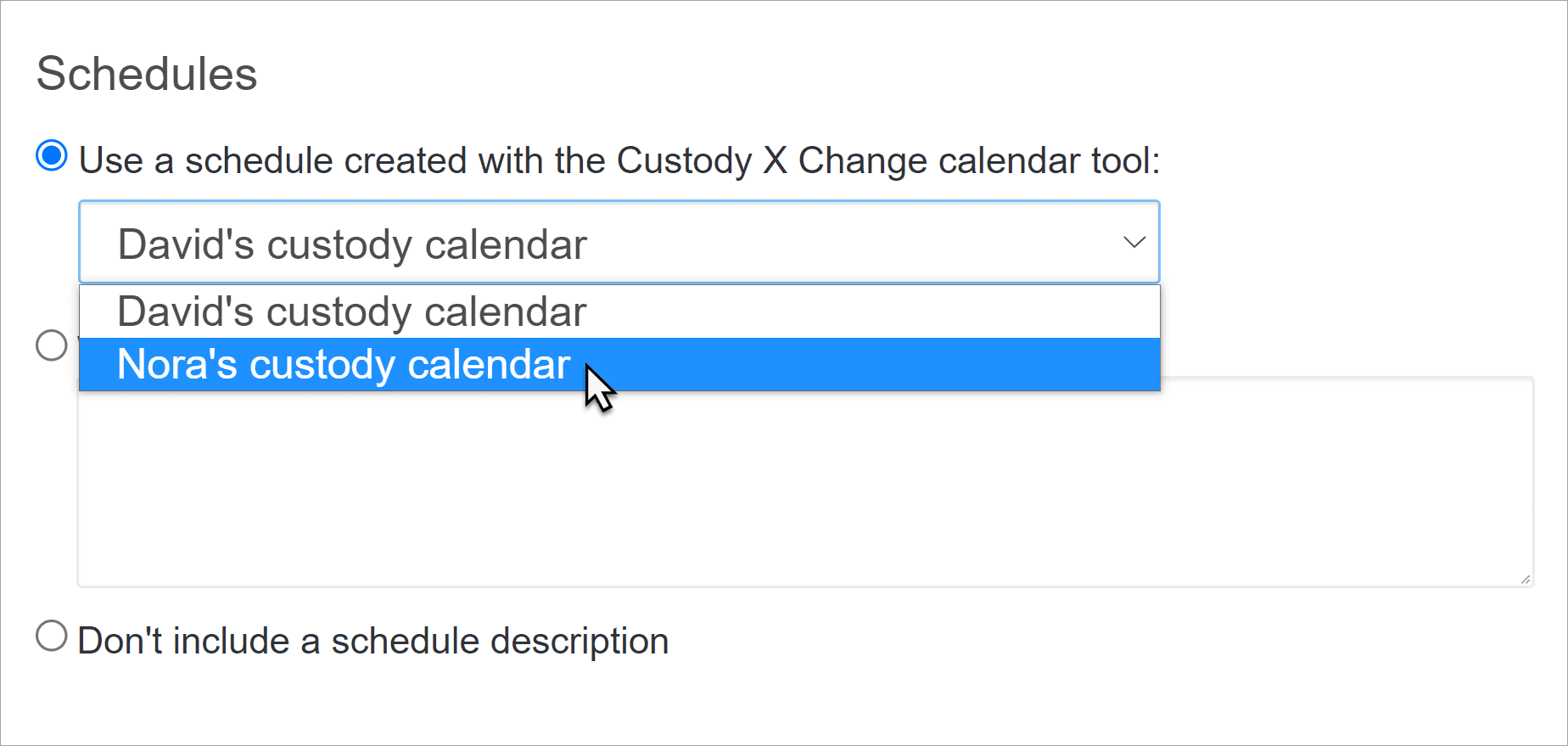 Next, Gold-level subscribers who chose the first option can check a box to include each parent's percentage of time with the child. The percentages will show in the plan's introductory paragraph.
You can change the dates the calculation pulls from: the first year of the selected calendar, the first two years, or custom dates. This can alter your timeshare without changing your custody schedules.
Signatures
Check the first box in this section to put a space in your plan for both parents to sign. Signatures are required if you want to use the plan as a legal document.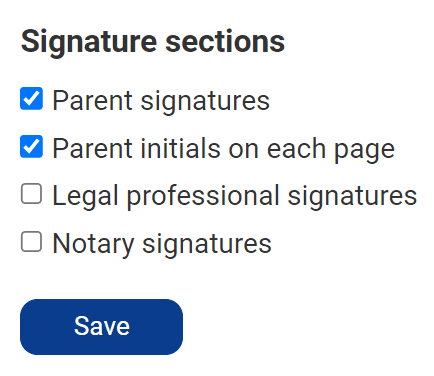 You might also include boxes for parents to initial on each page, space for your lawyers to sign, or space for notarization. Whether you decide to include these may depend on parenting plan requirements in your location.