Printing and Exporting Message Reports
Communicating with the other parent through Custody X Change allows you to instantly print or export message reports for the court.
To begin, open the app and click the "messages" tab. (On small screens, hit "more" first.)
1. Choose your messages
If you want a single conversation, open it and click the printer icon.
To work with multiple conversations, search or filter to bring up the ones you want. (The labels you use to filter remain hidden from the other parent and won't appear on your report.) Then click the printer icon in the right corner above the list.
If your search or filter results include conversations you didn't want, you'll be able to exclude those conversations in the following steps.
2. Preview
You'll be taken to a preview of your messages report. Each conversation will print on a separate page.
Notice that hostile words appear in bold, along with a header calling them out.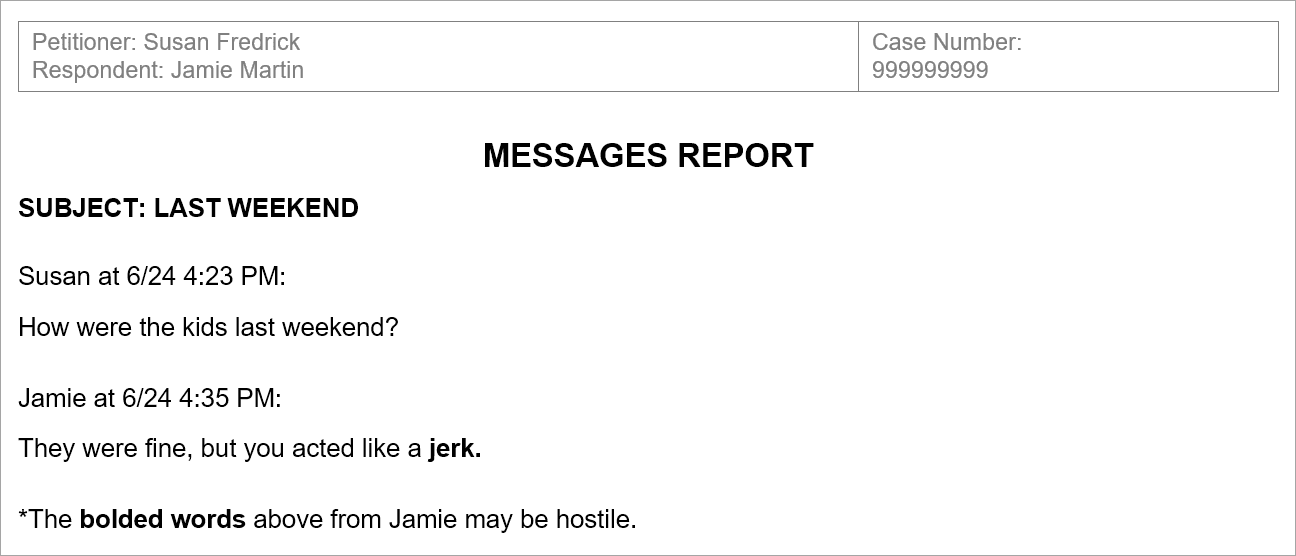 To make changes to your messages report, you can:
Click "back" (to send a reply or to adjust your search or filters)
Click the user icon, then "account settings" (to edit the parent names and case number)
Click "save as Word doc" or "Word" (to adjust formatting or remove conversations)
Be cautious when editing in Word; changing a message could land you in legal trouble if you submit it to court as evidence.
3. Print or export
To print your report, click "print" and select your preferred settings. To skip conversations, exclude their page numbers from the job. (e.g. Print pages 1–4, 7–9.)
To export, click "save as Word doc" or "save as PDF." (On small screens, the buttons just say "Word" and "PDF.") A Word document allows greater flexibility for editing, whereas a PDF looks the same regardless of the device or system it's viewed on.
4. Add attachments
If any of the messages had images attached, you'll see the images in your report.
If any included documents or other file types, your report will say "See attached." Print or save the items separately so you can attach them.
5. Share the report
Now you're ready to share your report with its attachments. You might submit it to the court, send it to your lawyer, bring it to negotiations, give it to the other parent to remind them of an agreement, etc.