Professional Groups: How to Create and Use Them
Custody X Change pro accounts allow legal professionals to collaborate with clients on parenting plans, custody schedules, parenting journals and more.
When multiple professionals in an office use Custody X Change, a professional group helps them work together and stay organized.
Navigating to your group overview
First, go to your account settings.

Find the "group details" section, then click "edit."

Setting up your pro group
On the group overview page, account administrators can see the group's total number of Custody X Change licenses, including the number that are unused.
You can assign a license up to one year after its purchase date. If you haven't assigned it by then, you'll get your money back it.

If you have unused licenses, skip to the "invite member" section below.
Otherwise, you'll need to purchase a license for each professional you want to invite to your group.
Purchasing licenses
Click the purchase button next to "unused licenses."
If you don't have a membership, you can choose the type of membership you want for the licenses: Pro Silver or Pro Gold. If you have a membership, the type you have applies to all the licenses you purchase.
On the billing page, you'll indicate the number of additional licenses you'd like. Each additional license is 50 percent off the original purchase price.
After you've purchased, you're ready to add members to your group.
Inviting members
In the "invite member" section of your group overview, enter the professional's name and email address. (An email address that already has a Custody X Change parent account won't be able to join.)
Then, select the account type you want to assign to them. You have the option to include a message.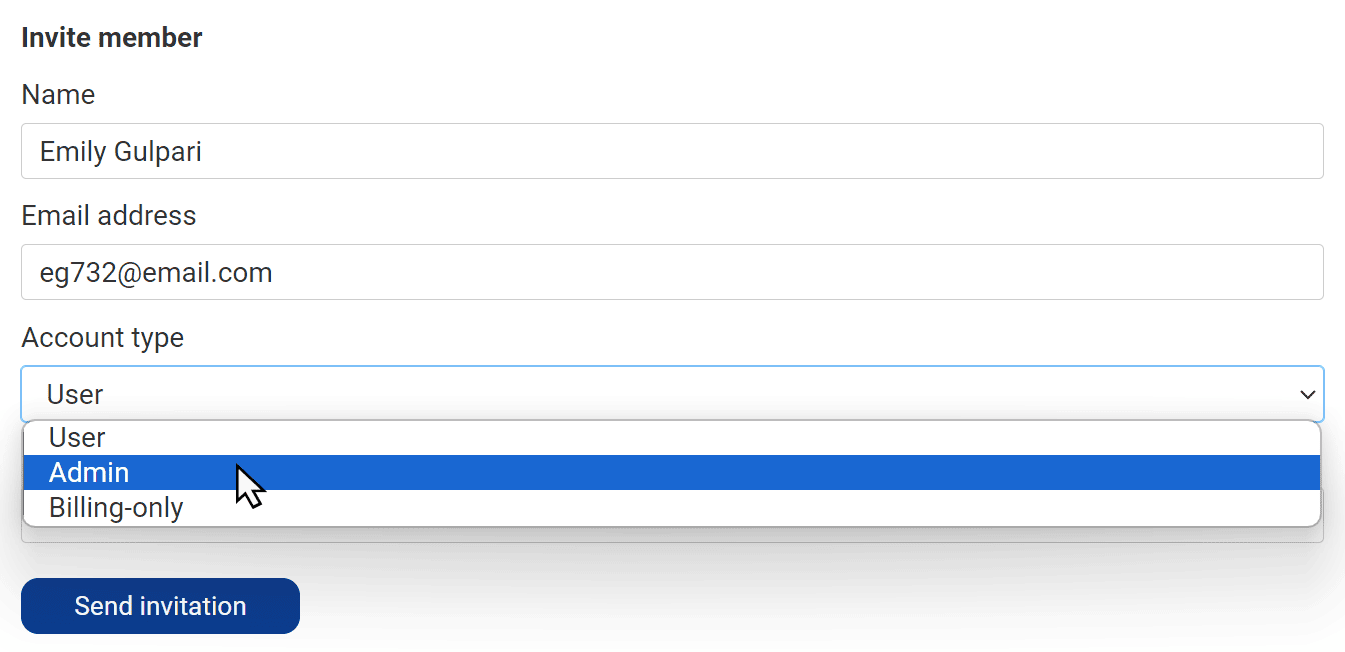 Account types are:
User: Can work on clients assigned to them and assign clients to themself.
Admin: Can work on clients assigned to them. Gets billing receipts (if there's no billing-only member) and can invite people to the group, assign clients and assign admin privileges.
Billing-only: Cannot work on clients. Gets billing receipts and can invite people to the group and assign admin privileges. Only sees account settings pages (including the group overview) and cannot use other app features. Does not take up a license.
The invitee will receive an email with a link to join the pro group.
If they already have a pro account, they'll be prompted to accept or reject the invitation.
If they don't have a Custody X Change account, they'll be prompted to create one.
As soon as a member joins, their client data becomes accessible to the other group members. The group will be billed for their account going forward.
Managing your pro group
Anyone in the group can see a list of current members on the group overview page. From here, people with admin or billing permission have the option to grant or revoke admin powers and change who's in charge of billing.
If an email address is showing, that means the professional hasn't accepted their invitation to join the group. You can cancel an invitation or remove someone from the group by clicking the trash bin icon. This will restore the license so you can assign it to someone else.
Managing clients
With a pro group, you can manage your clients just as you would with an individual account. You can also see the activity of clients assigned to other professionals in your group.
When a professional links accounts with their client, "shared" appears beside the client's name. When that client makes a change to their calendar, activities, messages or expenses, a red "updated" tag appears beside their name.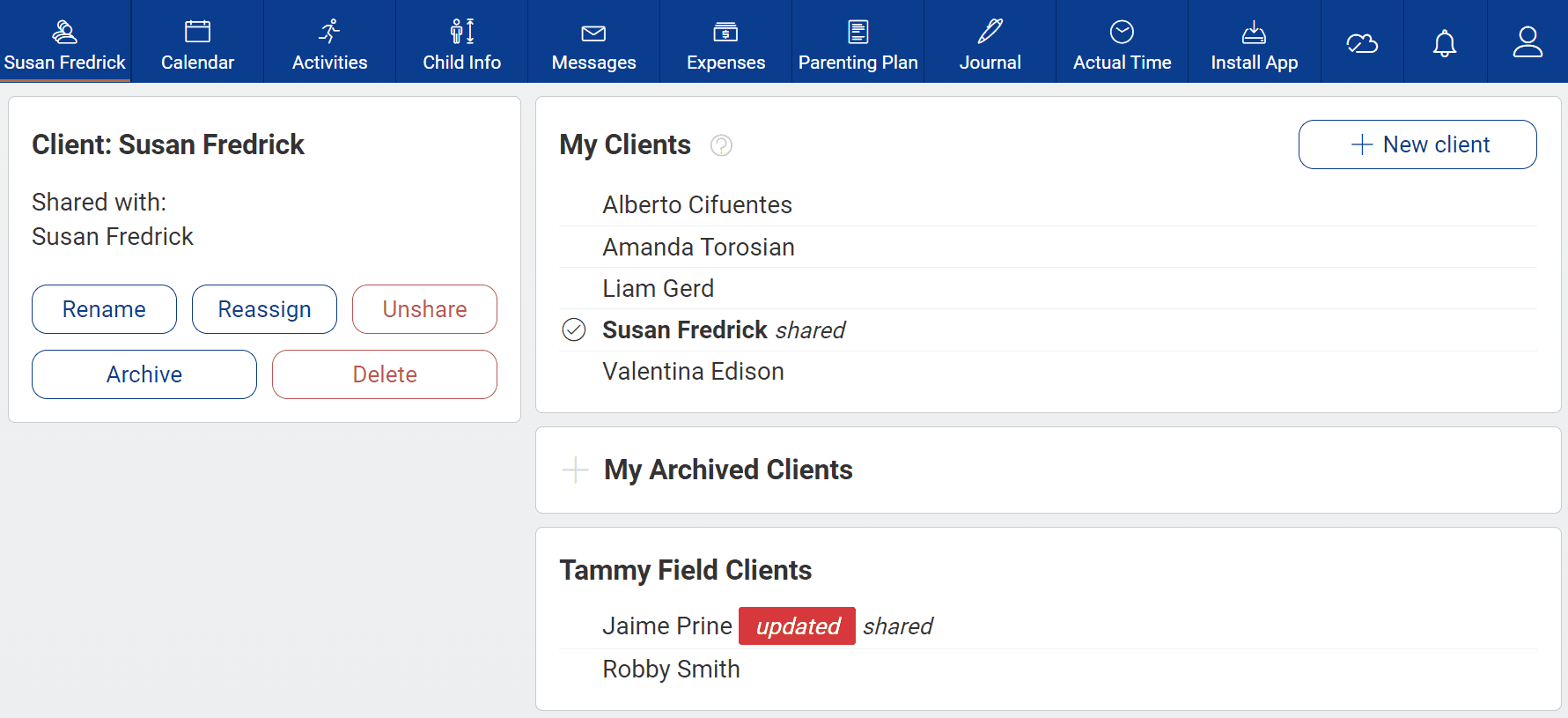 Anyone in the group (beside the billing-only member) can click on a client's name, then the notification bell to see the changes the client has made. They can also make their own changes to the client's account.
Any user or admin can assign a client to themself by clicking on the client, then "Assign to myself." Admins can also unassign and reassign clients by clicking on the client's name on the home page, then choosing the action.