Clients Tool: Using Custody X Change for Your Clients
The professional version of Custody X Change includes an additional feature: the clients tab. This section of the app organizes your clients' information for instant retrieval.
For professional users, this is your homepage. When you first sign in, it's the only tab you'll see; click on a client's name to see more tabs pop up specific to them.
As you work in the other tabs, pay attention to which client you've selected. If you want to switch clients, return to the client tab and click a new name.
If there are multiple professionals working in your office, you can create a professional group to view and manage their clients as well.
Things you can do within the client section include add or delete a client, add templates for schedules or parenting plans, and share with clients. See below for details on each.
Add or delete a client
To add a client, click the "new client" button and enter their name. After clicking "next," choose whether you want to import another client's parenting plan and custody schedules.
You'll be taken to the new client's settings page, where you can input their information and assign them a color for calendars.
To delete a client, click their name under the "clients" tab. Then click the red "delete" button that appears on the left side of the page (or at the top of the page if you're on a phone).
You can also update a client's name by using the "rename" button next to "delete."
Add schedule or parenting plan templates
You can use the process to add a client (described above) to store templates in your Custody X Change account. Instead of inputting a client name, insert a template name. Then create the schedules and/or parenting plan you want to save for future use.

To apply your template to a client, choose "start from an existing client's data" when you enter him or her into the Custody X Change app. Then select the corresponding template's name.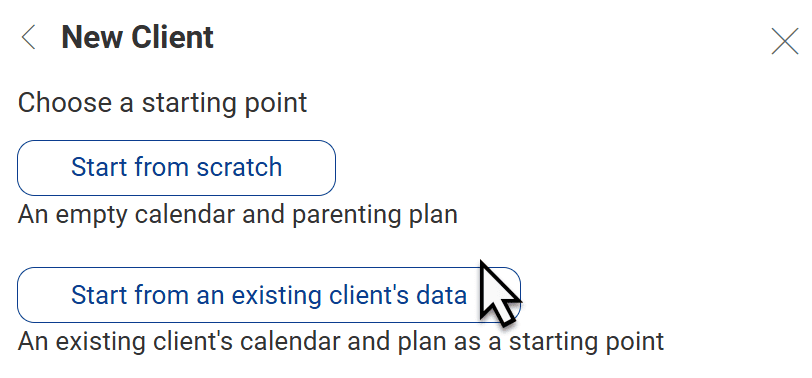 Sharing with clients
Invite a client to create a linked Custody X Change account so you can both make changes in real time. Digital collaboration makes life simpler and keeps everyone on the same page.
To share, click your client's name in the "clients" tab. (If you need to add the client first, see above.) Then click the green "share" button that appears on the left side of the page (or at the top of the page if you're on a phone). Type in your client's information, and hit "send."
When the client accepts your invite, the two accounts will be linked, and you'll see a "shared" tag next to their name.
Alternatively, clients can initiate sharing if they subscribe too.
When an account linked to yours makes changes, you'll see a red "updated" icon next to their name. You'll also receive alerts under the bell icon at the top right of the app, and you can adjust your notifications settings to receive alerts by email or push notification.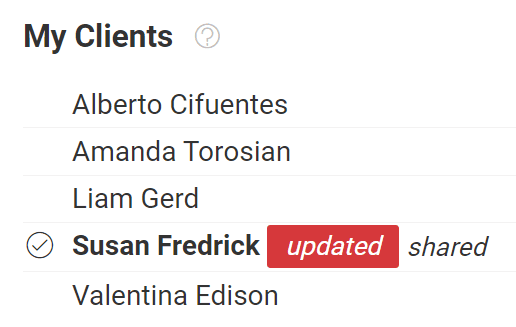 To unshare, click the client's name under the "clients" tab. Then hit "unshare" on the left side of the page (or at the top of the page if you're on a phone).