Using the Child-Info Tool: Overview
The Custody X Change child-info tool lets you store information about your children to access from anywhere.
You might use the tool to keep tabs on school information, clothing sizes, medical data, shopping lists and more.
Here's how to use the tool. Begin by clicking the "child info" tab.
Sharing information with the other parent
Entering your children's information into Custody X Change means you won't have to contact the other parent every time there's a change. Once you link accounts, your co-parent gets alerted whenever you update an item in the child-info tool.
Adding children
To add or remove children — or to update their names and birth dates — click the "edit" link at the bottom of your child-info home page (next to the "children" section).
Managing forms
The child-info tool comes preloaded with 11 forms per child. Each form covers a topic, such as IDs. You have the flexibility to add, remove or rename forms.

Adding, deleting or reordering fields
Within a form, you'll see multiple fields for entering data (e.g., ID type, ID number). To adjust these, click "add, delete or reorder fields" at the bottom of the form's screen.
You'll be taken to a list of the fields for that topic.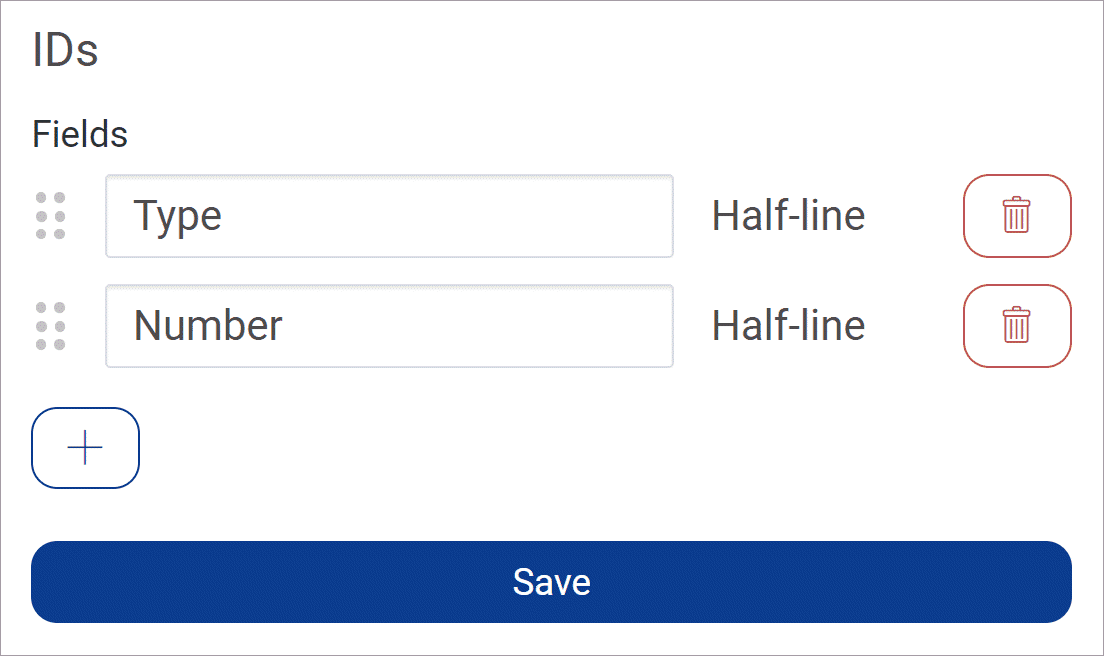 To add a field, click the plus button. Type in a title for the new field, and choose how much space the information will need: half a line, a full line, multiple lines or just enough for a date.
To delete a field, click the red trash can to its right. You can restore a deleted field by clicking the plus button that appears in place of the trash can.
To reorder fields, click the dots to the left of the field you wish to move. Then drag and drop it to a new position in the list.
If this form allows for multiple entries (e.g., one per medical visit), then each entry will be titled whatever you type in its first field. For example, if the first field is "date," each medical visit will have a title like "12/5."
When you're done making changes, hit "save."
Attaching files
You can attach files to each form in the child-info tool. For example, you might want to upload a class schedule to the school information form or scanned images to the IDs form.
Each attachment can be no larger than 25MB, so photos and documents usually work better than videos.
Head to the form you want to add attachments to. Scroll to the bottom, hit "attach files" and select the items you want to upload from your device. When you're done, click "save."
When you return to that form, you'll see previews of any images you attached. For other files (like PDFs), you'll see download links.
Searching
To find an item you've entered into the child-info tool, type a keyword or phrase into the search bar at the top of your screen.
Searching on the child-info homepage searches the entire tool. Searching when you're in a form (e.g., the school information form) searches that one only.
To stop viewing results and get back to your original view, delete the search phrase.