Support Solver & Custody X Change: More Accurate Calculations
Use Support Solver and Custody X Change together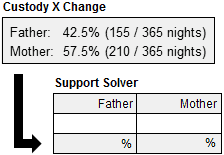 Get the most accurate child support amounts when you combine Custody X Change with Support Solver.
When Support Solver asks you for timeshare percentages, don't rely on guesswork or estimates. Instead, use Custody X Change to calculate total parenting time numbers from any custody schedule.
Enter those numbers into the appropriate field in the Support Solver program for an accurate and fair child support amount based on Virginia's guidelines.
Custody X Change calculates parenting time percentages. Use it together with Support Solver to have more accurate child support calculations.
Support Solver helps family law professionals
Support Solver helps family law professionals be more productive and provide the most accurate calculations for their cases. Because child support amounts are such a critical part of divorce and custody, you should use a reliable calculation software such as Support Solver.
Support Solver is a good tool to have because it uses the most current version of the Virginia child support guidelines. These guidelines outline the formulas used to calculate child support amounts for sole, shared and split custody. You can access the specifics of the guidelines via the company website.
Support Solver takes all the raw data you enter into the program and populates the child support forms as you direct. Rather than rely on your own calculations or trust a software program that is out of date, use Support Solver to get accurate amounts and create child support forms.
There are three forms you can create:
Basic child support: Known as DC 637, this form is used when children spend 274 days or more in the custodial home.
Shared custody support: Known as DC 640, this form is used when children spend less than 274 days in the custodial home.
Split custody support: Known as DC 638, this form is used when each parent is the primary custodian of one or more children.
Support Solver was developed by a Virginia attorney with more than two decades of experience in Virginia family law. It's designed to be a calculation tool for professionals, making them more productive in preparing cases.
Users of Support Solver can access PDF instructions for frequently asked questions. Customer support is available online via the company website. Keep up to date on all child support developments in Virginia via the free email newsletter. You can also email your questions directly to Support Solver.
Features and benefits of Support Solver
With a range of useful features, Support Solver can calculate accurate child support amounts. The software can also help you with reports, worksheets and other forms necessary to your family law cases. Attorneys, judges and mediators benefit from the comprehensive features of Support Solver.
Some of the time-saving features of Support Solver include:
Easy-to-use interface
Powerful calculation capacity
Always current with state guidelines
Run multiple scenarios by changing data in fields
Instant calculation and re-calculation when data changes
Calculates the exact amount for child support
Help windows within the software
Access to past calculating forms starting with 2003
Prints out official forms ready for court
Support Solver comes with another helpful feature, the Divorce Costs Calculator. This calculator helps you figure what it will cost one spouse to divorce. Fields include initial client review, document preparation, filing fees and so forth. This helps you alert your clients to what kinds of expenses they can expect for the divorce process.
Support Solver is fast, easy and accurate when it comes to figuring child support amounts for Virginia family law professionals.
Support Solver requires parenting time totals
Support Solver requires a parenting time total for the noncustodial parent in order to figure out child support amounts, based on the guidelines set by the state of Virginia.
Parenting time totals are derived from the amount of time each parent spends with their children. To figure out a correct parenting time total, you must calculate the amount of time the nonresidential parent spends with the children. Once a client sets up a visitation schedule, it can become tedious and sometimes very difficult to calculate a precise parenting time total.
This information is combined with data concerning each parent's income and the parenting time credit applies to only joint physical custody cases. Sole custody cases do not qualify for any kind of child credit based on overnights. Support Solver asks you to enter parenting time totals or a percentage in order to calculate child support
Custody X Change calculates parenting time totals
Custody X Change software includes a parenting time calculator that shows exactly how much time each parent has with the children. It can provide this data as total number of hours, days or as a percentage of time annually.
When users set up a parenting time schedule, the software automatically counts up all the full, half and quarter days for the nonresidential parent. This accurate parenting time total really helps attorneys who use Support Solver.
Use Custody X Change to get accurate parenting time totals, because:
Parenting time totals are difficult to figure out by hand, because attorneys must add all the quarter, half and full days within a year for the nonresidential parent.
Figuring parenting time totals adjust every time an attorney changes the schedule.
Calculating and re-calculating any change to the schedule is so complex, some attorneys are forced to estimate or guess.
Entering parenting time totals calculated from a guess or estimate into the Virginia child support formula means that child support amounts will likely be wrong.
Figuring out child support amounts requires exact numbers, from each parent's income to the amount of credits allowed. Another important number is the parenting time total, or how long each parent is scheduled to be with the children. Correct numbers mean the child support amount is fair and accurate, and Custody X Change delivers accurate totals every time.
Custody X Change calculates parenting time percentages. Use it together with Support Solver to have more accurate child support calculations.