New Jersey CIS & Custody X Change: More Accurate Calculations
Use New Jersey CIS and Custody X Change together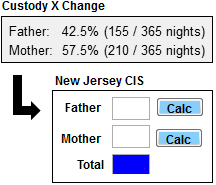 Get the most accurate child support amounts when you combine Custody X Change with New Jersey CIS.
When New Jersey CIS, which stands for Case Information Statement, asks you for overnight totals, don't rely on guesswork or estimates. Instead, use Custody X Change to calculate total parenting time numbers from any custody schedule.
Enter those numbers into the appropriate field in the New Jersey CIS program for an accurate and fair child support amount based on New Jersey's guidelines.
Custody X Change calculates parenting time percentages. Use it together with New Jersey CIS to have more accurate child support calculations.
New Jersey CIS helps family law professionals
Family law professionals rely on software that helps them calculate accurate child support amounts. New Jersey CIS is designed to handle the detailed calculations required for family law cases, including child support amounts
New Jersey CIS is reliable because it incorporates the most up-to-date formulas from the New Jersey state guidelines. As the guidelines change, the software is updated. You never need to worry that your calculation software is outdated—New Jersey CIS can be trusted to deliver accurate child support amounts.
Using New Jersey CIS helps streamline tasks by:
Calculating child support amounts
Including worksheet alerts to spot problems
Eliminating hassles in data collection by importing CISlite forms
Editing Case Information Statements, worksheets and other divorce forms
Incorporating end notes and internal case notes
Facilitating data exchanges with Divorce Financial software
Family law attorneys, clerks and judges can be more productive when working on cases because New Jersey CIS provides fast and accurate calculations. It also allows you to create organized, professional legal documents that are ready for clients or the courts.
New Jersey CIS was created by Easy Soft, a software development company that has created programs for legal professionals for more than 20 years. With more than 15,000 clients, Easy Soft has earned a reputation for easy-to-learn programs that save time and reduce the risk of inaccurate calculations.
You can download New Jersey CIS software for a free 30-day trial. If you like the program, you can purchase a license and also receive a full year of free technical support.
New Jersey CIS streamlines time-consuming tasks
New Jersey CIS is a comprehensive family law tool that streamlines the tasks surrounding family law and divorce. Because of its many useful features, New Jersey CIS can do calculations and create documents for all kinds of cases, from simple to complex.
Some of the top features in New Jersey CIS include:
Up to five child support worksheets open for side-by-side comparisons
Latest New Jersey child support guidelines
Quickly presents sole and joint custody scenarios
Automatic tax calculations
Household income worksheets
Automatic debt service calculations
Appendix IX-E worksheet
Appendix IX-H worksheet for taxes
Automatic debt service calculations
Internal case notes option
Customized forms that save as Word files or PDF files
Companion app for your mobile device
One focus of New Jersey CIS is to help family law professionals calculate child support based on the ever-changing New Jersey child support guidelines. Rather than rely on your own calculations or outdated software from another company, use New Jersey CIS and feel confident that your family law case data is accurate and complete.
New Jersey CIS requires overnight totals
New Jersey CIS requires overnight totals for the noncustodial parent in order to figure out child support amounts, based on the guidelines set by the state of New Jersey.
Parenting time percentages are derived from the amount of time each parent spends with their children. To figure out a correct parenting time total, you must calculate the amount of time the nonresidential parent spends with the children. When clients set up a visitation schedule, it can be very difficult to calculate a precise parenting time total.
This information is combined with data concerning each parent's income and the parenting time credit applies to only joint physical custody cases. Sole custody cases do not qualify for any kind of child credit based on overnights. New Jersey CIS asks you to enter overnight totals in order to calculate child support.
Custody X Change calculates parenting time totals
Custody X Change software includes a parenting time calculator that shows exactly how much time each parent has with the children.
When you set up a parenting time schedule, the software automatically counts up all the hours for the nonresidential parent. This accurate parenting time total gives you the precise data you need.
Use Custody X Change to get accurate parenting time totals, because:
Parenting time totals are difficult to figure out by hand, because attorneys must add all the quarter, half and full days within a year for the nonresidential parent.
Figuring parenting time totals adjust every time an attorney changes the schedule
Calculating and re-calculating any change to the schedule is so complex, some attorneys are forced to estimate or guess.
Entering parenting time totals calculated from a guess or estimate into the New Jersey child support formula means that the amounts will likely be wrong.
Figuring out child support amounts requires exact numbers, from each parent's income to the amount of credits allowed. Another important number is the parenting time total, or how long each parent is scheduled to be with the children. Correct numbers mean the child support amount is fair and accurate, and Custody X Change delivers accurate totals every time.
Custody X Change calculates parenting time percentages. Use it together with New Jersey CIS to have more accurate child support calculations.