Family Law Software & Custody X Change: More Accurate Calculations
Use Family Law Software and Custody X Change together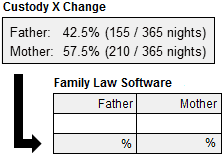 Get the most accurate child support amounts when you combine Custody X Change with Family Law Software.
When Family Law Software asks you for total parenting time, don't rely on guesswork or estimates. Instead, use Custody X Change to calculate total parenting time numbers from any custody schedule.
Enter those numbers into the appropriate field in the Family Law Software program for an accurate and fair child support amount based on your state's guidelines.
Custody X Change calculates parenting time percentages. Use it together with Family Law Software to have more accurate child support calculations.
Family Law Software helps legal professionals
Family Law Software helps family law professionals prepare divorce documents for clients, including calculating child support amounts. Judges, attorneys and mediators can benefit from this software because it increases productivity and ensures accuracy.
You can download a free trial of Family Law Software to use so you can see how quickly and accurately the program calculates child support amounts, as well as other family law calculations. Once you purchase the program, you have a money-back guarantee where you can return the product within 6 months for a full refund.
Family Law Software features child support calculators for 20 states. Each state's child support guidelines are included in the program. Every time a state's child support guidelines change, the software is updated immediately. Updates to the program are also made when the tax codes change.
The software is a valuable tool that streamlines the process of performing calculations for family law cases. With Family Law Software, family law professionals have the tool they need to address key child support and custody issues.
Features and benefits Family Law Software
Family Law Software provides you with accurate calculators that help you make decisions about child support, alimony, exemptions, property division, pensions, tax credits and more. you'll be able to advise your clients better on their financial approach to divorce when you apply Family Law Software to the case data.
Family Law Software comes as a basic or full edition. The basic edition contains financial affidavits, pension valuation and guidelines. The full version includes all of the basic version content plus some extra items.
The full version of Family Law Software contains:
Property division worksheets
Property reports
Alimony calculator
Federal and state tax estimates
Cash flow and net worth projections
Choose between a full or basic edition, based on your needs. Both versions deliver a complete family law calculation and documentation package that fits your client's needs. Whether you need Windows or Macintosh versions, Family Law Software is available for family law professionals.
Using accurate numbers, from income to child support formulas, make a big difference in each divorce and custody case. Rather than rely on human calculation errors and outdated software, Family Law Software can handle the raw numbers from cases both simple and complex. It provides family law professionals with methods to maximize the financial situation of their clients.
Family Law Software is based in Newton, Massachusetts. The company offers free unlimited technical support to clients and can be contacted via phone or email.
Family Law Software requires parenting time totals for many states
Family Law Software includes features that calculate child support using unique state-specific formulas, many of which include parenting time totals. Whether its daily parenting time or overnight totals, this number is critical in figuring child support amounts.
In some states, parenting time credit is only applied to sole custody cases, while in others it applies to joint or shared custody cases. The higher the parenting time total, the lower the child support amount.
Using the Family Law Software for certain states, family law attorneys must enter a parenting time total along with other information about each parent's income. A parenting time total is necessary in order for Family Law Software to calculate child support in many states.
Custody X Change calculates parenting time totals
Custody X Change software includes a parenting time calculator that shows exactly how much time each parent has with the children. It can provide this data as total number of hours, days or as a percentage of time annually.
When you set up a parenting time schedule, the software automatically counts up all the parenting time for the nonresidential parent. This accurate parenting time total really helps anyone who use Family Law Software for their state.
Use Custody X Change to get accurate parenting time totals, because:
Parenting time totals are difficult to figure out by hand, because you must add all the quarter, half and full days within a year for the nonresidential parent.
Figuring parenting time totals adjust every time your changes the schedule.
Calculating and re-calculating any change to the schedule is so complex, so you are forced to estimate or guess.
Entering parenting time totals calculated from a guess or estimate into the state child support formula means that child support amounts will likely be wrong.
Figuring out child support amounts requires exact numbers, from each parent's income to the amount of credits allowed. Another important number is the parenting time total, or how long each parent is scheduled to be with the children. Correct numbers mean the child support amount is fair and accurate, and Custody X Change delivers accurate totals every time.
Custody X Change calculates parenting time percentages. Use it together with Family Law Software to have more accurate child support calculations.