Track How Much Parenting Time You Actually Get
Once your custody schedule is in place, actual parenting time shows how well it's being followed.
Mark any times a parent strays from the schedule — late pickups, canceled visits, refusals to hand over the child, etc. Custody X Change instantly calculates the difference between your scheduled parenting time and your actual parenting time.
Visualize your schedule. Get a written parenting plan. Calculate your parenting time.
Use the actual parenting time data to:
Motivate the other parent to follow the schedule better
Assess how well a temporary schedule is working
Modify your schedule, by convincing either the other parent or the court that a change is necessary
Request a child support adjustment if you have your child much more than scheduled
Custody X Change is the fastest, most accurate and most thorough way to calculate actual parenting time, thanks to features like:
Visual reports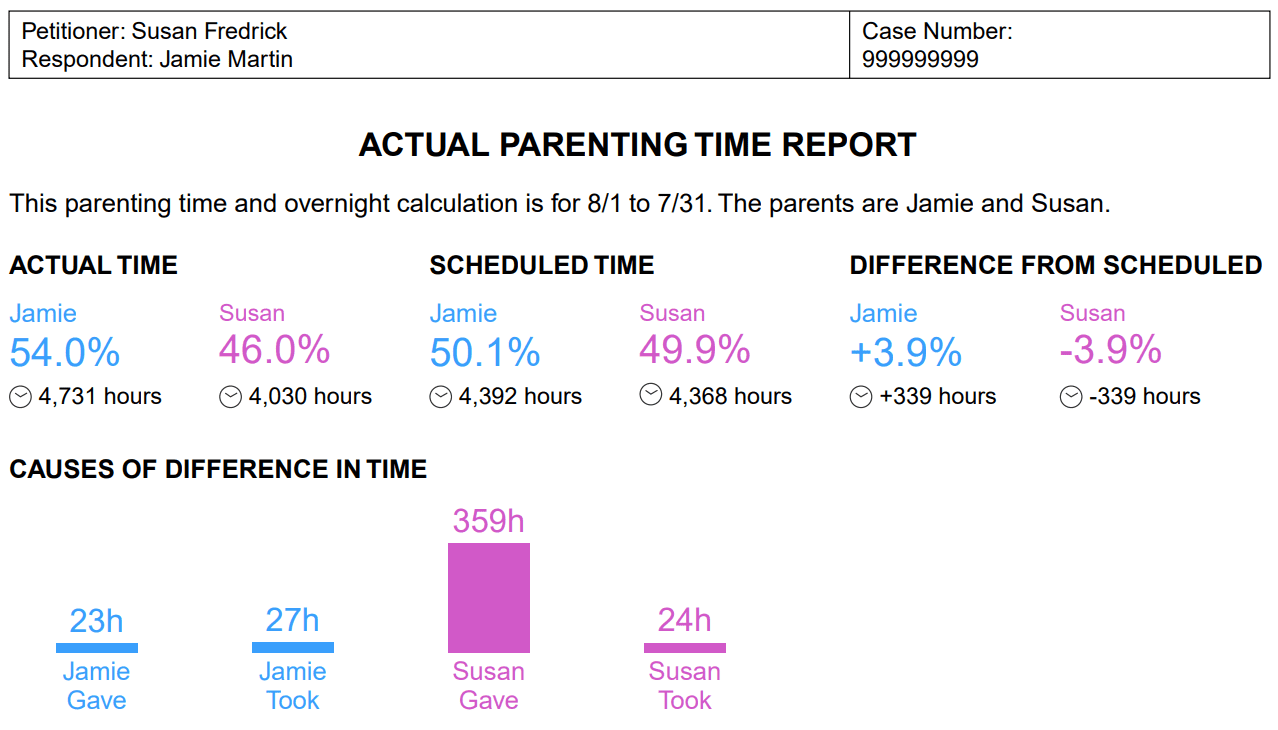 Your actual time report visually demonstrates how long each parent really had the child versus how long they should have had the child. It also shows who caused the deviations. The level of detail and variety of calculations can bolster proposals you make in negotiations or court.
Unlimited actual time calendars

Every custody calendar you create has an actual time calendar connected. This makes it easy to track your true parenting time, regardless of how many schedules, children or exes you're dealing with.
Instant calculations
Editing your actual time calendar couldn't be easier. Just click and drag a time block, then select which parent was the cause. Your actual timeshare updates as you work, so you can see instantly how even small deviations make a difference. No more redoing tedious math every time the other parent is late.
Customizations
You can make customizations until the calculations meet your distinct needs. Choose any time period to generate a report for. Decide whether to count by hours or by overnight visits. Assign each parent a color for the graphics in the report, and more.
Non-parent time

Most children have moments when they're not with a parent: during school, visits to grandparents, etc. Mark these as third-party time to remove them from calculations. You'll be surprised how marking just a few instances of third-party time can affect your timeshare significantly.
Linking, exporting, printing and saving

You can link your Custody X Change account with your lawyer's to let him or her access your actual time calendar and report. You can also export your actual time data to another program, like iCalendar, Outlook or Excel. Plus, you can print your report or save it as a PDF to easily present it to the court or other parent.
Testimonials
Here's what some of our customers have said:
The program has the ability to generate reports. … Whether it's communications with the X, the courts, or legal counsel, these reports will come in handy. Custody X Change exceeded my expectations.
Steven Nelson – Sacramento, CA
Custody X Change took the raw data that I had been staring at for days, and in a few minutes, gave me a crystal clear picture of the resulting schedule. Custody X Change is a must‐have resource for parents and attorneys.
Doug Conway – Fargo, ND
The software ... spared us from having to do the tedious task of counting days on a calendar. I would recommend this product to any parent who has to establish a custody schedule. ... The interface is simple, yet thorough.
Chimena Taylor – San Diego, CA
Visualize your schedule. Get a written parenting plan. Calculate your parenting time.