Form 14 Assistant & Custody X Change: More Accurate Calculations
Use Form 14 Assistant and Custody X Change together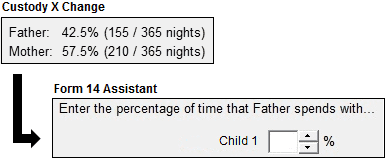 Get the most accurate child support amounts when you combine Custody X Change with Form 14 Assistant.
When Form 14 Assistant asks you for timeshare percentages, don't rely on guesswork or estimates. Instead, use Custody X Change to calculate total parenting time numbers from any custody schedule.
Enter those numbers into the appropriate field in the Form 14 Assistant program for an accurate and fair child support amount based on Missouri's guidelines.
Custody X Change calculates parenting time percentages. Use it together with Form 14 Assistant to have more accurate child support calculations.
Form 14 Assistant is designed for accuracy and efficiency
The Form 14 Assistant software is a fast, accurate calculation program that figures out child support amounts based on the data you enter. Form 14 is the child support calculation worksheet approved by the Missouri Supreme Court.
The easy-to-use program allows you to enter the data from a case into the appropriate field. Then, Form 14 Assistant software computes the child support amount using the Missouri's complex child support formula to give you accurate, fast totals.
Some reasons to use Form 14 Assistant software include:
Easy data entry
Allows you to work directly on Form 14 child support worksheets
Line by line instructions to reduce errors
Includes the most up-to-date Missouri child support guidelines and formulas
Automatic data transfer from one worksheet to a new worksheet
Swap custodial parent options with a single click for comparison
Work with up to eight Form 14 worksheets per case at once for different scenarios
Optional choice to save worksheets as PDF files
Form 14 Assistant software provides family law professionals with accurate calculations for even the most complex cases.
Form 14 Assistant helps family law professionals
Using Form 14 Assistant helps attorneys, law clerks, mediators and judges throughout Missouri because it saves time by automatically performing critical calculations. It increases efficiency because it produces reports based on the data you enter in formats that are ready for court.
Instead of using outdated software or figuring child support by hand, professionals can use Form 14 Assistant software to eliminate some of the more tedious and error-prone aspects of family law calculations.
Form 14 Assistant software includes the following time-saving features:
Interstate pay differential
Multiple family adjustment
Parenting time adjustment
Shared expense formula
Equal parenting time formula
Equal parenting time worksheet
Income tax considerations
Form 14 Assistant also includes a feature that lets you print out reports and worksheets from your case data. It creates a Form 14 that is ready for presentation in Missouri courts.
The software works on all computers that run on versions of Microsoft Windows. If you need technical help, contact the company by email or phone. Consult the website for the most current contact information. Technical support for Form 14 Assistant is free.
Form 14 Assistant is a product of Expert Assistant Legal Software, a development company located in Clayton, Missouri. The company offers a free 30-day trial for anyone interested in trying the software out. Simply download the free trial from the Expert Assistant Legal Software website.
Whenever there are updates to Form 14 Assistant, you'll be notified and prompted to download the latest version. Updates occur whenever there are improvements to the software or the guidelines regarding child support or taxes change.
Form 14 Assistant requires parenting time percentages
Form 14 Assistant requires overnight totals for the noncustodial parent in order to figure out child Form 14 Assistant, based on the guidelines set by the state of Missouri.
Parenting time percentages are derived from the amount of time each parent spends with their children. To figure out a correct percentage, you must calculate the amount of time the nonresidential parent spends with the children. When clients set up a visitation schedule, it becomes tedious and often difficult to calculate a precise parenting time total.
This information is combined with data concerning each parent's income and the parenting time credit applies to only joint physical custody cases where the noncustodial parent hosts the children between 37 and 109 overnights. Sole custody cases do not qualify for any kind of child credit based on overnights. Form 14 Assistant asks you to enter a percentage in order to calculate child support.
Custody X Change calculates parenting time totals
Custody X Change software includes a parenting time calculator that shows exactly how much time each parent has with the children.
When you set up a parenting time schedule, the software automatically counts up all the hours for the nonresidential parent. This accurate parenting time total gives you the precise data you need.
Use Custody X Change to get accurate parenting time totals, because:
Parenting time totals are difficult to figure out by hand, because attorneys must add all the quarter, half and full days within a year for the nonresidential parent.
Figuring parenting time totals adjust every time an attorney changes the schedule
Calculating and re-calculating any change to the schedule is so complex, some attorneys are forced to estimate or guess.
Entering parenting time totals calculated from a guess or estimate into the Missouri child support formula means that child support amounts will likely be wrong.
Figuring out child support amounts requires exact numbers, from each parent's income to the amount of credits allowed. Another important number is the parenting time total, or how long each parent is scheduled to be with the children.
Correct numbers mean the child support amount is fair and accurate, and Custody X Change delivers accurate totals every time.
Custody X Change calculates parenting time percentages. Use it together with Form 14 Assistant to have more accurate child support calculations.