Support for Florida & Custody X Change: More Accurate Calculations
Use Support for Florida and Custody X Change together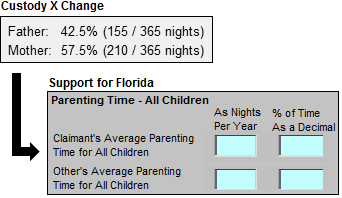 Get the most accurate child support amounts when you combine Custody X Change with MarginSoft's Support for Florida.
When Support for Florida asks you for timeshare percentages, don't rely on guesswork or estimates. Instead, use Custody X Change to calculate total parenting time numbers from any custody schedule.
Enter those numbers into the appropriate field in the Support for Florida program for an accurate and fair child support amount based on Florida's guidelines.
Custody X Change calculates parenting time percentages. Use it together with Support for Florida to have more accurate child support calculations.
Support for Florida helps family law professionals
Support for Florida was designed to increase your efficiency in figuring accurate child support amounts, as well as other family law calculations. The software is updated often to incorporate changing child support guidelines and tax codes.
Instead of filling out worksheets on your own, simply enter the appropriate data into the fields, then choose to calculate. Support for Florida will run through the data entered and signal you if something appears incorrect, inconsistent or missing.
As you work in Support for Florida, you are able to save multiple worksheets for your different cases and retrieve them later. Saving a file keeps all the current data in place until you are ready to work on it again.
The program runs on personal computers and is compatible with any of the Microsoft operating systems. Its easy-to-use interface makes it easy to enter data and calculate results.
Support for Florida was created by MarginSoft, a company that creates child support software for different states, such as Michigan, Washington and Maryland.
Florida Child Support helps family law professionals
Support for Florida was designed to help family law professionals across the state with divorce settlements, including child support calculations.
The Support for Florida software contains these features:
Child Support Calculator: Calculates based on current Florida child support guidelines to figure accurate child support amounts for sole, shared and split custody.
Maintenance Recommendations: Extrapolates likely scenarios for spousal maintenance based on alimony algorithms created from thousands of cases.
Support Transfer Suggestions: Designed to identify instances of unallocated awards and offer alternative calculations.
Federal Tax Estimator: Estimates the basic tax implications for each parent, for both federal taxes and FICA/SE taxes, using the most up-to-date tax information available.
Defined Benefit Plan Calculator: Looks at the current value of certain benefit plans to evaluate the impact of inclusion in family law cases.
Early Withdrawal Calculator: Examines the possibility of early withdrawal for IRAs.
Overnight Estimator: Helps determine the overnight total for each parent.
Report Generator: Creates printable reports of a variety of features, including a child support worksheet suitable for presentation at court.
If you want to test out Support for Florida, try a free 30-day trial. If you find that the program increases your efficiency and provides fast and accurate calculations as promised, you can purchase a license and receive a user name and registration key.
Updates to the software are sent as needed, whenever tax laws or state child support guidelines change.
Support for Florida requires overnight totals
Support for Florida software requires overnight totals for the noncustodial parent in order to figure out child support, based on the guidelines set by the state of Florida.
Parenting time is the total overnight time each parent spends with their children. To figure out a correct overnight totals for Florida, you must calculate the amount of time the nonresidential parent spends with the children. When clients set up a visitation schedule, it becomes very difficult to calculate a precise overnight total.
This information is combined with data concerning each parent's income and the parenting time credit applies to only joint physical custody cases. Sole custody cases do not qualify for any kind of child support credit based on overnights. Support for Florida lets you enter a percentage in order to calculate child support.
Custody X Change calculates parenting time totals
Custody X Change software includes a parenting time calculator that shows exactly how much time each parent has with the children. It can provide this data as total number of hours, days or as a percentage of time annually.
When users set up a parenting time schedule, the software automatically counts up all the overnights for each parent. This accurate overnight total really helps you use Support for Florida software.
Use Custody X Change to get accurate overnight totals, because:
Overnight totals are difficult to figure out by hand, because attorneys must add all the time up within a year for the nonresidential parent.
Figuring overnight totals adjust every time an attorney changes the schedule.
Calculating and re-calculating any change to the schedule is so complex, some attorneys are forced to estimate or guess.
Entering overnight totals calculated from a guess or estimate into the Florida child support formula means that child support amounts will likely be wrong.
Figuring out child support amounts requires exact numbers, from each parent's income to the amount of credits allowed. One of the most important numbers is the overnight total, or how long each parent is scheduled to be with the children. Correct numbers mean the child support amount is fair and accurate, and Custody X Change delivers accurate totals every time.
Custody X Change calculates parenting time percentages. Use it together with Support for Florida to have more accurate child support calculations.