Indiana Support Master & Custody X Change: More Accurate Calculations
Use Indiana Support Master and Custody X Change together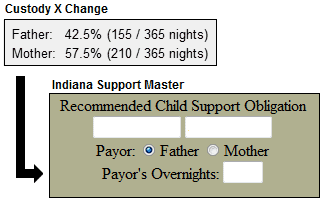 Get the most accurate child support amounts when you combine Custody X Change with Indiana Support Master software.
When Indiana Support Master asks you for overnight totals, don't rely on guesswork or estimates. Instead, use Custody X Change to calculate total parenting time numbers from any custody schedule.
Enter those numbers into the appropriate field in the Indiana Support Master program for an accurate and fair child support amount based on Indiana's guidelines.
Custody X Change calculates parenting time percentages. Use it together with Indiana Support Master to have more accurate child support calculations.
Indiana Support Master helps family law professionals
Indiana Support Master is a software program designed specifically for legal professionals in Indiana. It calculates a range of formulas related to family law cases, including child support.
Some of the time-saving features of Indiana Support Master include:
Simple user interface to enter data
Comprehensive formulas from the latest Indiana guidelines
Customizable fields and forms
Printable worksheets for you, your clients or court
You can obtain this affordable software program for an unlimited site license purchase price, or for a sole practitioner. To ensure your program remains current, you'll receive an updated version each year after paying your renewal license fee. Anytime the Indiana child support guidelines change, you will receive an update.
Indiana Support Master software has been helping family law professionals with accurate calculations since 1989. It was created by Professional Software Corporation, which also produces child support calculation programs for family law professionals in Kentucky and Alabama.
Advantages of using Indiana Support Master software
Indiana Support Master helps Indiana family law professionals complete complex calculations and produce clear, professional reports. This software can help you become more efficient by tackling some of these time-consuming tasks.
Indiana Support Master software:
Applies the most recent guidelines
Creates multiple worksheets like for post-secondary education and health insurance premiums
Includes arrearage and interest calculators
Figures subsequent children calculations
Includes medical expenses calculations
Prints customizable reports and worksheets
Instead of filling out lengthy worksheets by hand and calculating on your own, just enter the raw data from your case into the appropriate fields. Indiana Support Master calculates for you, and will alert you if something appears incomplete.
Indiana Support Master is compatible with most personal computers and runs on Microsoft operating systems. Its clear and user-friendly interface allows you to enter data easily to get accurate, fast results.
The software program incorporates the most recent information from the Indiana state child support guidelines. It calculates child support amounts to the nearest penny.
Another benefit of Indiana Support Master is the ability to save multiple worksheets for different clients. The save features keeps the current data in each worksheet until you want to access the file again.
By streamlining the process of organizing your casework, calculating the data and printing professional-looking reports and worksheets, Indiana Support Master gives you the tools you need to become more efficient and organized.
Indiana Support Master requires overnight totals
Idaho Child Support software requires an overnight total for each parent in order to figure out child support, based on the guidelines set by the state of Idaho.
Parenting time is the total time each parent spends with the children. To figure out a correct overnight total for Indiana clients, you must count up the amount of time the children reside with each parent. When clients set up a visitation schedule that includes every other holiday, after school visits, alternating weekends and vacation times, it becomes very difficult to calculate a precise total.
The overnight total is combined with each parent's income data for a parenting time credit. This credit applies only to sole physical custody cases. Joint or shared custody cases do not qualify for any kind of child support credit based on overnights. Indiana Support Master asks that you enter an overnight total in order to calculate child support.
Custody X Change calculates parenting time totals
Custody X Change software includes a parenting time calculator that shows exactly how much time each parent has with the children. It can provide this data as total number of hours, days or as a percentage of time annually.
When users set up a parenting time schedule, the software automatically counts up all the overnights for each parent. This accurate overnight total really helps you use Indiana Support Master software.
Use Custody X Change to get accurate overnight totals, because:
Overnight totals are difficult to figure out by hand, because attorneys must add all the time up within a year for the nonresidential parent.
Figuring overnight totals adjust every time an attorney changes the schedule.
Calculating and re-calculating any change to the schedule is so complex, some attorneys are forced to estimate or guess.
Entering overnight totals calculated from a guess or estimate into the Indiana child support formula means that child support amounts will likely be wrong.
Figuring out child support amounts requires exact numbers, from each parent's income to the amount of credits allowed. One of the most important numbers is the overnight total, or how long each parent is scheduled to be with the children. Correct numbers mean the child support amount is fair and accurate, and Custody X Change delivers accurate totals every time.
Custody X Change calculates parenting time percentages. Use it together with Indiana Support Master to have more accurate child support calculations.