Missouri Residential Schedule Guidelines
A residential schedule explains the details of your physical custody arrangement — when your child lives and spends time with each parent.
Sometimes called a parenting time schedule, visitation schedule, or weekend and weekday exchange schedule, it's part of your required parenting plan.
In uncontested cases and others that settle, parents work together to create a residential schedule. In other cases, each parent submits a proposed schedule in trial, and a judge decides.
Bring calm to co‑parenting. Agree on a schedule and plan. Be prepared with everything documented.
Parents who agreed on their residential schedule can stray from it as needed — as long as they continue to agree. When a judge decided the schedule in a trial, parents must follow it as ordered.
In any case, family law experts recommend sticking to a schedule as closely as possible to create consistency for the child and reduce conflict between parents.
Once your schedule is ordered (either in a settlement hearing or a trial), if one parent doesn't follow it, the other parent can ask the court to intervene by filing a Motion for Family Access Order.
Creating a schedule
To create a written schedule — for settlement or for trial — you can use your county's form or the template in the state's parenting plan. Since many custody schedules repeat every two weeks, the state's template uses a basic week one / week two format.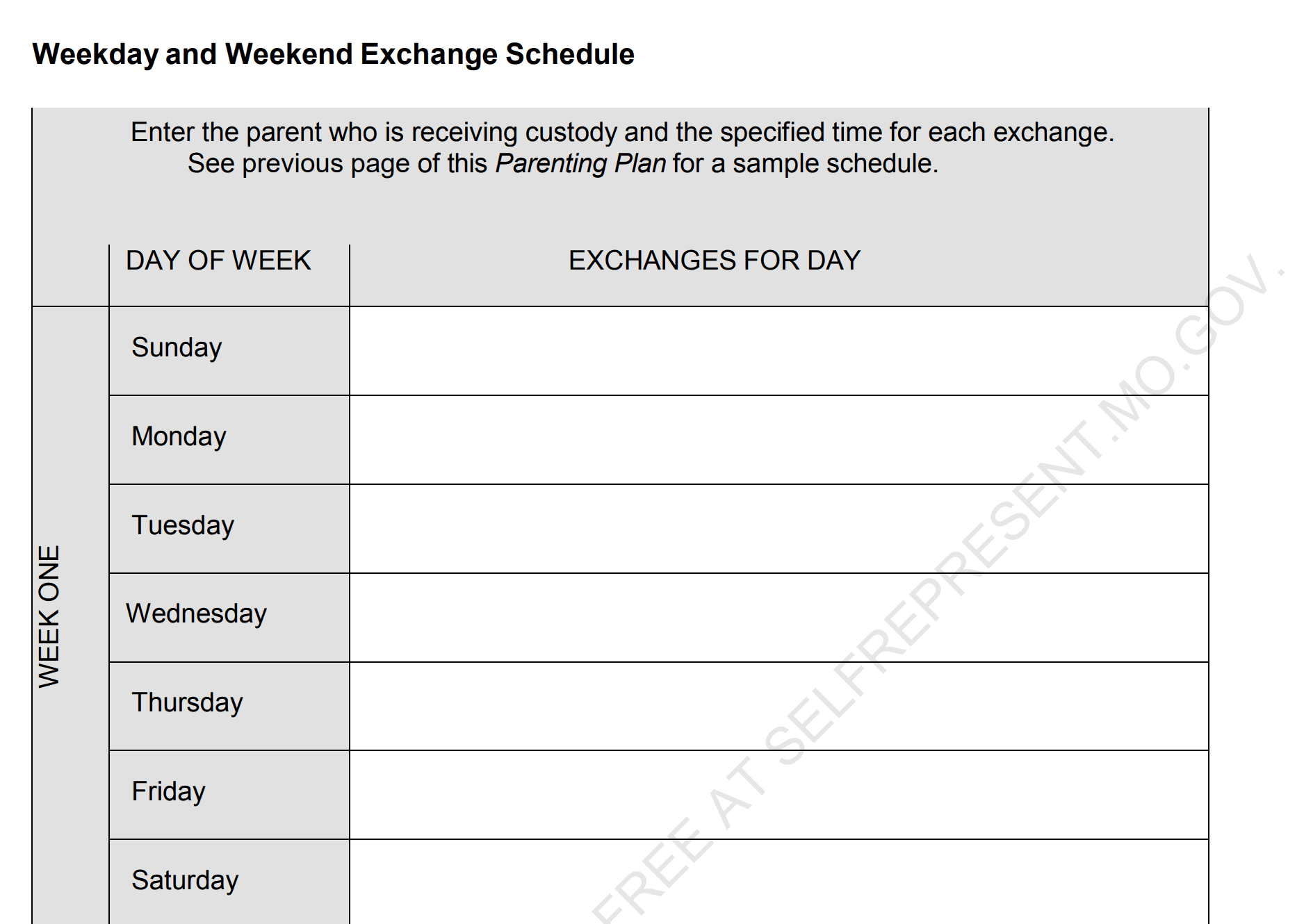 Alternatively, you can use the Custody X Change app, which guides you through creating a schedule. It provides a visual calendar, in addition to a written version. Simply print your schedule (and the rest of your custom parenting plan) to attach to your court paperwork.
To prepare for negotiations with the other parent (in mediation, with lawyers or on your own) create multiple residential schedules to present as options. Be sure to consider your child's age, their relationship with each parent and other factors.
As you're working on your schedule — and after you get final orders — track each parent's time with the child to get an accurate count of overnights (which can affect child support).
Required details
You must include the following details with your residential schedule and parenting plan.
Holidays
The holiday schedule explains special arrangements for holidays and birthdays (the child's and each parent's). It overrides the holiday schedule.
Often, parents alternate a holiday on a yearly basis. For example, one parent might get Thanksgiving in odd years, while the other gets it in even years.
Vacations
Parents have a few options when it comes to scheduling vacations with their child.
Ones who get along well might agree to schedule vacations as they come up.
Others might create a vacation schedule in advance — for example, giving one parent a week in July and the other a week in August.
Anyone awarded a schedule in trial must use the standard arrangement: Each parent receives an equal number of vacation weeks. (Either parents agree on a number or the judge decides). One parent gets to schedule their weeks first in odd years, and the other schedules first in even years. Whoever has first choice must designate their weeks by March 31, and the other parent must designate by April 15.
Exchanges and transportation
Explain who is responsible for transporting the child between parents and where pickups and drop-offs take place.
If you have an older child, you can include provisions for how they can transport themself between parents' homes.
Changes and cancellations
The standard cancellation provision requires parents to give each other at least 24 hours' notice if they have to cancel or change a visit. If 24 hours' notice isn't possible, they must notify the other parent as soon as possible.
You can add custom rules to better prevent conflict. You might add provisions for communicating last-minute changes (e.g., by phone call only) or for making up parenting time when a visit is canceled.
In all cases, parents must consider reasonable, temporary schedule changes requested by the other parent or the child. If parents agree to a long-term change, they should record it in writing so the court can enforce it.
Common schedules
You can invent your own schedule or simply adapt a common one.
Missouri encourages equal parenting time by requiring judges to at least consider a 50/50 schedule when ruling after a trial. Parents who agree on a schedule can use any time division they want.
The 3-4-4-3 schedule is a 50/50 split in which the child spends three days with one parent and then four days with the other. Then, it switches so the child spends four days with the first parent and three days with the other.

Another equal parenting time schedule is the alternating weeks schedule. The child spends seven days with one parent, then seven days with the other — an arrangement that works well for parents with long commutes between homes.

A common 60/40 split is the every extended weekend schedule. The child lives with one parent during the week and spends every Friday afternoon to Monday morning with the other parent.

The alternating weekends schedule is a frequently-used arrangement in which the child lives primarily with one parent and spends every other weekend with the other (an 80/20 split). The weekend visits can be Saturday and Sunday or an extended weekend (e.g., Friday evening to Monday morning).

A common variation of the alternating weekends schedule includes a short visit every Wednesday (or another weekday) so the child doesn't go too long without seeing the noncustodial parent.

Long-distance schedules
Parents who live far apart should use a long-distance schedule, which has longer periods of parenting time with fewer exchanges. They may also need extra provisions about the child's travel between homes, such as if the child can travel alone, how parents will share travel expenses, etc.
Supervised visitation and exchanges
When a parent poses a risk to the child's safety or emotional well-being, parents can agree to or a judge may order supervised visitation. The court can also order supervised exchanges to reduce parents' interactions (often ordered in high-conflict cases and those involving domestic violence).
The easiest way to make a schedule
If you're like most parents, creating a residential schedule will feel daunting. How do you write something that meets legal requirements and doesn't leave any loose ends?
Custody X Change makes it easy. First, click and drag in your color-coded calendar.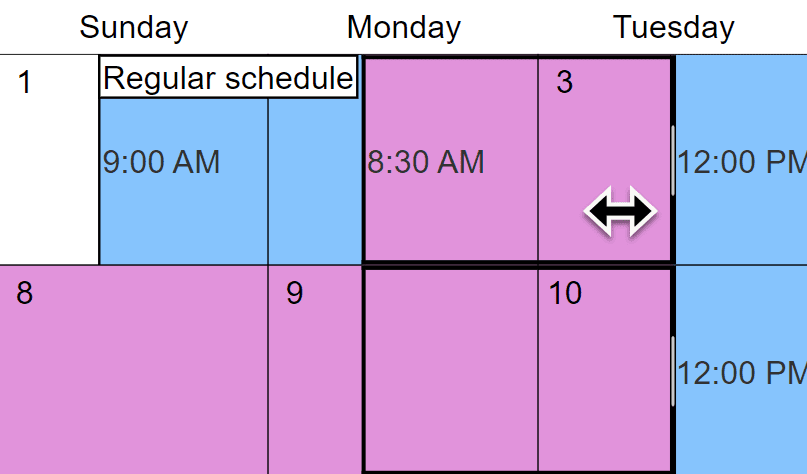 Then watch a full description appear in your parenting plan.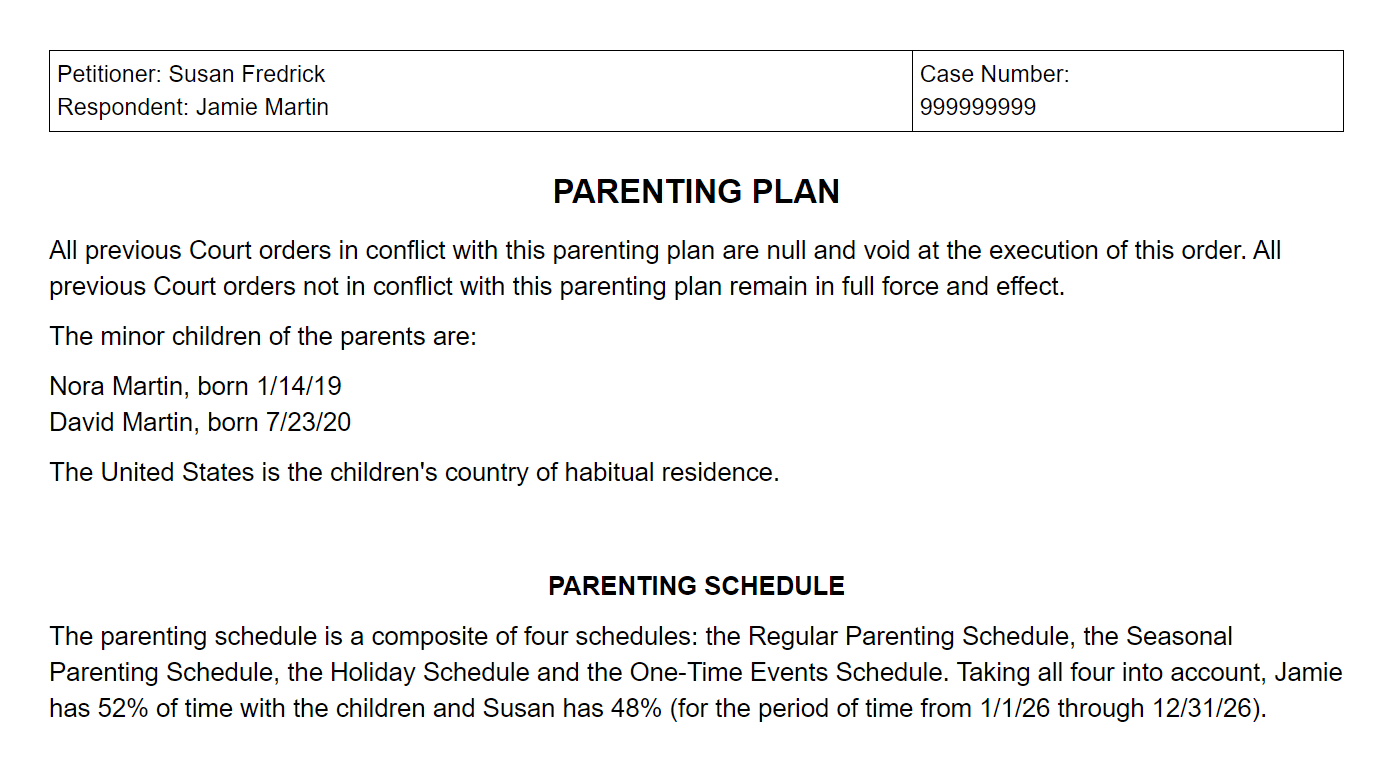 The combination of a visual and written schedule means your family will have no problem knowing who has the child when. Take advantage of Custody X Change to make your schedule as clear and thorough as can be.
Bring calm to co‑parenting. Agree on a schedule and plan. Be prepared with everything documented.