Alternating Weeks - Visitation Schedule Examples
The alternating weeks schedule is a 50/50 residential schedule. Your child spends a week with one parent and the next week with the other parent. This repeats throughout the year.

Here's how this schedule looks in the calendar.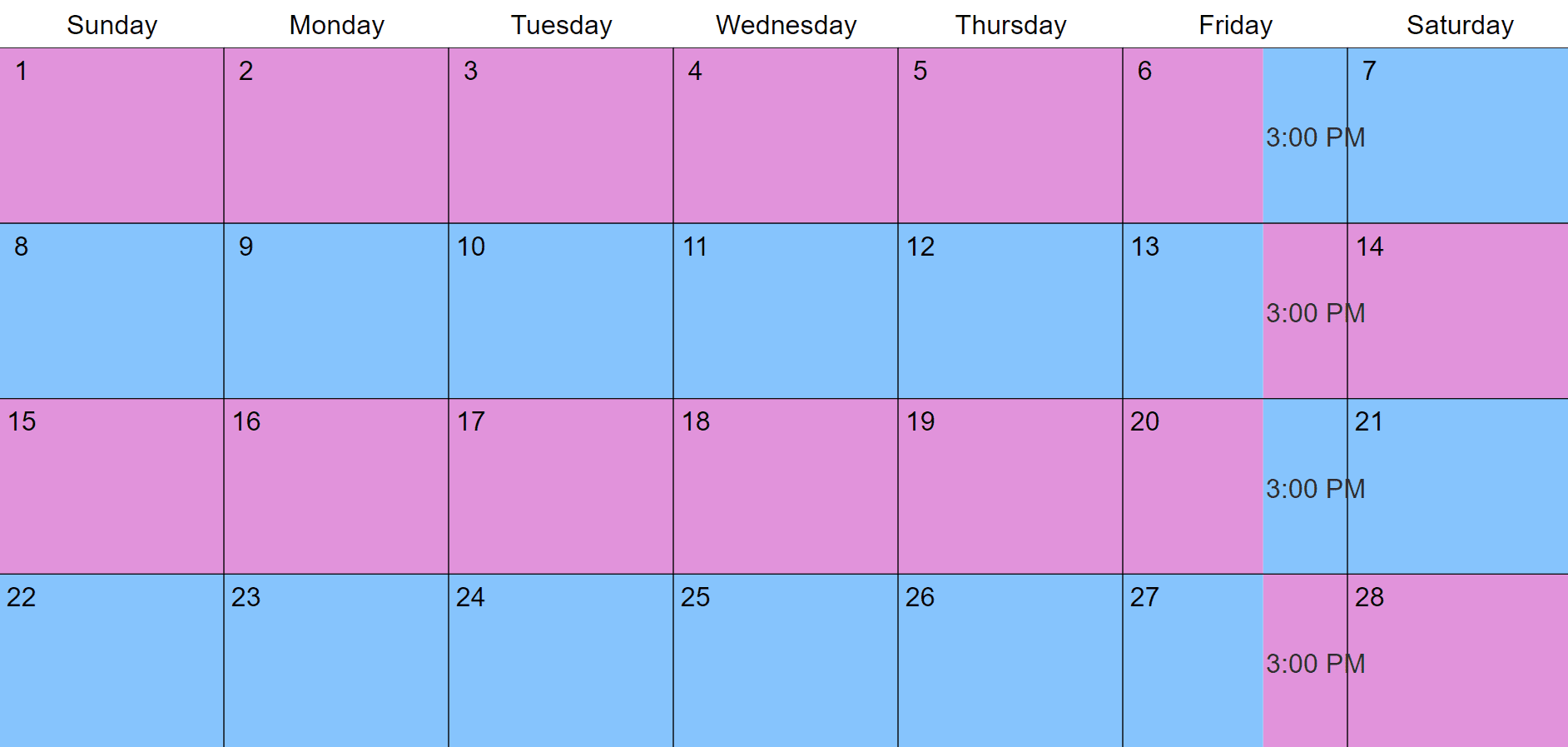 You may also hear it called the every-other-week schedule.
Visualize your schedule. Get a written parenting plan. Calculate your parenting time.
Customizing the alternating weeks schedule
Here are some ways to customize the alternating weeks schedule so it works better for your situation.
Change the start day
You can pick any day of the week for the exchange. Here is the exchange on a Wednesday.

Add a midweek visit
You can add a midweek visit to the other parent during the week. Here is a midweek visit on Tuesday evening.

Add an overnight visit
You can add an overnight visit to the other parent during the week. Here is an overnight visit on Wednesday with an exchange on Sunday.

Use 3rd-party time
You can also show 3rd party time in your schedule when your child isn't with either parent, such as during school or day care.

Calculate your time
As you customize your every-other-week schedule with holidays and more, you can use a parenting timeshare calculator to make sure each parent still has 50 percent of the time with the child.
Pros and cons of the alternating weeks schedule
Pros:
Parents have a long time period with the children.
Parents have the children for the same amount of time, so there may be less conflict over the schedule.
There are limited exchanges.
You can add midweek or overnight visits so the children don't spend an entire week away from either parent.
It provides consistency for children who struggle with change.
It often helps children stay current on school assignments and homework.
Cons:
Parents of school aged children must live within a reasonable distance of the school.
Parents must live reasonably close to each other.
Some children struggle having two residences.
Parents must communicate frequently and keep each other updated on school and activities.
Parents and/or the children may struggle being apart for an entire week
The easiest way to make an alternating weeks schedule
There's a lot to think about when you build a parenting time schedule. You'll want it to address holidays and school breaks, give the right amount of time to each parent, and work for years to come.
The Custody X Change app makes it easy. Just follow the steps to make a common custody schedule. On Step 2, make sure to select the "alternating weeks" button.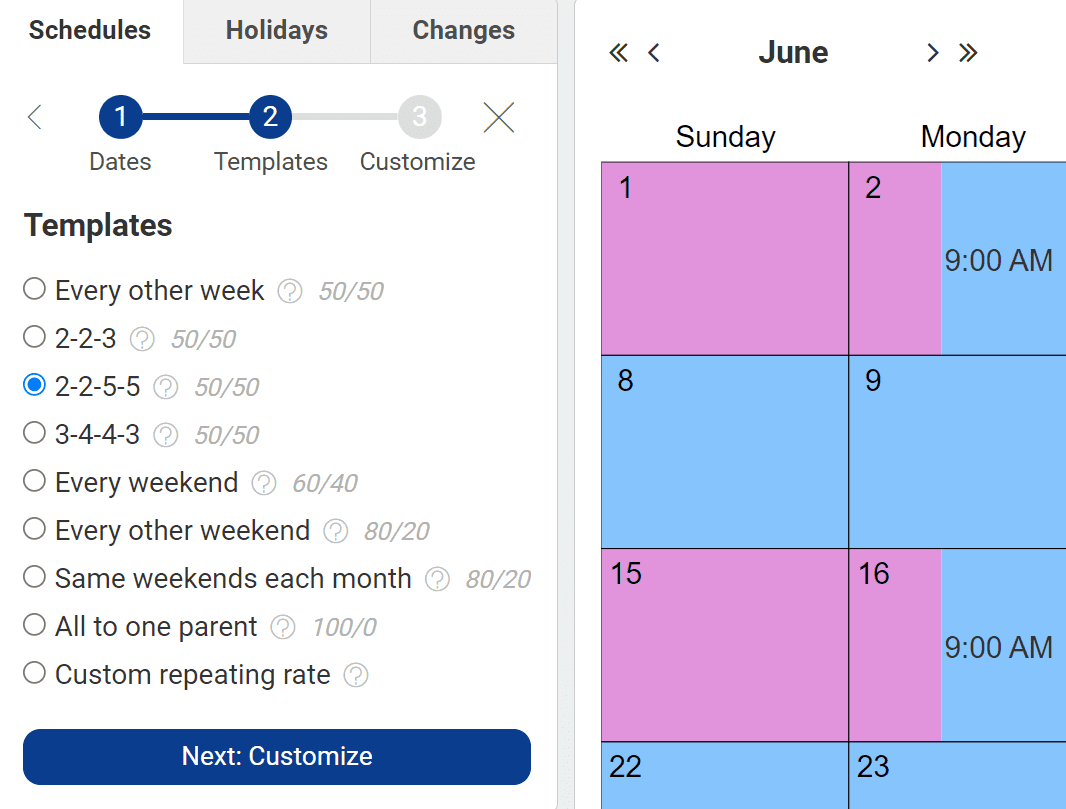 To make a custody schedule quickly and affordably, turn to Custody X Change. You'll get a written schedule and a visual calendar that meet your family's needs, as well as court standards.
Visualize your schedule. Get a written parenting plan. Calculate your parenting time.