Missouri Child Custody and Parenting Time: Overview
When issuing child custody orders, Missouri family courts emphasize the importance of sharing parenting responsibilities.
Courts greatly prefer that parents work together to reach an agreement on custody, parenting time, child support and any other issues in their case (e.g., divorce issues).
In an uncontested case, parents reach an agreement before they start the court process. When a case is opened without an agreement, it's contested and the court process helps parents try to reach a settlement agreement.
When contested cases fail to settle, a judge decides custody in a trial.
Visualize your schedule. Get a written parenting plan. Calculate your parenting time.
When parents with a child under 18 file for divorce or legal separation, their case automatically addresses custody and child support. Unmarried parents with a child under 18 can get custody and child support orders in a paternity or custody case — or they can get an order for child support only.
Types of custody
There are two types of custody: legal and physical.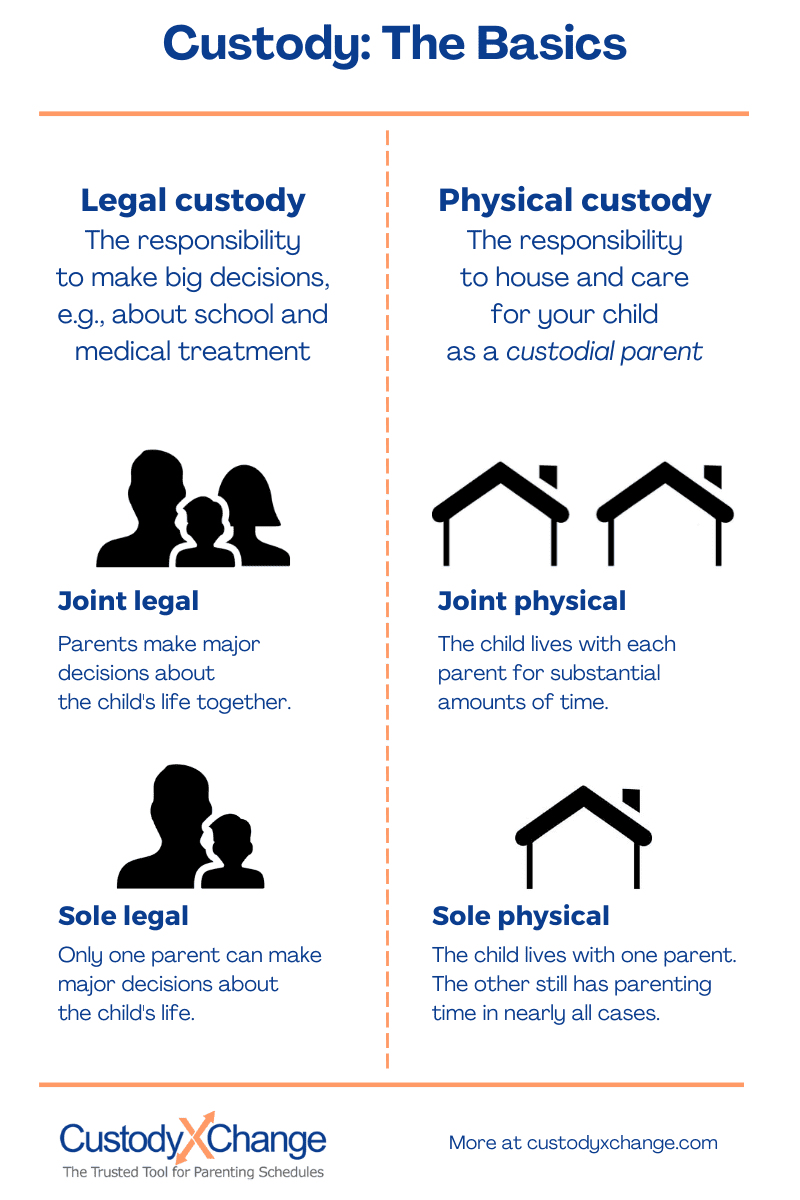 Legal custody
Legal custody describes parents' right and responsibility to make decisions about their child's upbringing and welfare. This includes decisions about medical care, education, religious participation, discipline, etc.
In joint legal custody — the most common — parents must confer with each other on all major decisions.
Much less common is sole legal custody (sometimes called full custody), in which only one parent makes major decisions. When parents agree to sole custody, their parenting plan must explain why it's best for the child and why they can't share decision-making. In trials, judges only order sole legal custody if one parent proves the other can't adequately care for the child or is a safety threat.
Physical custody (parenting time)
Physical custody refers to whom the child lives and spends time with. Also called parenting time or visitation, it's detailed in a residential schedule.
In joint physical custody, the child lives with both parents. When it's best for the child, courts prefer parents to share time equally (50/50). Parents can agree to other parenting time divisions, such as 60/40, 70/30 or 80/20. When a judge decides parenting time in a trial, they consider equal time and can order any parenting time arrangement they determine is best for the child.
Sole physical custody — when a child lives with one parent — is typically only ordered when the other parent is a risk to the child's safety. That parent is often given supervised visitation, whether the parents agree to it or a judge orders it in a trial.
Child support
Child support ensures that both parents meet their child's financial needs and that the child has the same (or similar) standard of living that they would have if parents lived together. The parent with more than 50 percent of parenting time receives monthly payments from the other parent. When parents share time 50/50, typically the parent with the higher income pays. Parents' genders aren't a factor.
The payment amount depends on both parents' incomes, how much each spends on certain child-rearing costs, and the number of children in the case. If the paying parent has at least 36 annual overnight visits, their child support obligation can be reduced.
When parents have similar incomes and child-rearing expenses and share parenting time equally, they may decide — or a judge may order — that child support isn't necessary.
Divorce and legal separation cases automatically include child support. Unmarried parents can include child support in a paternity case or get an order for child support only from the state's Family Services Division Child Support Program.
Unmarried parents and confirming paternity
In Missouri, when an unmarried woman has a child, she automatically has sole legal and physical custody until the court issues orders stating otherwise.
If she or the father wants court orders for custody, parenting time or child support, they must first establish paternity.
They can do this by both completing paternity affidavits at the hospital when the child is born (required if they want the father's name on the birth certificate). Or they can submit the affidavits together to the Bureau of Vital Records at a later time.
When paternity is in question, parents can get free voluntary DNA testing from the Family Support Division (FSD). Alternatively, either parent can ask for court-ordered DNA testing as part of a paternity case in family court. If testing proves paternity with at least 98 percent probability, parents either complete the acknowledgement affidavits or get a court order naming the man as the father.
Once paternity is officially established, parents can get court orders for custody and child support by opening a custody case or through their existing paternity case. If parents only need a child support order, they can use the FSD instead.
Same-sex parents
When same-sex parents need custody orders, the process and outcome depend on how legal parentage has been established.
Both parents have equal rights to legal and physical custody when they've adopted a child together or when one has adopted the other's biological child. In either situation, married parents handle custody in their divorce, and unmarried parents can file a custody case. Both types of cases include child support.
If a nonbiological parent hasn't legally adopted the child, they must file for third-party custody, and they are not obligated to pay child support. In these cases, experts recommend consulting an attorney experienced in LGBTQ family law.
Deciding what's in the child's best interests
When approving settlement agreements and deciding contested cases, the courts prioritize the child's best interests, emphasizing their physical safety and emotional well-being.
The judge looks at evidence presented by parents and, possibly, at evaluation reports. The judge can consider many factors, such as the:
Child's relationship and interactions with each parent
Willingness and ability of each parent to meet the child's needs, including supporting a relationship with the other parent
Child's relationships with siblings and other people (stepparents, grandparents, etc.)
Child's overall adjustment to their home, school and community
Mental and physical health of the child, parents and relevant people
Parents' histories of domestic violence, child abuse or crimes against a child (if any)
Intentions of either parent to move with the child
Child's preferences
The child can share their opinions with the judge in a private interview during trial or with a custody evaluator or guardian ad litem who reports back to the judge. The older a child is, the more weight a judge is likely to give their preferences.
Length of proceedings
The length of the court process — from filing to final orders — depends on the specifics of the case and the court's schedule.
Divorcing parents must wait 30 days from filing an uncontested case before the court can finalize things in a short hearing. Unmarried parents with uncontested cases don't have a required waiting period, but it usually takes courts at least 30 days to hold their hearing nonetheless.
When contested cases settle, they usually wait 45 to 60 days for a hearing. How long it takes for parents to reach a settlement, however, varies. (Some parents litigate or attend mediation for over a year before reaching an agreement).
Trials typically take place six months to a year after the case opened. They usually last a few hours or, in more complex cases, a few days.
Costs to expect
The parent who opens the case must pay a filing fee. Filing fees vary, but are usually around $150. Smaller counties have lower fees, and bigger counties have higher fees. (e.g., The divorce filing fee in St. Louis County is $250.)
Other court costs may include fees to respond to a case, to file a motion and to have an evaluation. Parents who can't afford court fees may apply for a fee waiver (also called an in forma pauperis application).
Some parents use private mediation, which typically costs between $200 and $500 an hour.
Attorney fees are the most significant costs in a custody case. Missouri family lawyers typically charge between $200 and $500 per hour. For cases that go all the way to trial, each parent may pay around $15,000 in attorney fees. More complex cases (e.g., those with expert witnesses) can cost each parent $40,000 or more in legal fees.
Low-cost or free legal assistance
If you meet income eligibility requirements, you may be able to get free legal help (legal aid) from Missouri Legal Services. Also, the Missouri Bar Association has a list of organizations that offer discounted or pro bono legal help.
On the Missouri Free Legal Answers website, you can submit questions and get answers from a lawyer via email. There are no fees, and you can ask follow-up questions. Like with legal aid services, you must meet income eligibility requirements, which are assessed with a short online questionnaire.
You might also consider limited scope representation, in which you pay an attorney a flat rate to help with just one part of your case (e.g., creating the paperwork for an uncontested case, but not representing you in negotiations or at the hearing).
Representing yourself in a family law case
Many parents go through the custody process without a lawyer, making them self-represented (pro se) litigants. However, self-representation is only advised in straightforward, uncontested cases.
Missouri requires self-representing parents to complete the brief Litigant Awareness Program online and submit a certificate of completion to the court when they file or respond to a case.
Consult the state's other resources for self-representation, and prepare as thoroughly as a lawyer would. Review Chapter 452 of the Missouri Revised Statutes, and have a legal professional look over any paperwork you create yourself. (Keep in mind that court clerks aren't allowed to help you fill out paperwork.)
Staying organized
The process of deciding custody and parenting time requires serious organization. You need to create a parenting plan, draft residential schedules, calculate expenses, negotiate with the other parent and beyond.
The Custody X Change app enables you to do all of that in one place.

With a parenting plan template, parenting time calendars, an expense tracker, parent-to-parent messaging and more, Custody X Change makes sure you're prepared for whatever arises in your journey to custody.
Take advantage of our technology to stay on top of all the moving parts of your case.
Our professional sources
For more help, consider reaching out to one of our sources. The professionals below provided expertise for this guide to custody and parenting time in Missouri. We hope they can help you, too.
Garnholz Sparks Family Lawyers
Cynthia Garnholz, Attorney at Law
St. Louis, MO
The Gordon Law Firm, L.L.C.
Shannon Gordon, Attorney at Law
Kansas City, MO
Law Office of Barbara Graham, L.L.C.
Barbara Graham, Attorney at Law
St. Louis, MO
The Mitchell Law Firm, L.L.C.
Angelyn Mitchell, Attorney at Law
St. Charles, MO
Visualize your schedule. Get a written parenting plan. Calculate your parenting time.