Step-Up Parenting Plans
Children's needs change as they get older. The parenting plan and schedule that worked for your child as an infant isn't going to suit them as a teenager.
A step-up parenting plan evolves with the child. It eases them into spending more time with a noncustodial parent they don't know well or are too young to spend significant time with. Some states like Ohio and Texas call these arrangements phased-in parenting time.
Visualize your schedule. Get a written parenting plan. Calculate your parenting time.
Parents can negotiate a step-up parenting plan, or one parent could propose the plan to the court. In either case, the judge will only approve the plan as part of the final custody order if it's in the child's best interest.
What is a step-up parenting plan?
A step-up parenting plan adjusts visitation over time. It's a good option for any family who wants to plan ahead and help their child adapt to living in two households. They're most common in cases involving:
The specifics of the plan depend on the child's age, how familiar they are with the noncustodial parent and the noncustodial parent's behavior.
Noncustodial parents may worry they'll always be stuck with the same share of parenting time. With a step-up parenting plan, they're guaranteed to get more time as they move up each "step" — so long as they meet the outlined requirements.
For example, the noncustodial parent might have to pass random drug tests or attend counseling to move up a step. Most importantly, the child must be comfortable enough to spend more time around the parent. Any attempt by the custodial parent to interfere with this progression without just cause (e.g., protecting the child from harm) violates the court order.
Ultimately, parents are working toward a standard schedule that will stay in place until the child turns 18.
Benefits of a step-up parenting plan
Sample step-up parenting plan
To get an idea of how to structure your plan, explore the sample plan below made with the Custody X Change app. We'll walk you through how to create your own with our online parenting plan template.
Often, courts let you use any format for your parenting plan. Even if yours requires you to use their template, they typically allow parents to attach another plan with additional information. This can be helpful if your court's template doesn't work well for stepping up.
Custody X Change has all the tools you'll need to build a step-up plan. Start by creating a regular parenting plan. Then you'll create a parenting time schedule for each step of your plan and incorporate custom provisions (rules) to specify the conditions for moving to the next step.
We've created a hypothetical scenario to illustrate how a step-up plan works. The noncustodial parent, Jamie, has not seen their 7-year-old child in two years. The custodial parent, Susan, currently has sole physical custody. The end goal is for Jamie and Susan to have joint physical custody.
Basic personal information
The top of your plan should include the parents' and children's full names, your case number (if you have one at this point) and other basic information as shown here.

In Custody X Change, you add this information in your account settings and your parenting plan settings.
Schedules
You'll need a written schedule for each step of your plan. Research child custody schedules for your child's age group to get ideas.
Custody X Change automatically translates the visual schedules you create within the app to proper legal language in the parenting plan.
You'll begin by choosing a start date for your first schedule. You don't need to enter an end date because this schedule will end when the next one begins.
To differentiate schedules in the app, give them titles that correspond to the steps in your plan, like "Regular Parenting Schedule One" for Step 1, "Regular Parenting Schedule Two" for Step 2, and so on.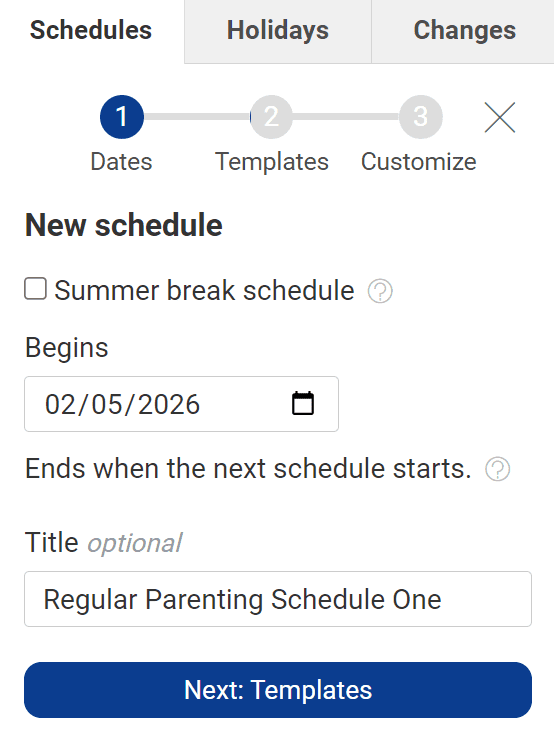 Since Jamie hasn't seen their school-age child in two years, it's important they start with short, supervised visits that get longer over time.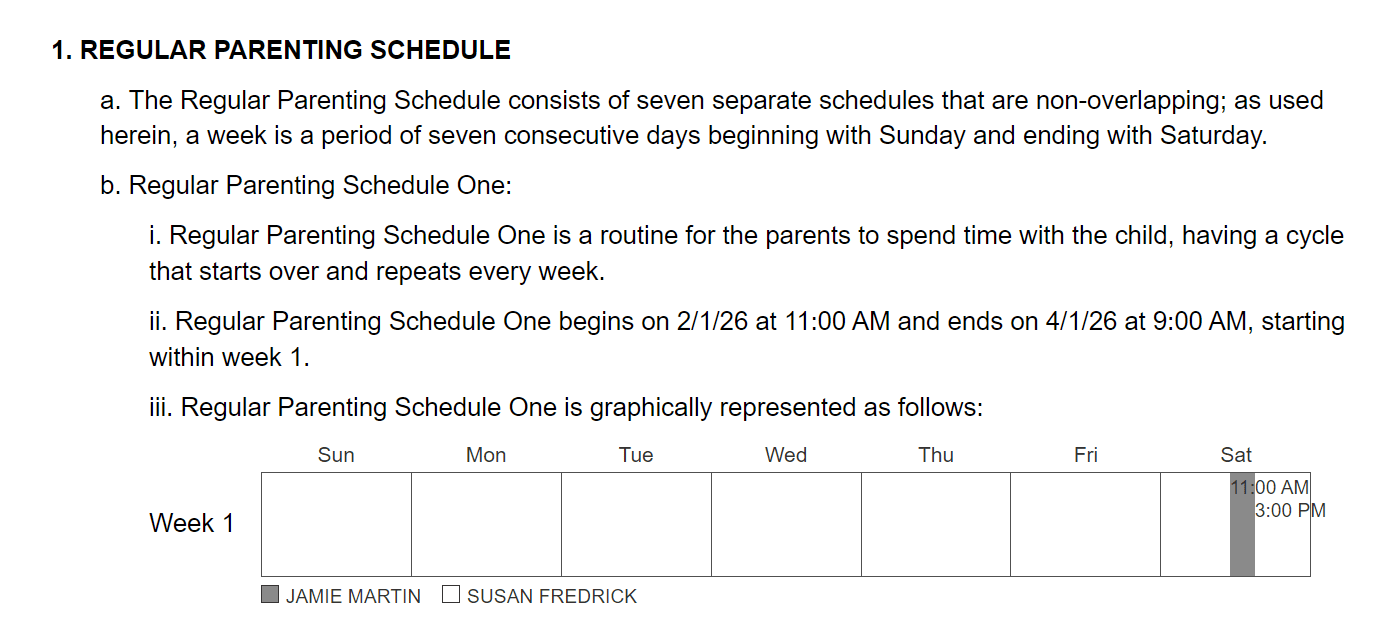 When you enter your second schedule, you may have a certain start date in mind or you may want the start date to depend on the noncustodial parent meeting certain conditions. In the latter case, set a start date in Custody X Change and then use provisions to explain that the date may move. (See Steps below for how to do this.)
At Step 2, Jamie's parenting time increases to nine hours every Saturday.
Skipping ahead to the fourth schedule (Step 4), Jamie has the 1st, 3rd and 5th weekend of each month, plus a midweek visit every week.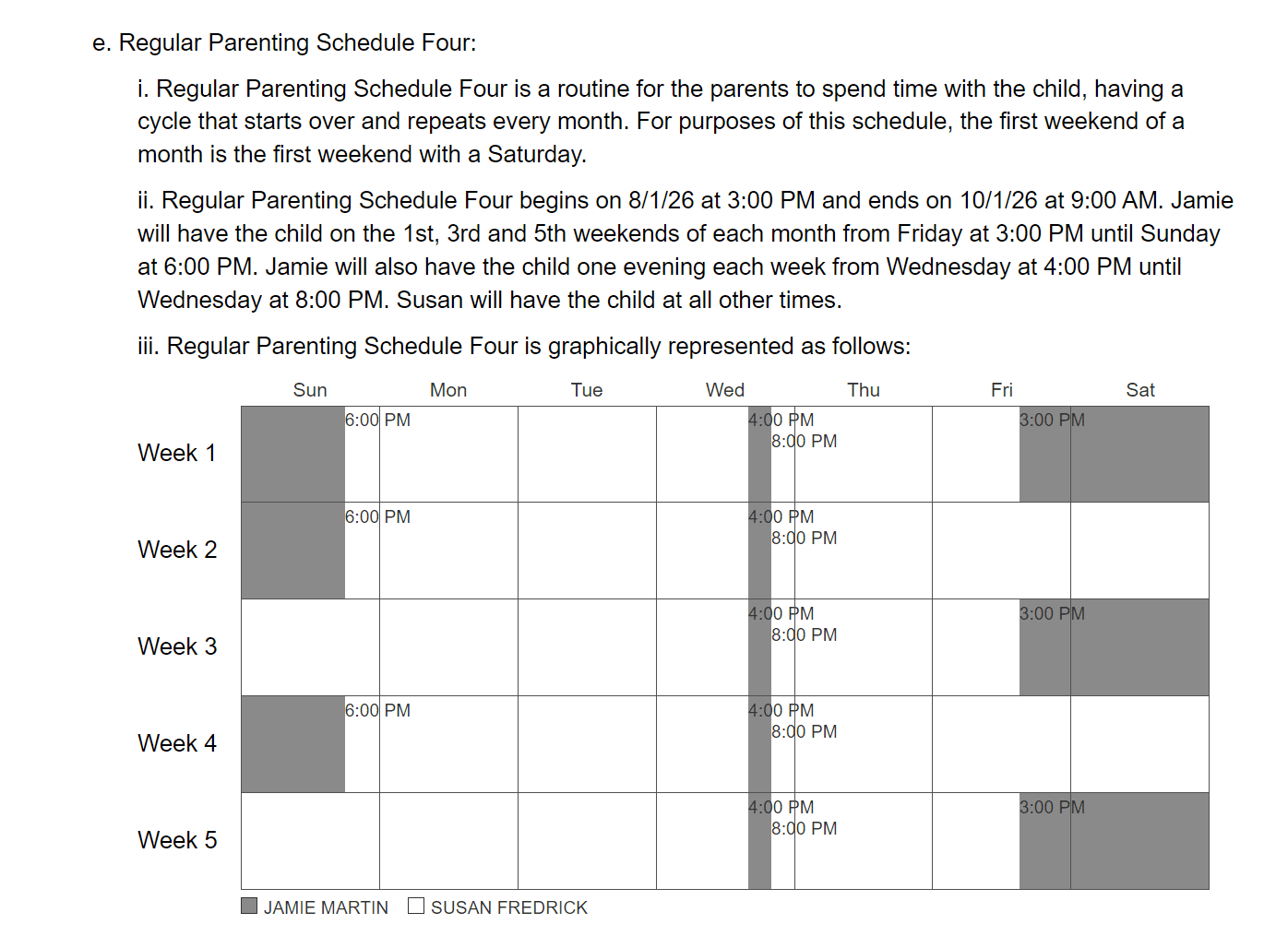 There isn't a minimum or maximum number of schedules/steps you should have. It all depends on what best suits the needs of your child and allows the noncustodial parent sufficient time to prove they're ready to take on a more active parenting role.
In our sample plan, it takes seven steps to get to the standard schedule that will stay in place until the child turns 18 (or until it's modified).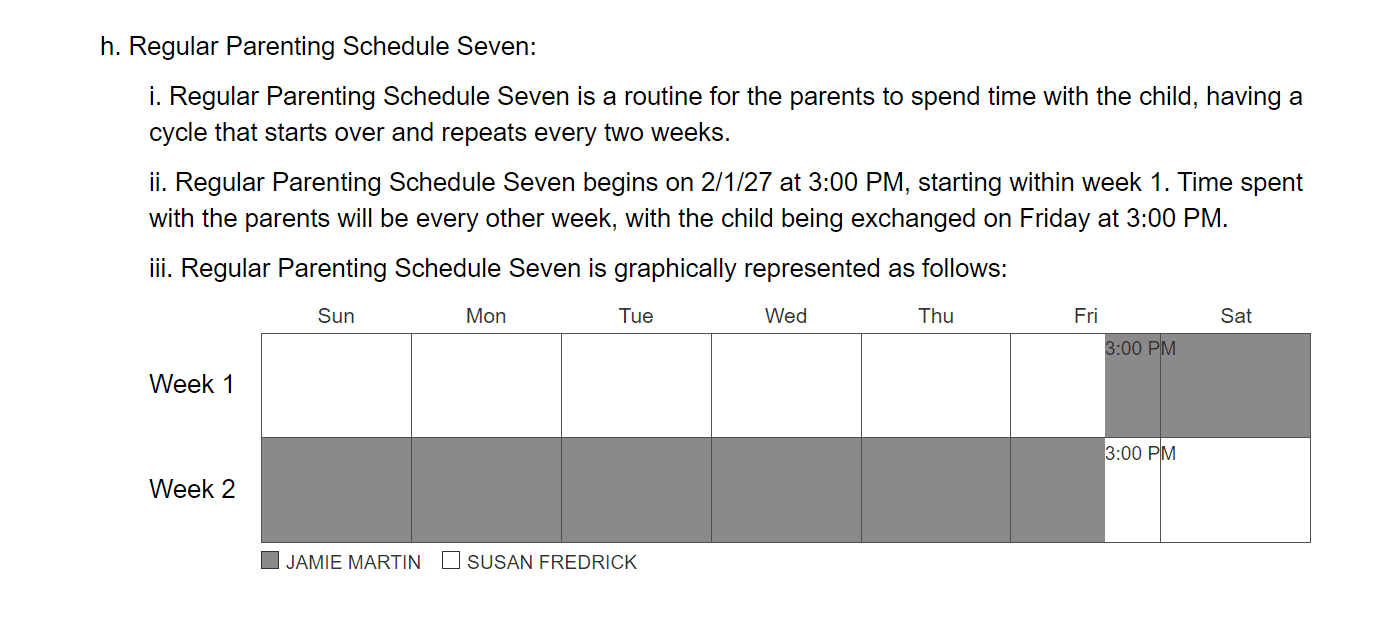 Type of custody
Specify the type of custody you'll have now and whether it will change as your plan progresses. In Custody X Change, you'll do this in the "physical custody" and "legal custody" categories of the parenting plan. At the bottom of each section, you'll see space to add a custom provision. Here, you can spell out how custody will change as the steps progress.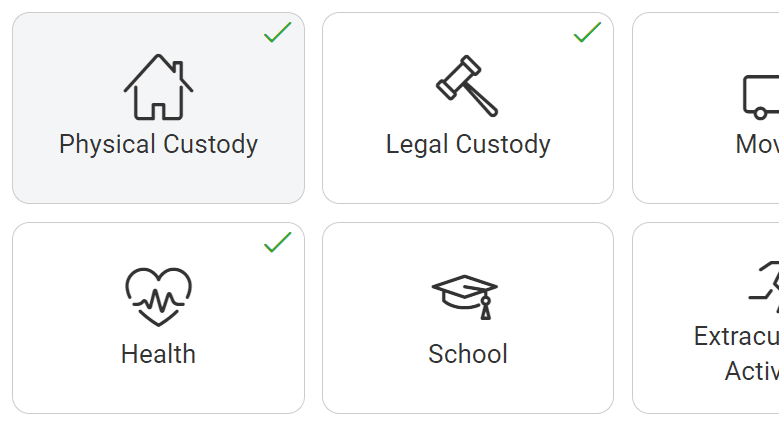 The app automatically numbers each topic (e.g., legal custody) so you can easily navigate the details of your plan. In our sample plan, section 2 explains how parents will transition to joint physical custody. (Your numbered sections will differ depending on how many provisions you have.)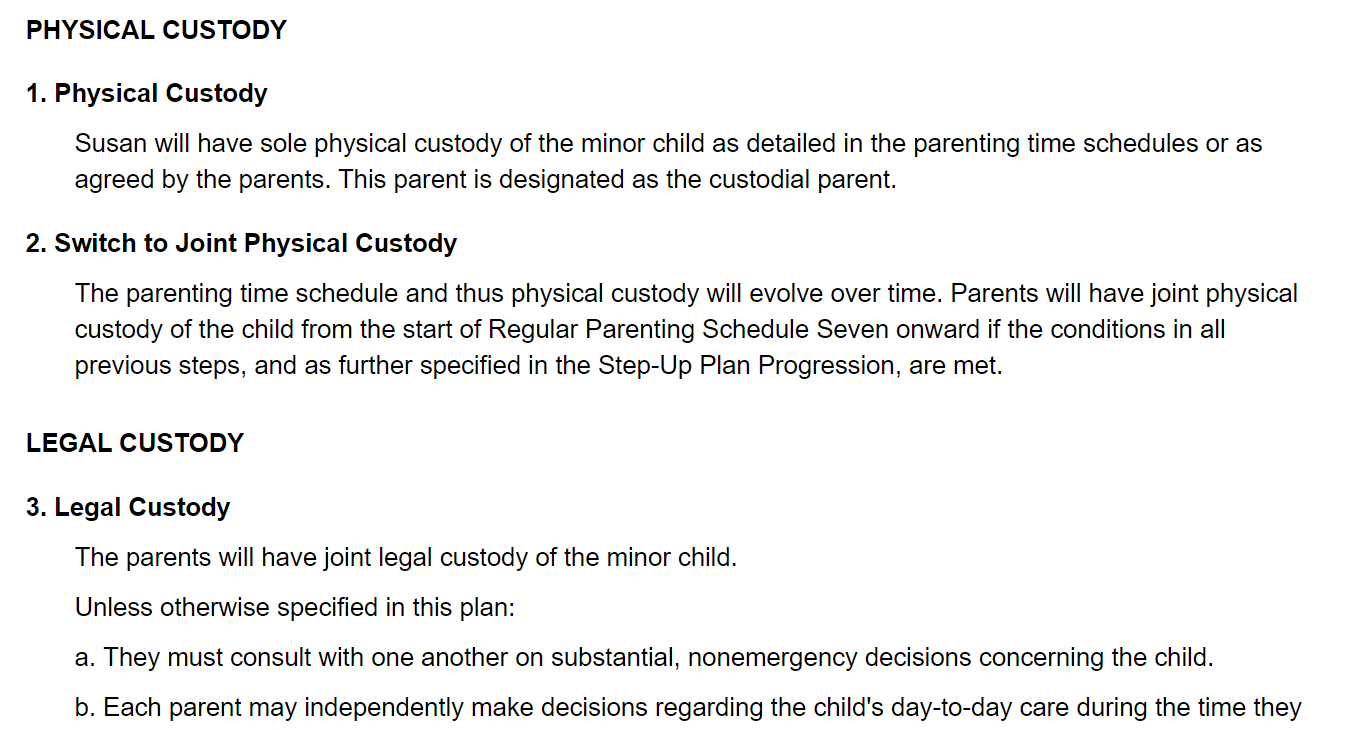 Steps
Identify and describe each step of your step-up plan using the custom provisions in Custody X Change. Within the parenting plan area of the app, choose a category in which to create these custom provisions. The "changes to parenting time" category is a good place.
Start with a custom provision explaining how the plan will progress generally and the guidelines (if any) that will apply across all steps.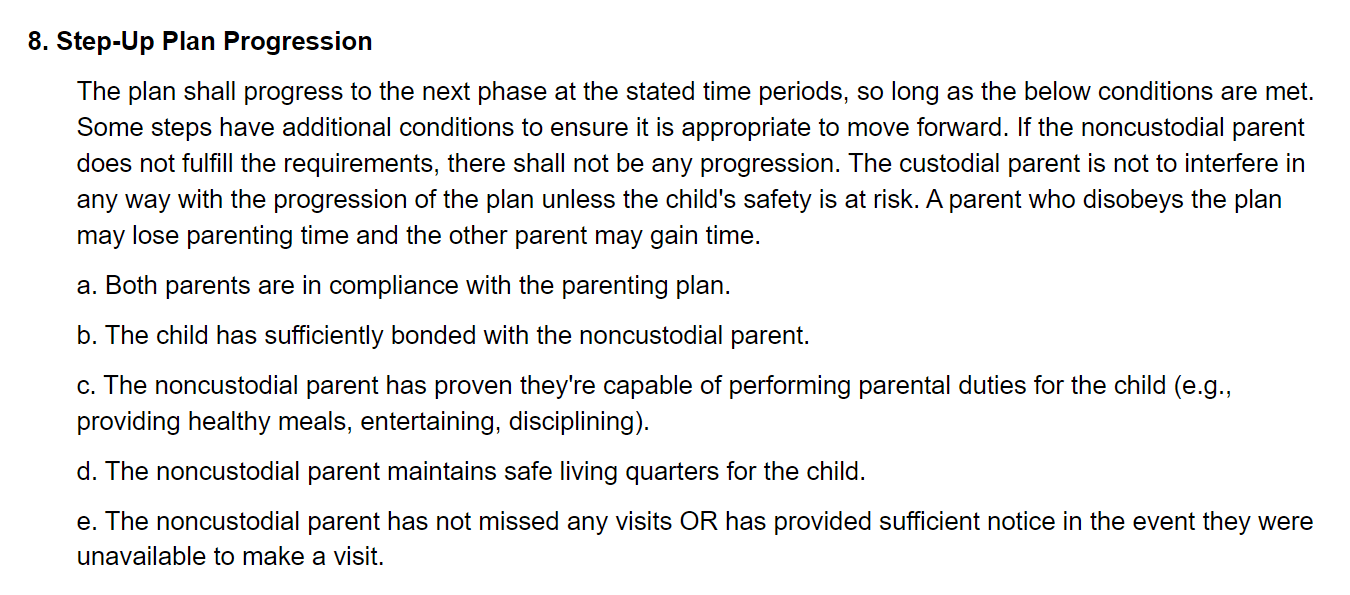 Then you can add a custom provision for each step. Name the schedule you'll follow, and the conditions under which the plan can proceed to the next step. If failure to meet a condition would render a schedule's start date null, say so clearly and explain how the start date will move.
In this example, Jamie must attend a parenting class and counseling to get more parenting time.

Depending on your circumstances, the succeeding steps may have fewer requirements.


In our sample plan, the final step has no more specific conditions and instead refers back to the "Step-Up Plan Progression."

Other provisions
Add as many other provisions to your plan as you'd like. Generally, the more you decide on ahead of time, the less confusion and conflict you'll face later.
Common provisions step-up parenting plans include:
Supervised visits are common in step-up plans since it might be unsafe or uncomfortable for the child to be alone with the noncustodial parent at first. This arrangement also helps the custodial parent keep track of the child's location during visits.
A supervised visit takes place with a third party present; sometimes the court requires these visits to occur in dedicated places called supervised visitation facilities.
You can see Jamie and Susan agreed to eventually end supervised visits.
Signatures
To complete your plan, each parent should sign it to confirm they agree to the terms. In Custody X Change, go to the "parenting plan" tab, click "signatures," then check the box next to "include signature section." After you print, you can sign with a pen.

In your parenting plan settings, you can also add the parents' addresses, a notarization section or space for the parents to initial each page.
The easiest way to make a step-up parenting plan
Step-up parenting plans are complex. Custody X Change provides you with structure — but also flexibility — so you get a plan that meets your family's needs for years to come.
It offers popular provisions to choose from and lets you add in custom provisions. Plus, you can save your plan as a Word document to make all the tweaks you want: formatting, organization, etc.

The Custody X Change app can also help you manage your step-up parenting arrangement:
Use the Custody X Change app's versatility to your advantage.
Visualize your schedule. Get a written parenting plan. Calculate your parenting time.