Veterans Day Parenting Agreements
Because most schools close in observance of Veterans Day (November 11), parenting agreements should include plans for this holiday.
Veterans Day honors individuals who have served in the U.S. armed forces. Originally called Armistice Day or Remembrance Day (names still used in Canada, the U.K. and Europe), it celebrates the end of World War I on November 11, 1918.
Keep in mind that Veterans Day parenting time can be especially important for parents who have served or are currently serving in the military.
Visualize your schedule. Get a written parenting plan. Calculate your parenting time.
Veterans Day schedule options
Veterans Day can fall on any day of the week; when it's on a Friday or Monday, it creates a three-day weekend. To prevent conflict and confusion, your holiday schedule should cover years when it's a single day and years when it creates a long weekend.
When negotiating a parenting agreement, parents can compromise on any Veterans Day plans that work for their situation. For example, when one parent is or was in the military, parents often agree to have the child spend the day with that parent.
Split the day or three-day weekend
You might split the day or three-day weekend evenly or according to your standard parenting time division (e.g., 70/30).
For example, when splitting the day, your child can spend the morning with the parent who has custody the previous night, then spend the afternoon and evening with the other parent.

To split a Veterans Day three-day weekend, the child may spend half of the long weekend with each parent.

Celebrate together
This is a good option when both parents are veterans or active duty military. For example, parents could agree to attend a Veterans Day parade or educational event together with the child.
However, this is only recommended for parents who can spend time together without conflict.
Alternate yearly
Many parents alternate who has Veterans Day each year. Your child might spend the day or three-day weekend with you in odd-numbered years and with the other parent in even-numbered years.
Alternate holidays within a year
Another option: Whoever didn't have custody on the previous holiday (likely Halloween) could have the child on Veterans Day. Then the other parent would get the next holiday with the child.
In years when Veterans Day creates a long weekend, you can include it in a rotation of three-day weekends. For example, one parent might have Memorial Day and Columbus Day, while the other has Labor Day and Veterans Day.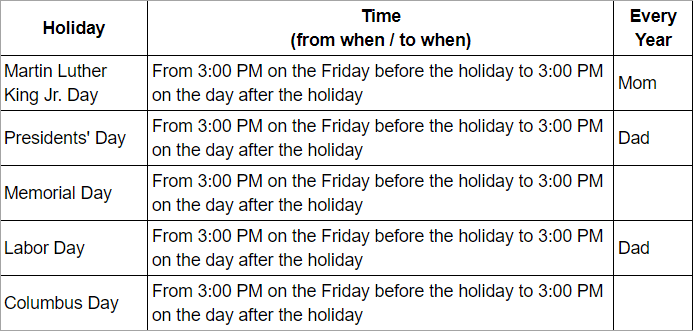 Use the court's standard schedule
When parents can't agree on their parenting time schedule, the court decides in a custody hearing or trial. Many courts issue a standard visitation schedule that includes Veterans Day.
For more information, see our guide to visitation in your location.
The easiest way to make a holiday visitation schedule
There's a lot to think about when you build a holiday schedule. You'll want it to address weekend and midweek holidays, reflect special occasions unique to your family (like birthdays) and work for years to come.
The Custody X Change app makes it easy. Just open your Custody X Change calendar and follow our steps to make a holiday schedule.
To make a custody schedule quickly and affordably, turn to Custody X Change. You'll get written and visual versions that meet your family's needs, as well as court standards.
Visualize your schedule. Get a written parenting plan. Calculate your parenting time.