Columbus Day: Popular Custody Options
Columbus Day marks the anniversary of Italian explorer Christopher Columbus' arrival in the Americas.
In many states, Indigenous Peoples Day has replaced or joined Columbus Day as a holiday. Its purpose is to show appreciation for the Indigenous populations who lived throughout the Americas prior to Columbus' arrival and recognize the impact European colonization of the Americas had on their communities.
Celebrated on the second Monday of October, these holidays usually mean a three-day weekend for the kids. There are several popular schedule options for parents who need to divide custody during this time.
Visualize your schedule. Get a written parenting plan. Calculate your parenting time.
Scheduling options
When choosing your custody schedule for this holiday, consider how much time each parent would have in your regular custody schedule and how you'll get the kids to school on Tuesday. One of the following may suit your situation.
Give the holiday to the weekend parent
You could state that the parent who's assigned the weekend before the holiday in your regular custody schedule gets to keep the children.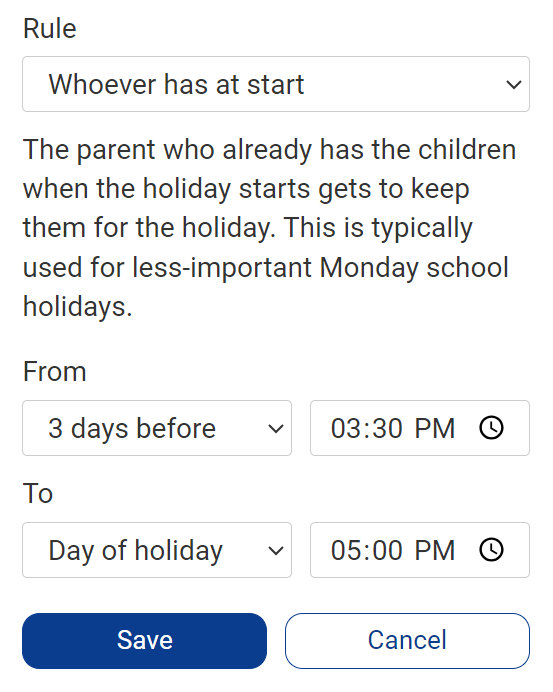 Make it a fixed holiday
You could agree to give one parent the holiday every year. Often, the holiday goes to the noncustodial parent, since they have limited visitation in the regular custody schedule.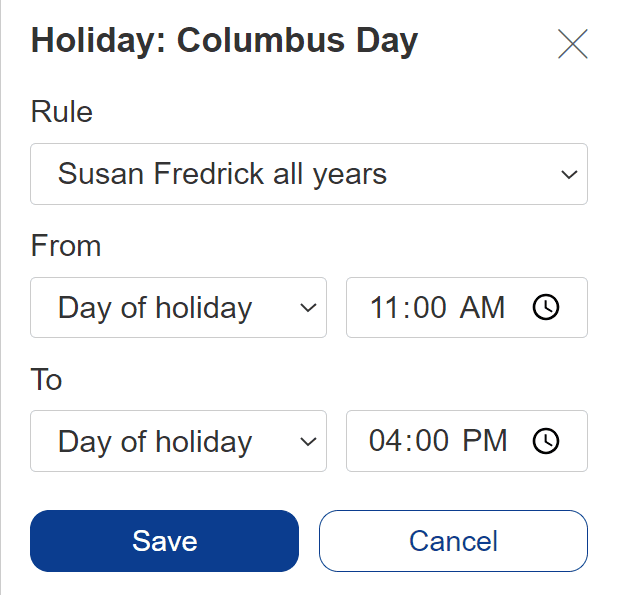 Split the holiday
Another option is to split custody on the day of the holiday.

To give each parent more time, you could split the entire long weekend. In the example below, Dad gets Friday evening to Sunday afternoon, and Mom gets Sunday afternoon to Tuesday morning, when she takes the kids to school.

Alternate the holiday
A popular option for many parents is to alternate the holiday based on whether it's an even- or odd-numbered year.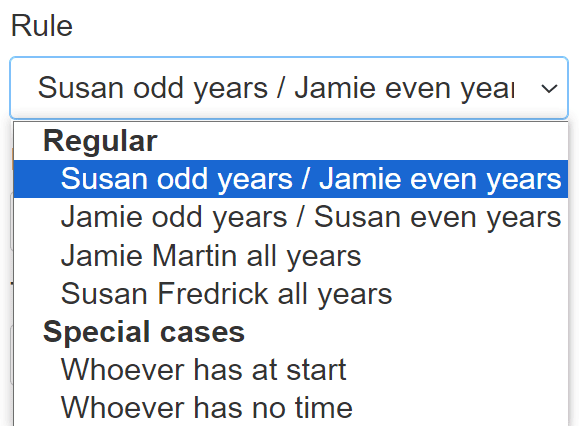 Share the holiday
Parents who get along well enough might consider sharing the holiday. This could be a good time for your children to learn about the history of Indigenous people in the Americas. Perhaps there's a museum or historical site in your area you could visit.
The easiest way to make a holiday visitation schedule
There's a lot to think about when you build a holiday schedule. You'll want it to address weekend and midweek holidays, reflect special occasions unique to your family (like birthdays) and work for years to come.
The Custody X Change app makes it easy. Just open your Custody X Change calendar and follow our steps to make a holiday schedule.
To make a custody schedule quickly and affordably, turn to Custody X Change. You'll get written and visual versions that meet your family's needs, as well as court standards.
Visualize your schedule. Get a written parenting plan. Calculate your parenting time.