Unique Halloween Visitation Schedules
Halloween is celebrated on October 31 in the midst of other holidays observed to remember those who have passed on.
Over time, Halloween has become a kid-friendly holiday that combines make-believe, sweet treats and fun frights. The emphasis on kids makes it an important day to address in your parenting schedule.
Because every family celebrates Halloween differently, craft a unique schedule that works for you and your loved ones. Strike a balance between what's fair to parents and what allows your child to have the most fun.
Visualize your schedule. Get a written parenting plan. Calculate your parenting time.
Scheduling options
Organizing a Halloween schedule doesn't have to be frightening. The following examples will give you an idea of what your schedule may look like. Whichever you choose, personalize it to meet your unique needs.
Give one parent a related holiday
Other celebrations such as Día de los Muertos (November 1 and 2) and All Saints' Day (November 1) fall around Halloween. If a parent celebrates one of these holidays, designate it as their day to spend with the child, while the other parent gets Halloween.


Split the holiday
Split the holiday so the child can spend time with both parents. For example, the holiday can start with whichever parent already has custody, then the other parent can pick up the child at 4 p.m. on Halloween and keep them overnight.


Or you could make the exchange time occur during trick-or-treating, so each parent has time to take the child around to the neighbors.
Give one parent a short trick-or-treating visit
You could allow whichever parent doesn't have custody on the 31st to pick the child up for a couple of hours in the evening — just enough time to take pictures and trick or treat at a few homes.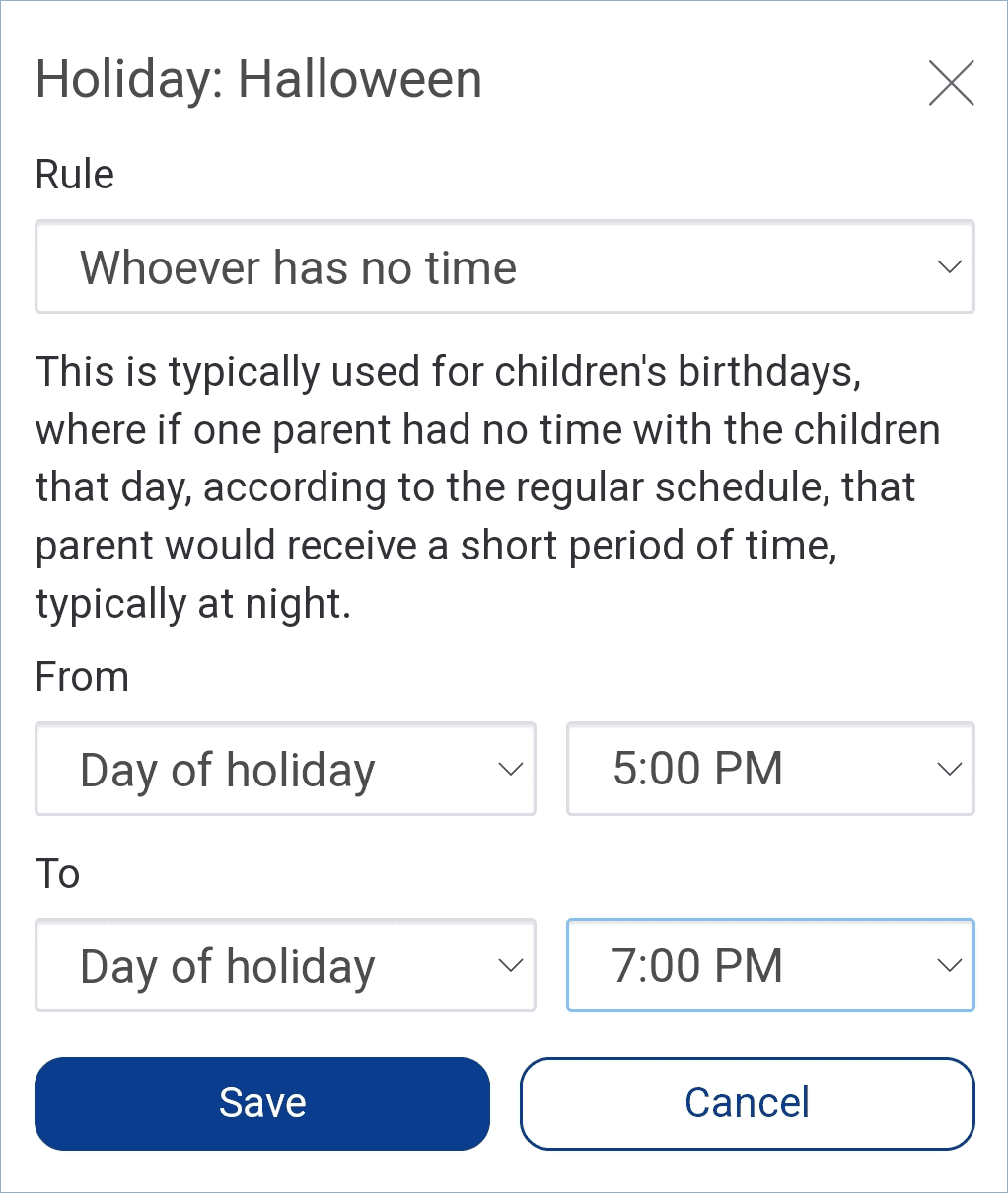 Divide the holidays in a year
Look at all the holidays in a year, then divvy them up in a way that feels fair.
For example, if you get Halloween, the other parent may want parenting time on New Year's Eve in return. Nothing says each parent has to have the same number of holidays; do what works for your family.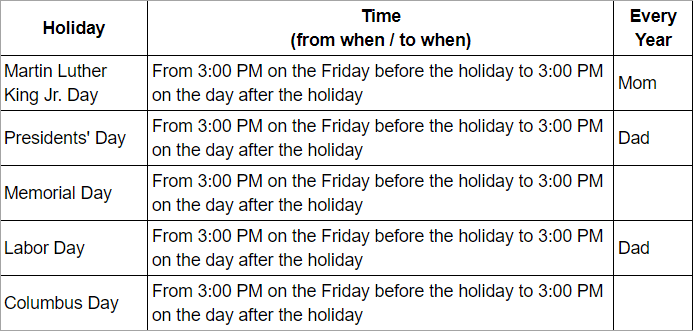 Alternate holidays
This is similar to the previous option but follows a pattern. The parent who didn't have the child on the previous holiday that your family celebrates (perhaps Veterans Day) will have them on Halloween.
Alternate Halloween yearly
Many parents alternate Halloween (and other holidays) yearly. Your child might spend Halloween with you in even-numbered years and with the other parent in odd-numbered years.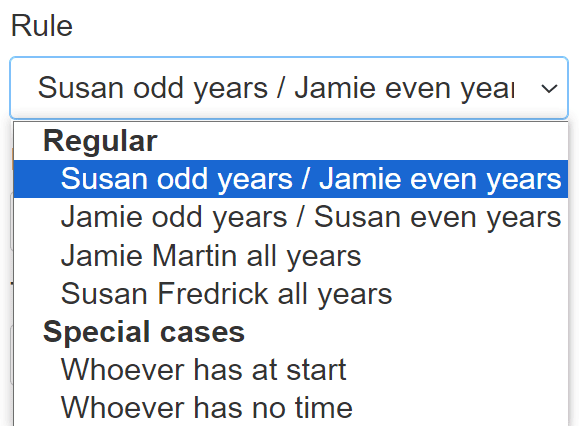 Celebrate together
Parents who get along well might take their child to the pumpkin patch or trick-or-treating together.
The easiest way to make a holiday visitation schedule
There's a lot to think about when you build a holiday schedule. You'll want it to address weekend and midweek holidays, reflect special occasions unique to your family (like birthdays) and work for years to come.
The Custody X Change app makes it easy. Just open your Custody X Change calendar and follow our steps to make a holiday schedule.
To make a custody schedule quickly and affordably, turn to Custody X Change. You'll get written and visual versions that meet your family's needs, as well as court standards.
Visualize your schedule. Get a written parenting plan. Calculate your parenting time.