New Year's Eve for Custodial Parents
New Year's Eve is a time for celebrating the year that's passed and anticipating the year to come.
You may already have a special custody schedule for winter break, when New Year's Eve takes place. Although you can leave this schedule as is, many families address New Year's Eve and New Year's Day specifically.
Some custodial parents are willing to give up seeing their child for all or part of the holiday because they get the majority of parenting time throughout the year.
Whether or not you decide to do this, figure out a schedule ahead of time to ensure a stress-free, memorable end to the year for all.
Custody X Change is software that creates custody schedules, including for holidays.
Scheduling options
The following New Year's Eve schedule examples will give you an idea of how your schedule could look.
Give the other parent New Year's Day
If the custodial parent gets to spend New Year's Eve with the child, you can let the noncustodial parent have New Year's Day parenting time (or vice versa). Just don't plan the exchange for too early in the morning if you plan to stay up past midnight.


Alternate who gets the holiday
It's common for holiday schedules to center around even- and odd-numbered years. This means one parent will have the New Year's Eve holiday during even-numbered years, while the other will have it during odd-numbered years.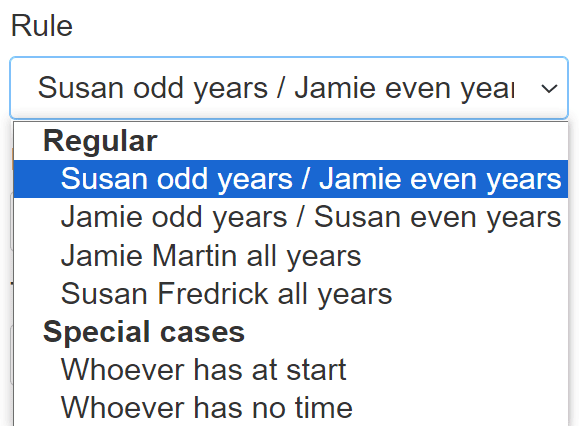 Split the holiday
When making a holiday schedule, you must decide when the holiday begins and ends.
For example, the child can begin the holiday with whichever parent already has custody, then the other parent can pick up the child at 6 p.m. on New Year's Eve and keep them overnight.


Give the holiday to one parent
Many cultures have New Year's Eve traditions. Whether you have a Colombian family who wheels around empty suitcases or a Greek family who hangs onions from the front door, this is a time when the child can connect with their roots.
Consider giving New Year's Eve to the parent who has a family celebration, and time before or after the holiday to the other parent.

Plan around midnight
If you don't mind the child staying out late for the sake of the holiday, have the non-custodial parent bring them back before midnight so the custodial parent can watch the ball drop with their child. This option works best for teens and other older children.

The easiest way to make a holiday visitation schedule
There's a lot to think about when you build a holiday schedule. You'll want it to address weekend and midweek holidays, reflect special occasions unique to your family (like birthdays) and work for years to come.
The Custody X Change app makes it easy. Just open your Custody X Change calendar and follow our steps to make a holiday schedule.
To make a custody schedule quickly and affordably, turn to Custody X Change. You'll get written and visual versions that meet your family's needs, as well as court standards.
Custody X Change is software that creates custody schedules, including for holidays.