Child Custody During Separation
When married parents separate, it's essential to address child custody early and thoroughly.
During separation, children and parents benefit from the stability and structure of a customized parenting plan. Sometimes called a custody or parenting agreement, a parenting plan details legal and physical custody arrangements, including a parenting time (visitation) schedule and co-parenting rules (provisions).
Visualize your schedule. Get a written parenting plan. Calculate your parenting time.
Separation parenting plans are temporary, lasting until parents choose to either reconcile or divorce. If you decide to divorce, the plan you create during separation lays the groundwork for the parenting plan you'll eventually need for your final custody orders.
Separated parents need a parenting plan
Even if you're not sure your separation will result in divorce, you should make a parenting plan with a visitation schedule as soon as you and your spouse begin living separately.
Creating and following a parenting plan during separation helps your child adjust to your family's new situation. Your parenting time schedule creates consistency and structure while ensuring that your child spends adequate time with each parent.
The parenting provisions help spouses communicate, make child-rearing decisions together and resolve disagreements more effectively. This helps reduce tension between parents, which also greatly benefits children and helps pave the way for an amicable settlement agreement.
Types of separation
No matter what form your separation takes, a detailed parenting plan is essential. It provides structure and helps with communication about parenting issues. If you decide to divorce, your parenting plan is also a good starting point for effective negotiations or mediation.
Some states allow parents to file in court for legal separation, in which the parents remain married but get court orders for custody and parenting time, child support, division of finances, etc. In these cases, courts usually issue a parenting plan as an order both parents must follow. Violations carry legal consequences and can affect the court's future custody decisions.
If your separation parenting plan isn't a court order, it's an informal contract between you and your spouse. The court can't enforce it, so you must rely on each other to honor its terms. A parent's failure to follow an informal plan can, however, be used as evidence in an eventual divorce trial or negotiations (more below).
A few states, including Virginia and North Carolina, require that parents live separately for one year before they file for divorce. These states don't have a process for legal separation, but parents must still manage custody during the separation period and prove when they began living apart. A separation agreement with a customized parenting plan is strongly recommended to help with both requirements.
Even if you're separating unofficially (i.e., not getting the court involved) or don't have a state-mandated separation period, you should create and follow a parenting plan.
Making an effective parenting plan for separation
The more specific and organized your plan is, the better it helps you co-parent during separation and beyond. An effective parenting plan for separation includes:
A detailed parenting time schedule that meets your child's and family's needs
Explanations of how parents will make parenting decisions (education, medical care, discipline, etc.)
Arrangements for how parents will share child-rearing expenses
Rules for how parents will communicate with each other and resolve parenting disagreements
Customized provisions to address your family's unique situation
You can hire a lawyer or mediator to create your plan, or you can make your own with Custody X Change. Even if a professional is making your plan, it's a good idea to make your own preliminary version to show what you want.
With a Custody X Change parenting plan, you can:
Make a written and visual parenting time schedule that includes special events and third-party time.
Choose from more than 100 customizable provisions to guide co-parenting.
Calculate your parenting time so you know exactly how much time your child spends with each parent.
Print custody calendars, provisions and detailed parenting time reports.
Save everything as Word, Excel and PDF documents.
Export your custody calendar to your calendar app.
Tracking your custody situation during separation
Creating and following a parenting plan during separation gives you the opportunity to see how it works and make adjustments for your final plan (if necessary). It also helps you gather crucial information about your parenting situation that you'll need in divorce proceedings.
To do this effectively, you need to track your custody situation during separation. With Custody X Change, you can:
Use this information in divorce negotiations, mediation, or, if necessary, as evidence in a trial to help you win the custody arrangement you want.
Reaching a custody agreement during separation
If you can communicate effectively with your spouse, you can work together to negotiate a parenting plan on your own.
If you need help agreeing on a parenting plan, you can hire a lawyer or mediator. If you're certain about divorce, consider collaborative law, in which a team of custody and divorce experts help you reach a temporary separation plan and, ultimately, a final divorce settlement.
If you're legally separating, your court may offer free or low-cost mediation.
For negotiations or mediation, you should bring a parenting plan and parenting time schedule that clearly detail the custody arrangements you want. Consider making multiple plans and schedules so you can present options.
Custody X Change can help you successfully negotiate or mediate the custody arrangement you want by:
Providing organization and clarity that helps ease stress and tension.
Making it easy to look at options for your parenting time schedule.
Allowing you to personalize co-parenting provisions that work for both parents and support your child's needs.
The easiest way to make a separation parenting plan
Creating a parenting plan on your own can feel overwhelming. You have to address all possible situations, while using airtight legal language.
Use technology to take the guesswork out of the equation. The Custody X Change app walks you through each step of creating a plan.

The result will be a professional document that demonstrates your competence as a parent and secures your child's future.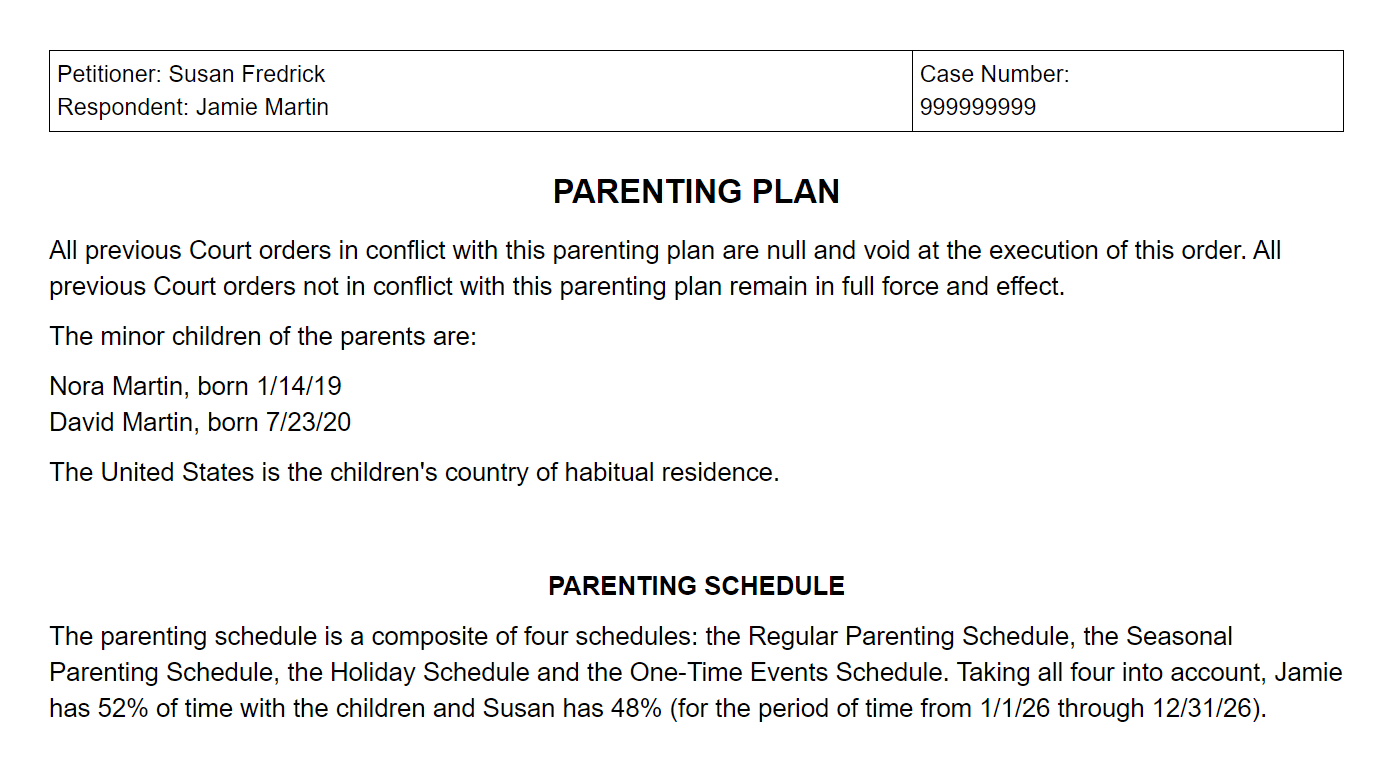 The easiest and most reliable way to make a parenting plan is with Custody X Change.
Visualize your schedule. Get a written parenting plan. Calculate your parenting time.