Settling Child Custody & Placement in Wisconsin: 3 Steps
Settling means turning an agreement into the court on legal custody, physical placement, child support or any other matter in your case.
Settling is encouraged because it's more collaborative, affordable and time-efficient than going through the entire court process leading to trial.
Parents can reach a settlement on their own, with the help of an attorney or through an alternative dispute resolution method like mediation.
You may choose to settle some issues in your case and take the rest to trial. For example, married parents might reach an agreement on custody and placement but allow a judge to decide their divorce disputes (e.g., property and finances).
Note that requirements and procedures for filing a settlement may vary by case and county.
Custody X Change is software that creates parenting plans and schedules for your settlement.
Step 1: Complete your forms
Once you complete the documents listed for your case below, make two copies.
Regardless of case type, you can attach a parenting plan to your settlement documents to add a detailed child placement schedule and parenting rules.
Divorce and legal separation
Fill out a Marital Settlement Agreement with the other parent.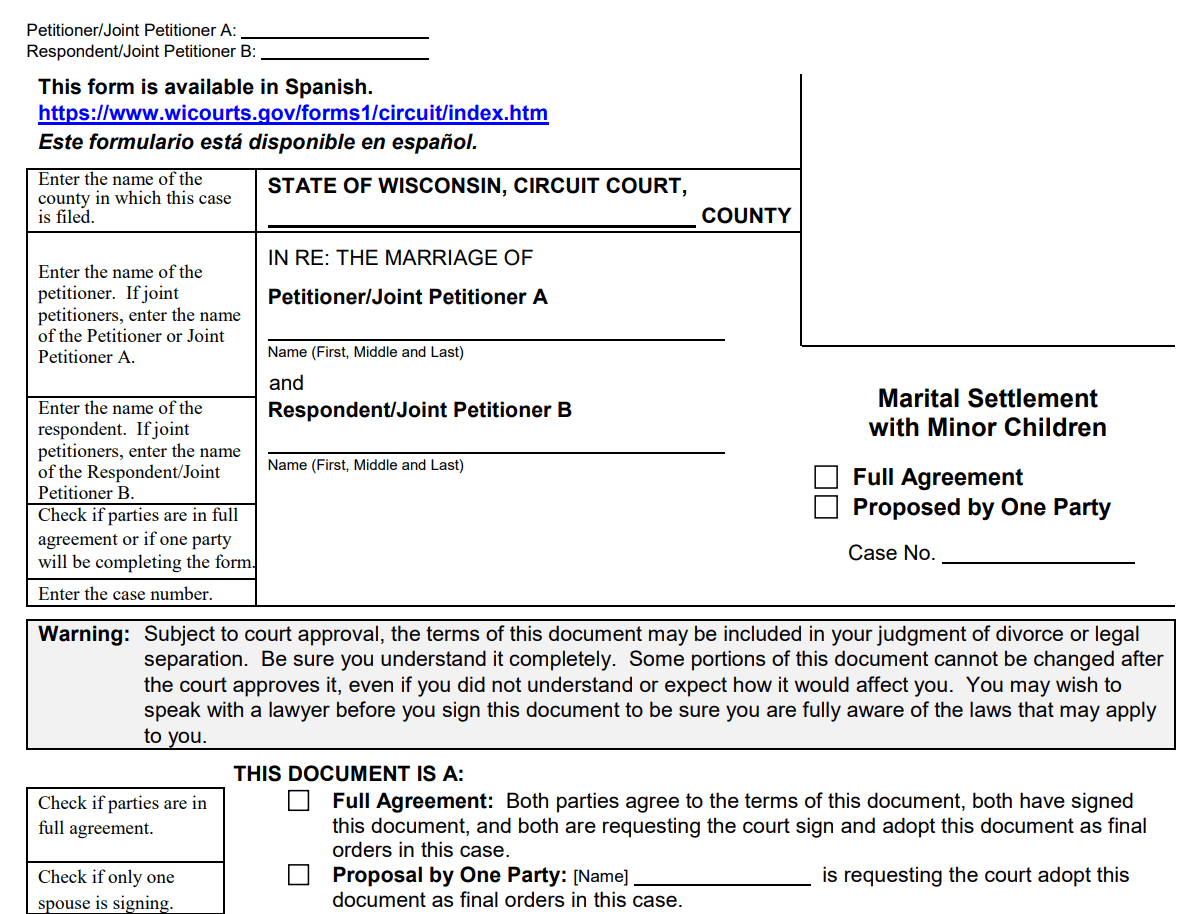 Some counties also require you to fill out a Certificate of Divorce (available from your court) or the first three pages of the Findings of Fact, Conclusions of Law and Judgment form.
Custody and placement only
If you're just settling custody and placement (and, optionally, child support), draft a stipulation with the other parent to explain your agreement.
The court doesn't provide a form for this. If you can't have a lawyer create the stipulation, use the Stipulation for Temporary Order as a guide for drafting your own. Skip anything that doesn't apply to your case (e.g., maintenance), and leave out terms like temporary and at this time.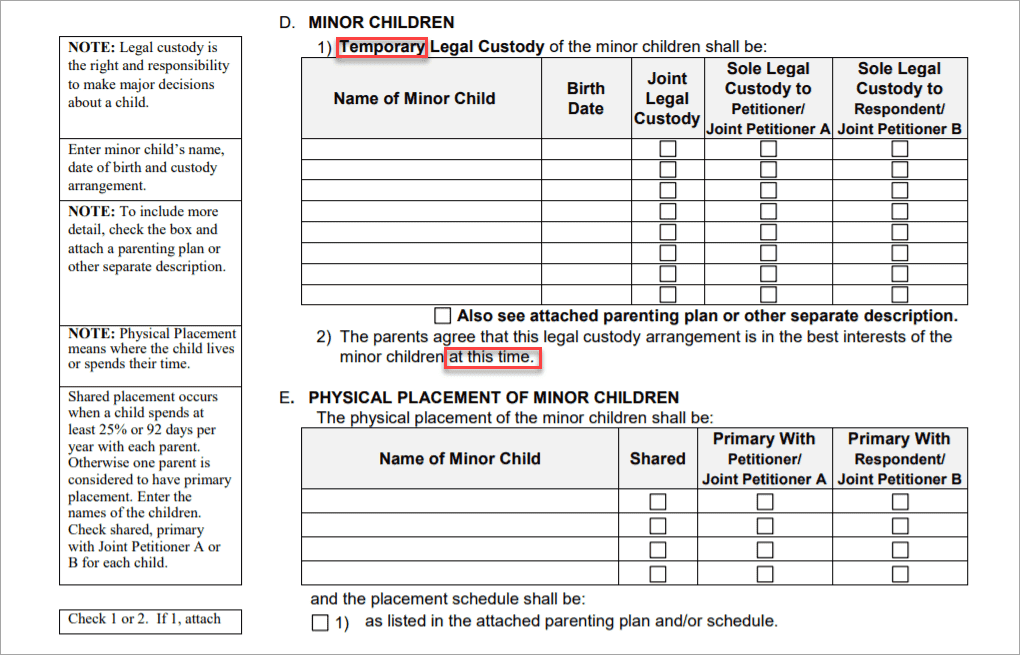 If your county requires it, get the Findings of Fact, Conclusions of Law and Judgment sheet from the court and fill it in as much as possible.
Step 2: Submit your paperwork to the court
Turn in your signed paperwork to the circuit court clerk.
If you haven't yet, submit your paperwork to file a case as well.
If you already have a case open, you can opt to turn in your settlement paperwork at a court conference.
Some cases: Schedule your final hearing
Some counties require parents to attend a hearing with a judge to get a settlement approved. To schedule your hearing, call the court's judicial assistant. Married parents cannot schedule theirs for less than 120 days after they filed proof of service or a joint petition (meaning when they filed for divorce or separation together).
Once you've scheduled the hearing, you may have to complete an Order to Appear form. If so, serve a copy to the other parent and file the original plus two copies with the court.
Some cases: Attend your final hearing
At the final hearing, the judge questions both parents to confirm that they understand what they're agreeing to and that they signed voluntarily — i.e., without coercion, blackmail or the influence of drugs or alcohol.
Make sure to bring copies of all the forms you filed during your case.
Step 3: Receive your final order
If the custody and placement terms are in the best interest of your child, the judge signs off to make your agreement the final order. The court mails you a signed copy of the Findings of Fact, Conclusions of Law and Judgment.
After you've settled
After you receive the final order, your responsibilities include:
To do all of this and more with one tool, use Custody X Change. The app's calendars, custody journal, expense tracker and parenting plan template make life after settlement as straightforward as the settlement itself.
Custody X Change is software that creates parenting plans and schedules for your settlement.