Courts often use wrong parenting time estimates when calculating child support, which could make your child support either too high or too low.
Custody X Change calculates parenting time accurately, so your child support will have the fairest outcome for your kids.
Start Tracking My Parenting Time
Wisconsin child support overview
Child support is meant to ensure a child has the same standard of living in both parents' homes. One parent — called the payer — pays it monthly to help cover child-rearing costs like food and shelter.
The amount is determined by a formula, which considers the parents' incomes, how many children they have together and their placement schedule. The court uses the result as a guideline and may deviate from it if it's unfair to a child or parent. You can use the calculator above to get a quick estimate of your support amount.
Visualize your schedule. Get a written parenting plan. Calculate your parenting time.
In a settlement, parents can agree to a child support amount subject to approval by the child support agency and the court. If the parent receiving support — called the payee — receives a significant amount of public assistance, the child support agency will not approve a payment lower than the state's formula recommends.
A 2019 study by Custody X Change found Wisconsin child support payments are fairly typical for the U.S.
Which children get support
Support payments benefit children parents have together via conception or adoption. For this reason, the court can only make orders for a child who has two legal parents. Unmarried parents need to establish the child's paternity or parentage before applying for child support.
Payments continue until the child graduates from high school or turns 18 — whichever is later — but end at 19 if the child hasn't graduated or earned a GED by then. Missed payments continue until the balance has been paid in full.
How placement affects child support
Physical placement refers to where the child lives or regularly spends time.
When the payee has primary placement (more than 273 overnights with the child in a year), the child support payment is based on the payer's income.
Find the payer's monthly income in the left column of the Percentage Conversion Table. (If they're unemployed, use their potential income based on past earnings and education.) Then, in the top row, find the number of children this support will be for. The amount where the column and row meet is the payer's guideline obligation.

When parents have shared placement, both of their incomes matter.
Each parent multiplies their income by the relevant percentage from the conversion table. Then they multiply their result by the other parent's percentage of annual overnights with the children. The parent who ends up with the higher total is the payer. Their guideline payment is the difference between their total and the other parent's total.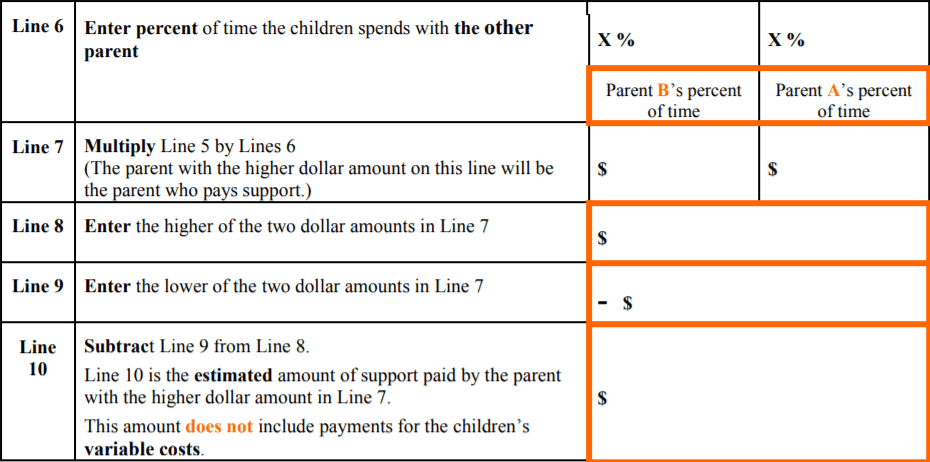 Calculate exactly how many overnights you spend with your child in a year so you don't end up paying more or receiving less. You'll need to know this number to estimate your child support amount and to make your case for an order modification if necessary.
Special circumstances
Split placement
When parents have multiple children together, and they each have primary placement of at least one child (split placement), the payer's obligation per child is based on a different income percentage:
Two children total: 12.5% of the payer's income
Three children total: 9.67%
Four children total: 7.75%
Five children total: 6.8%
Children from another relationship
If the payer also pays support for children from another relationship, the court deducts that monthly payment from their gross income when calculating support for the new case.
High-income payer
When the payer's monthly gross income is over $7,000, they're considered a high-income payer.
As the table below shows, one percentage applies to the first $7,000 of monthly income, a different percentage applies to the portion of income between $7,000 and $12,500, and yet another applies to the portion over $12,500.
| Payer's monthly income | 1 child | 2 children | 3 children | 4 children | 5 children |
| --- | --- | --- | --- | --- | --- |
| First $7,000 of income | 17% | 25% | 29% | 31% | 34% |
| Income between $7,000 and $12,500 | 14% | 20% | 23% | 25% | 27% |
| Income over $12,500 | 10% | 15% | 17% | 19% | 20% |
Note that multiple percentages apply to a single case. Imagine a payer with one child, who's in primary placement with the other parent. If the payer earns $11,000 per month, they owe 17 percent of $7,000, plus 14 percent of the remaining $4,000 they make. So, in total, their guideline obligation is $1,750 per month ($1,190 plus $560).
The high-income payer worksheet can walk you through the math for your case.
Low-income payer
When the payer's monthly gross income is $1,610 or less, they're considered a low-income payer and the court may use the following guidelines.
| Payer's monthly income up to: | 1 child | 2 children | 3 children | 4 children | 5 children |
| --- | --- | --- | --- | --- | --- |
| $805 | $90 | $133 | $154 | $165 | $181 |
| $833 | $95 | $140 | $162 | $174 | $190 |
| $861 | $100 | $147 | $171 | $183 | $200 |
| $889 | $105 | $155 | $180 | $192 | $211 |
| $917 | $110 | $162 | $188 | $201 | $221 |
Note that the guidelines change annually. See Appendix C for the full table of low-income child support obligations.
Paying and receiving child support
When support is paid, it gets processed through the Wisconsin Support Collections Trust Fund, then released to the payee.
There are a few ways you can pay child support. Having income automatically withheld from your paycheck or unemployment benefits is most common. Otherwise, you're responsible for sending the payment directly to the trust fund each month.
The payee is automatically enrolled to receive payments via an EPICC Debit MasterCard, but they can apply to receive support via direct deposit to a bank account instead.
The Department of Children and Families provides information on how active-duty military parents pay and receive child support.
Modifying child support
To ask for a modification of your child support order, file a motion with the County Clerk of Court's Office.
Parents who agree on a new amount can fill out and submit a Stipulation and Order to Amend Judgment form.
If only one parent wants the change, they can draft a motion to modify the order or hire an attorney to do it for them. There's a $30 fee to file it with the court.
Another option is to request a review through your local child support office. The office may have a child support attorney review your situation and file a motion on your behalf if either of the following is true:
It's been three years since the last review.
A change in the payer's salary will cause the order to change by at least $50.
Enforcing a child support order
When past-due child support amount exceeds the monthly payment ordered, a child support enforcement agency may become involved. The agency can place a 0.5 percent monthly interest charge on the past-due amount or, if there's an income withholding order, ask the payer's employer to withhold up to 150 percent of the support amount until it's paid in full.
If you owe past-due support and aren't able to keep up, contact your local child support agency to set up a payment plan. Otherwise, you may face harsher penalties like liens on your property and seizure of tax refunds.
Getting an accurate child support order
Estimating your parenting time can impact your child support order by thousands of dollars a year.
Still, attorneys and the court usually estimate because manually tallying overnights is time-consuming.
The Custody X Change app lets you quickly calculate your number of overnights with your child.

With Custody X Change, you can tweak your placement schedule to see how even little changes affect your time with the child. Plus, you can see how the number changes each year due to holidays and other events.
Whether you're paying or receiving child support, make sure your overnight calculation is exact. The number will affect you, your child and the other parent for years to come.
Visualize your schedule. Get a written parenting plan. Calculate your parenting time.