Virginia Parenting Plan & Custody Agreement Guidelines
A parenting plan (sometimes called a custody agreement) spells out the details of co-parenting. It helps parents manage their rights and responsibilities, meet their children's needs, prevent or resolve disputes, and plan for the future.
In Virginia, parents in any case involving custody are strongly encouraged to create a parenting plan. Even before filing for divorce, parents often add a parenting plan to their separation agreement for extra clarity.
Visualize your schedule. Get a written parenting plan. Calculate your parenting time.
How to use a parenting plan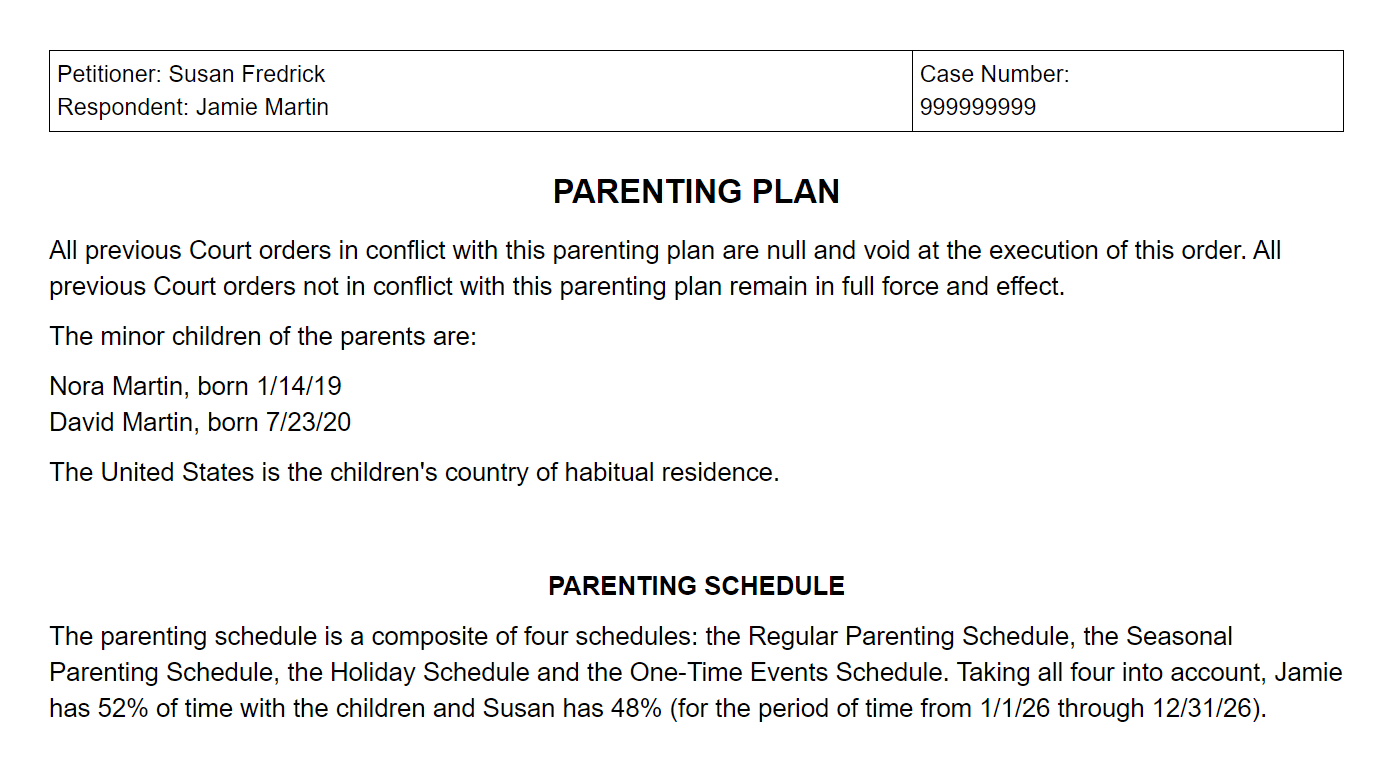 You can create a plan independently or with the other parent. An attorney or mediator can help. For less-costly guidance, use a template with formatting and wording familiar to the courts.
When parents agree on a plan, they can ask the judge to make it a court order, just like their parenting time schedule and child support arrangement. They can also leave it as a contract to guide their parenting, but then the court won't be able to enforce it.
When parents don't agree, each may present a proposed version in negotiations, mediation, hearings and trial.
Recommended provisions to include
Your parenting plan should include guidelines to help you co-parent effectively. Specify how you'll handle any special circumstances facing your family.
In particular, experts recommend provisions addressing the topics below. Use clear, precise language to prevent confusion.
Decision-making
In line with your legal custody arrangement, your plan should explain how you'll share or divide decisions. Establish a process for shared decisions, and divvy up other ones (e.g., education to one parent, religion to the other).
Dispute resolution
Set a dispute resolution process for when you can't agree on shared decisions. Some parents appoint a mutual friend or religious adviser to informally mediate, while others opt for more formal alternative dispute resolution methods.
Safety
If the children's safety is a concern, you can restrict who may be around the children, parents' substance use, physical discipline, firearms in the home and more. These provisions are often included when the court orders supervised visitation.
Medical and dental care
Medical provisions help you manage your children's health and dental care. You might specify which parent will take the children to appointments or include guidelines specific to children with special needs. (Your child support order stipulates how you'll share health insurance premiums).
Communication
Plans should include rules for how parents will communicate with each other. A common one states how long a parent must wait to act after contacting the other about a shared decision. To ensure accurate, organized records of conversations, you can require parents to use a parent messaging tool.
You can also include rules for how parents will communicate with the children during the other parent's custody time.
General parenting
Parenting guidelines establish requirements for child rearing, discipline and related topics. You can get as specific as you want about issues important to your family: the children's religious participation, social media usage, driving, etc. Many parents also include rules for how their romantic partners may interact with the children.
Education and activities
Include education provisions to detail how parents will choose schools and participate in activities like parent–teacher conferences.
If your children participate in extracurriculars, state how you'll coordinate transportation, choose new activities, etc.
Child care
If your children go to day care or regularly spend time with a nonparent caregiver, specify who provides the care and if it affects parenting time calculations. (Your child support order will address child care expenses.)
Travel
Set how much notice parents much give each other before taking the children on vacation, who holds onto the children's passports and other travel provisions.
If children will travel alone to see the other parent, set parameters for this, as well.
Expenses
When parents have similar incomes, they usually split large expenses like school tuition evenly. Then, each parent covers daily costs when caring for the children, and child support payments even out discrepancies. Specify whether you'll use this common arrangement or another.
Age-based provisions and changes
Include age-based provisions, and prepare for your children's future needs with age-based changes. Many parenting guidelines depend on a child's developmental stage, so specify now when changes will go into effect.
The easiest way to make a parenting plan
When you create a parenting plan, it's critical you address all of your children's needs and use airtight language that leaves no room for interpretation.
If you're writing your own plan, use technology to take the guesswork out of the equation. The Custody X Change app will walk you through each step of creating a comprehensive parenting plan.
Choose from over 140 common provisions in more than 25 categories. Just select the items you want to include in your plan and fill in the blanks. You can also create custom provisions to meet your family's unique needs.

The result will be a professional document that demonstrates your competence as a parent from the first glance.
The easiest and most reliable way to make a parenting plan is with Custody X Change.
Visualize your schedule. Get a written parenting plan. Calculate your parenting time.