Michigan Parenting Plan & Custody Agreement Guidelines
Parenting plans (sometimes called custody agreements) help parents manage legal custody — their rights and duties regarding their children.
In Michigan, these plans are optional but strongly recommended. They help parents meet their children's needs, prepare for change and resolve disputes without returning to court.
A parenting plan is different than the parenting time schedule required in every custody case. The schedule explains when children spend time with each parent, while a parenting plan details provisions (rules) to help you co-parent. If you like, you can combine both items into one document.
Visualize your schedule. Get a written parenting plan. Calculate your parenting time.
Making and submitting a parenting plan
During your case, you can present a proposed parenting plan to your Friend of the Court case manager, custody investigator and judge. They may include certain elements in their decisions.
If you agree on a plan with the other parent, you can ask the judge to make it a court order as part of a settlement. Should you choose not to have it approved by a judge, the plan can't be legally enforced but can still serve as a reminder of your agreement.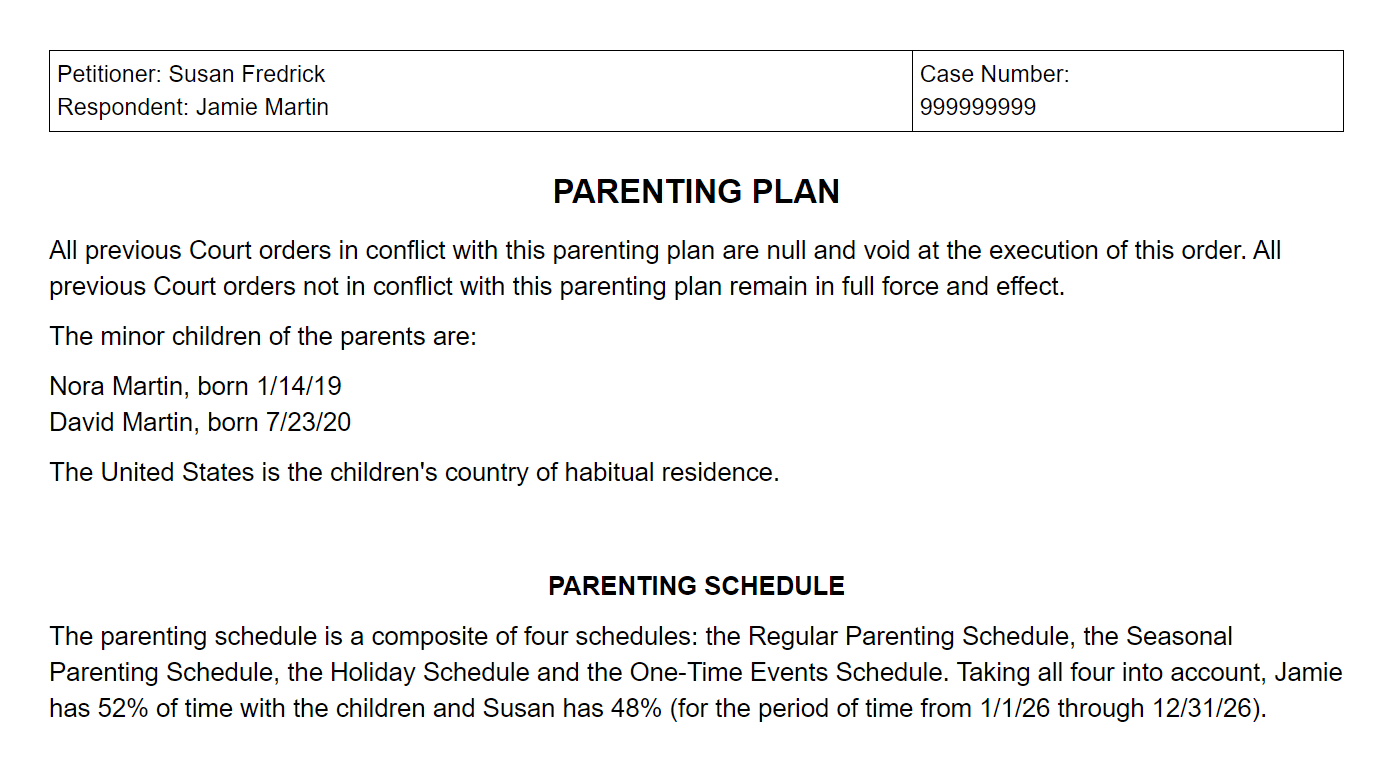 Parents often write their own plans, but mediators and lawyers can also write them. If you write your own, have it reviewed by an attorney.
Recommended parenting plan provisions
Your parenting plan should include as many provisions as necessary to help you co-parent with minimal conflict.
If your family has special circumstances, such as a supervised visitation requirement or children with special needs, your plan should specify how you'll manage them.
In particular, Michigan custody experts recommend provisions covering the topics below. Use clear, detailed wording to prevent confusion.
Decision-making and dispute resolution
If you have joint legal custody, you can define a process for making some or all major decisions with the other parent. Or, you might divvy up types of decisions (e.g., education issues to one parent, religion to the other).
You should also establish a dispute resolution process for when you can't agree on shared decisions. Some parents keep it informal by appointing a mutual friend to mediate.
Communication and response time
Plans should include rules for how parents will communicate about the children.
One common provision states how long a parent must wait to act after contacting the other. For example, if you make decisions about school activities together, but the other parent hasn't replied to an email about a field trip, how long must you wait before signing the permission slip?
You can also include rules for how parents will communicate with the children during the other parent's time.
Safety
If safety is a concern, your plan can include restrictions on parents' substance use, physical discipline, firearm storage, visitors, etc.
The court may require specific safety provisions in cases with violence, child abuse, substance abuse or crime and in other cases with supervised parenting time.
Child care
If your children go to day care or regularly spend time with a nonparent, specify who can provide the care and whether it counts toward parenting time calculations.
Some plans also address occasional child care; for example, you can state that parents will use each other as the first choice for babysitting needs.
Education and activities
Include education provisions to set rules like who attends parent–teacher conferences.
If your children participate in extracurricular activities, explain how you and the other parent will coordinate transportation. You can also include provisions for how parents can attend or participate in the activities.
Age-based changes
Age-based provisions anticipate children's future needs. Parenting guidelines change as children grow. For example, children in elementary school require different rules than teenagers. Specify exact dates for changes to take effect.
Moving and traveling
By law, if a parent wants to move more than 100 miles away after final orders are issued, they need permission from the other parent or from the court.
But state law leaves some other details around moving and custody to parents or judges. Prevent returning to court by including moving and traveling provisions in your plan.
For example, you can address if the parenting time schedule should change following a closer move, if parents can take the children on international trips and more.
Medical care
Medical provisions help parents manage children's health and dental care. For example, you might specify which parent will take the children to doctor's appointments. And you can address any special medical needs.
Your child support order stipulates how parents will pay for medical and dental insurance.
Expenses
Usually, parents with similar incomes split large expenses, such as school tuition. Then, each parent covers smaller, daily costs when caring for the children, and child support payments even out any discrepancies. Specify whether you'll use this common arrangement or another in your parenting plan.
The easiest way to make a parenting plan
When you're creating a parenting plan, it's critical you address all of your children's needs and use airtight language that leaves no room for interpretation.
If you're writing your own plan, use technology to take the guesswork out of the equation. The Custody X Change app walks you through each step of creating a comprehensive parenting plan.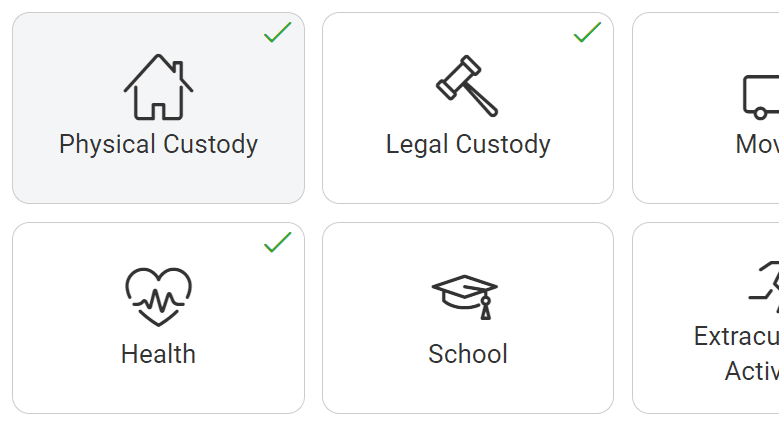 The result is a professional document that demonstrates your competence as a parent from the first glance.
The easiest and most reliable way to make a parenting plan is with Custody X Change.
Visualize your schedule. Get a written parenting plan. Calculate your parenting time.