Alberta Parenting Time and Decision-Making Responsibility
In Alberta, only someone recognized as a child's guardian can officially have parenting time and decision-making responsibilities (i.e., custody) for them. Other people, like parents who do not have guardianship and grandparents, can have a court order contact with the child, if necessary.
A parenting plan lays out arrangements proposed by one or both separating parents who are guardians. When parents agree on the terms, it becomes a parenting agreement and, with court approval, a consent order. You'll get a parenting order if you can't agree and the judge decides your arrangements instead.
All arrangements must prioritize the best interests of the child involved.
Visualize your schedule. Get a written parenting plan. Calculate your parenting time.
Guardianship
A guardian is responsible for the child's upbringing and provides them with food, clothing, shelter and medical care. Also, a guardian has the power to make significant and day-to-day decisions about the child, and the right to adequate parenting time.
Typically, a child's guardians are their legal parents. (See Parentage below.) It's rare for a child to have more than two guardians.
Both parents are automatically guardians if:
The child was born during their marriage.
The child was born less than 300 days before their divorce.
They lived together for at least a full year, and the child was born during that time.
They lived together for less than a year, but the child was born while they were in an adult interdependent relationship.
They married or entered into an adult interdependent relationship after the child was born but within one year of discovering the pregnancy.
They agree in writing to both be the child's guardians.
If you're not automatically a guardian, proving a willingness to accept parenting responsibilities is essential to getting a guardianship order from the court.
You can show you're willing to take on parenting responsibilities by:
Voluntarily paying or offering to pay support
Giving or offering some other type of support to the child or birth mother
Showing your intention to be the child's guardian in another way
We use the general term parent to refer to a parent with guardianship below and in our other articles.
Parentage (legal parenthood)
Parentage is the biological or court-determined relationship between a parent and child. An Alberta court can decide the child's parentage if the child was born in Alberta or the alleged parent lives there.
Birth mothers (except for surrogates) are the legal parents of their children, so it's usually only necessary to establish paternity, the legal relationship between a father and a child.
Under the law, a man is presumed to be the legal parent of a child if:
He was married to the birth mother when the child was born, or the marriage ended less than 300 days before the child's birth.
He married the birth mother after the child's birth and admits he is the father.
He signed the child's birth certificate.
He lived with the child's birth mother for at least a full year, the child was born during that time, and he acknowledges that he is the father.
He lived with the birth mother for at least a full year, and they stopped living together less than 300 days before the child was born.
If you don't meet any of the above conditions or there is more than one possible father, there is no presumption of paternity.
If both the child's mother and a man agree that he is the child's father, they can jointly petition the court to name him the legal father.
When the child's paternity is uncertain, the child, the alleged father or another person who has care and control of the child can ask the court to make a decision about paternity. This typically involves DNA testing. Even if the man is not the biological father, the court can name him the father if he acted in a parental role.
Parenting time
Parenting time is the time a parent spends caring for their child, even if they're not in the same space. You can have specified or reasonable parenting time. Arrangements for specified parenting time are laid out in parenting time schedules, whereas reasonable parenting time stays flexible.

It's most common for parents to share parenting time, meaning the child lives with each of them for at least 40 percent of the year.
In other cases, one parent has primary residence, meaning the child lives with them for at least 60 percent of the year. If one parent has primary residence, the other parent's time with the child is called access.
Decision-making responsibility
Decision-making responsibility gives a parent the right to make decisions for the child, including:
Where they live
Their education and extracurriculars
Their cultural, religious and spiritual upbringing
Their diet
Whom they live and associate with
Where they work and the type of work they do
Parents usually share decision-making powers. They can either weigh in on major decisions together or divide them. For example, one parent can focus on the child's education while the other focuses on the child's extracurriculars.
Each parent makes day-to-day decisions for the child during their parenting time.
Reaching a parenting agreement
Instead of asking the court to decide your parenting arrangements, you should try to reach an agreement with the other parent. Then you can decide if you want to have the court approve your agreement as a consent order so it's enforceable.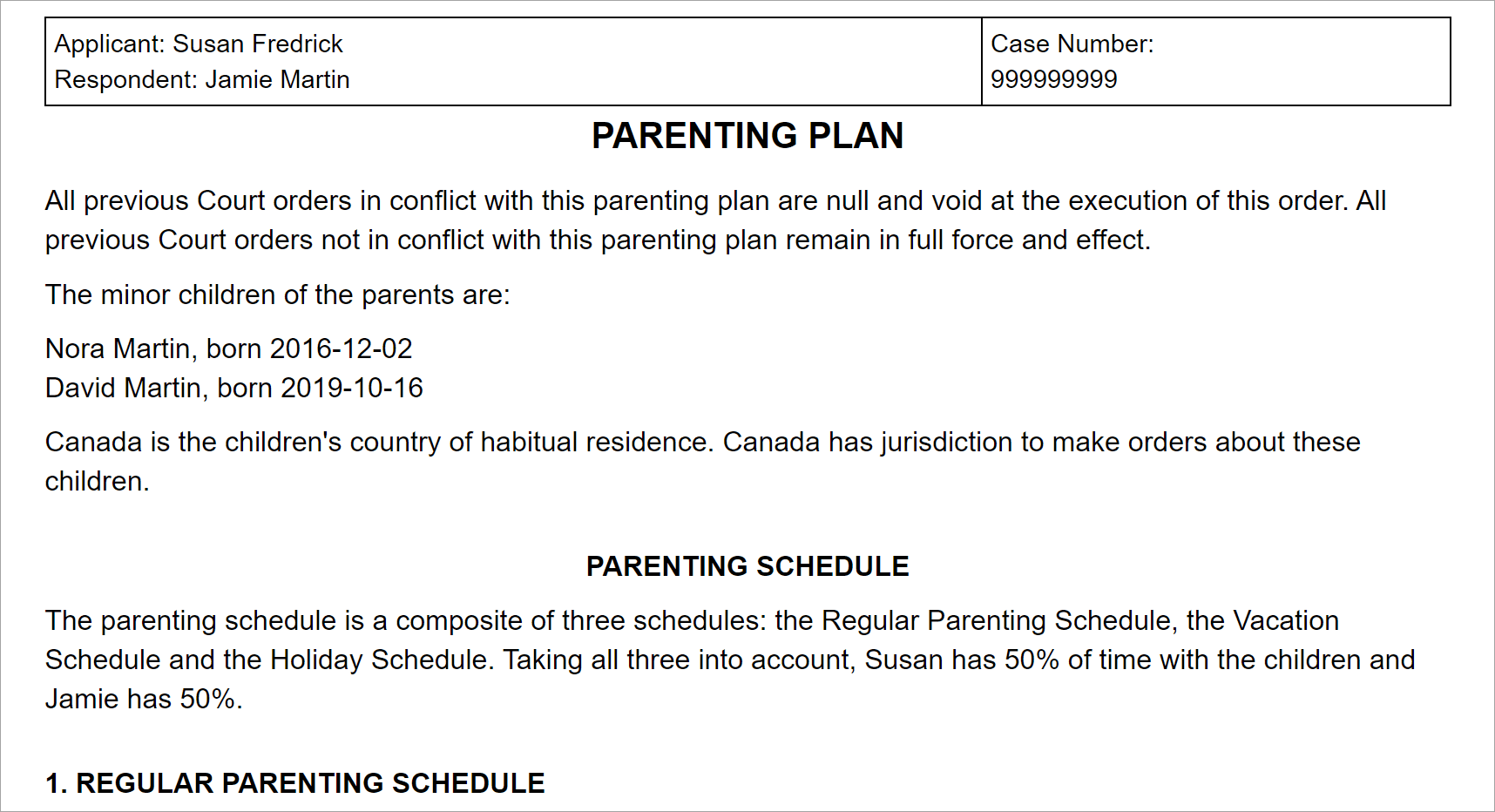 If you need help agreeing, you might try an alternative dispute resolution method, such as:
Mediation: A neutral professional guides parents as they discuss the terms of a potential parenting plan.
Collaborative family law: A team of professionals, including a lawyer for each parent, helps parents form a parenting plan.
Arbitration: An arbitrator hears arguments and evidence and makes a decision for parents.
If you start a court case because you can't reach an agreement, you may go to judicial dispute resolution during the court process. This is where a judge tries to guide parents toward an agreement before they proceed to trial.
ADR methods are typically much cheaper and faster than litigation.
Going to court
Alberta has two courts that handle family law issues: the Alberta Court of Justice and the Court of King's Bench.
Both courts can hear cases for guardianship, parenting arrangements, and spousal and child support.
Only the Court of King's Bench can hear divorce, property division, and declaration of parentage cases.
Before applying for a divorce, you have to separate from your spouse for at least one year. In the meantime, some parents get an interim parenting order from the Alberta Court of Justice. Then, they apply for a divorce in the Court of King's Bench once the separation period is up.
You can start a proceeding at any court in Alberta that hears your case type. If you're addressing a court order you already have, go to the court that made the order.
How the court makes decisions
There are two acts that dictate family law in Alberta: Alberta's Family Law Act and Canada's Divorce Act.
The Family Law Act can apply in either court, but the Divorce Act only applies in the Court of King's Bench.
All orders and agreements about children must be in the children's best interests. Judges consider factors including:
The child's needs
The strength of the parent-child relationship
Who has been the child's primary caretaker
The child's relationship with other family members (siblings, grandparents, etc.)
The child's views (if they are old enough to express their opinions)
The child's cultural, religious, linguistic and spiritual upbringing
Each parent's proposed plan for raising the children
In some cases, a parenting expert assesses the family to help determine what parenting arrangements would be best for the child.
Length of proceedings
If you go to court, the length of the process depends on the availability of the court, whether you reach a settlement and the number of issues at hand.
If you settle a divorce, it can take as little as three months for you to get a judgment. If you settle parenting time and child-related decision-making in the Alberta Court of Justice, you can get your agreement approved within weeks.
In both courts, if you can't agree, it may take you around a year to get a final order. A complex divorce could take three or four years.
Cost of proceedings
The more time you spend in court, the more expensive your case will be.
Depending on your location and the experience of your lawyer, you can pay anywhere from $200 to $1,000 per hour for a lawyer's services. Some lawyers charge flat fees. For example, if you just need them to prepare a divorce settlement agreement, it can cost a few thousand dollars.
There's a $260 fee to file for a divorce in the Court of King's Bench, and additional fees to file other paperwork. The only fee in the Alberta Court of Justice is $50 to request a family order.
The judge may order you to get examined by a parenting expert, which can cost anywhere from $15,000 to $20,000.
Alternative dispute resolution methods are cheaper than litigation but can still cost thousands, depending on how long it takes you to reach an agreement. The Court of King's Bench offers free mediation if you're going through a separation or divorce and one parent makes less than $40,000 per year.
Representing yourself
If you're divorcing or strongly at odds with the other parent, it's recommended that you get legal representation. However, if you have a simple parenting case, you can represent yourself. Self-representation is more common in the Alberta Court of Justice than in the Court of King's Bench.
You'll be held to the same standard as a lawyer. These resources can help you:
If you want legal representation but cannot afford to pay the full cost of a lawyer, you might try limited representation. This means a lawyer handles part of your case (e.g., filling out the paperwork to start a proceeding) and lets you handle the rest.
Staying organized
Setting up parenting arrangements after a separation requires serious organization. You may need to create a parenting plan, draft multiple parenting time schedules, track your time with your child, calculate expenses and beyond.
The Custody X Change app enables you to do all of that in one place.

With a parenting plan template, customizable parenting calendars, an expense tracker and more, Custody X Change makes sure you're prepared for whatever arises in your transition to two households.
Take advantage of our technology to stay on top of all the moving parts of your situation.
Our professional sources
The following professionals helped us understand Alberta family law and may be able to help you, too.
ADR Solutions
Karim Mawani
Sherwood Park, AB
Brown Law Group
Ashley Cox
Edmonton, AB
Callioux Law
Sharmeen Batra
Edmonton, AB
Kolinsky Law
David Kolinsky
Edmonton, AB
MacLean Law
Brianne Beckie
Calgary, AB
Tembo Law
Hawah Tembo
Edmonton, AB
Veria Law
Vincent Tong
Sherwood Park, AB
Visualize your schedule. Get a written parenting plan. Calculate your parenting time.