Who Counts as a Legal Parent | Legal Fathers & Mothers
Legal parenthood means someone is the child's parent in the eyes of the law. The legal definition of parent is the mother or father of a person, whether that relationship came to be through birth or through legal means.
A child can have up to two legal parents.
If you have legal parenthood, you have parental rights and responsibilities. When a child has two legal parents, those parents have equal rights and responsibilities until a court decides otherwise.
Without legal parenthood, you have no legal recourse if the other parent refuses to let you see your child or refuses to help out financially.
Visualize your schedule. Get a written parenting plan. Calculate your parenting time.
What makes someone a legal parent
In general, both spouses are the child's legal parents when one of them gives birth to a child during their marriage. This may differ for same-sex spouses, depending on the state they live in.
Only the mother is the legal parent when a child is born to unmarried parents. The court cannot enforce the father's rights until he is established as the child's legal father.
Surrogate pregnancies present exceptions to these rules and are handled differently by each state. Consult a lawyer before pursuing surrogacy.
Adoption is another way to establish legal parenthood.
Methods of establishing a legal father
Establishing legal parenthood is most commonly necessary for the father.
In all states, confirmation of paternity (legal fatherhood) is required for the courts to issue custody or child support orders for unmarried parents. But the ways you can establish paternity depend on your state. In some states, signing the child's birth certificate is enough. Elsewhere, you have to take extra steps.
If the alleged parent and legal parent agree on parenthood, they can sign a voluntary acknowledgment of paternity.
When the alleged and legal parents disagree, they can go to court. A paternity case establishes the identity of the child's legal father. This often involves genetic (DNA) testing. Even if the child is not biologically related to the alleged father, a family court can give the man legal-parent status if he has acted in a parental role.
Legal parenthood versus guardianship
Legal-parent status can only go to someone the court considers the child's parent. Guardianship goes to someone who is not the child's parent.
A person with legal parenthood makes all important decisions for a child. Generally, a guardian only makes everyday decisions affecting the child's care and welfare. A child can have a guardian (or co-guardians) even if they have two legal parents.
Losing custody versus losing parental rights
You're still considered the child's legal parent if you lose custody.
Termination of parental rights strips a parent of legal parenthood. Termination is rare and only occurs when a court rules that a parent is a danger to their child's welfare. If both parents lose their rights, or if the child's only legal parent loses their rights, then the child might live with a legal guardian, go into foster care or be adopted.
When legal parents need to decide custody
When a child's legal parents aren't married to each other (perhaps they divorced or never married), they should have a clear child custody arrangement.
The Custody X Change online app helps parents set a custody arrangement and manage it smoothly.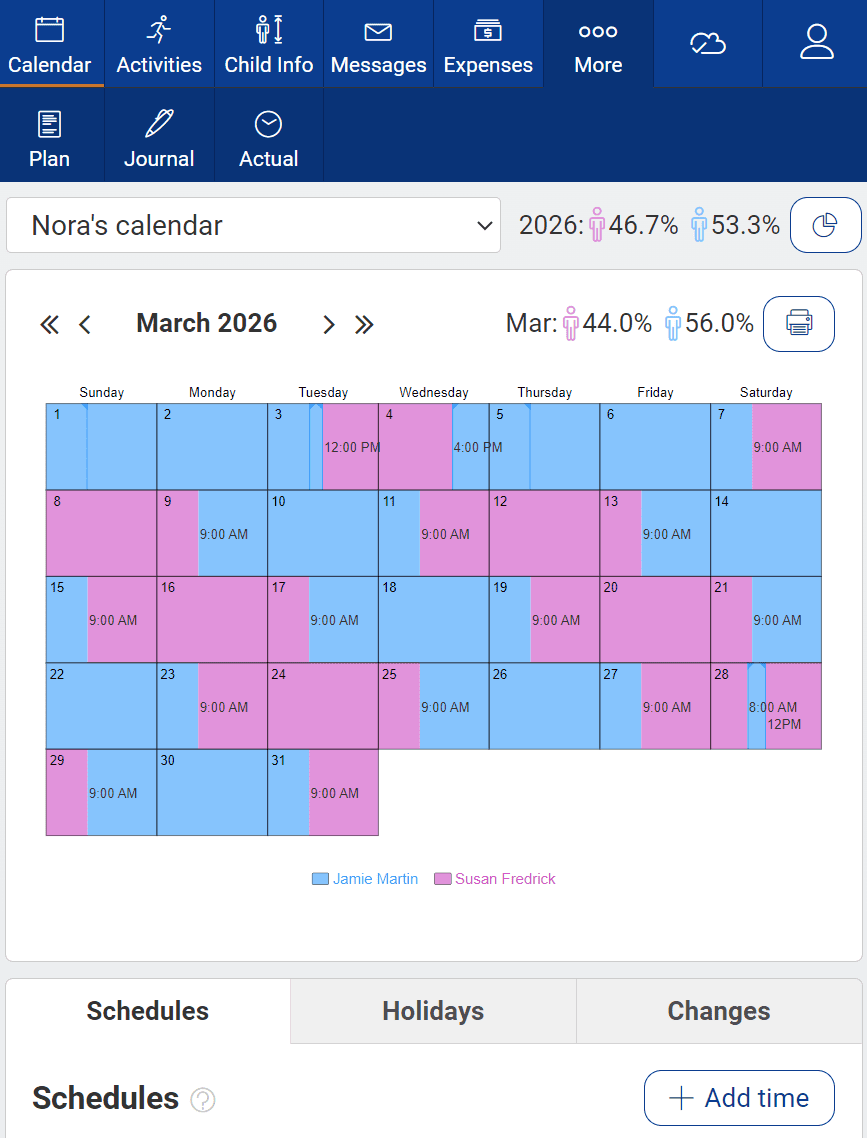 With a parenting plan template, custody calendars, an expense tracker and more, Custody X Change helps you take advantage of all your rights as a legal co-parent.
Turn to Custody X Change whether you're deciding parenting arrangements through litigation, mediation or independently. Let our technology streamline the details of co-parenting so you can focus on time with your child.
Visualize your schedule. Get a written parenting plan. Calculate your parenting time.