Family Law Litigation & Family Law Disputes
Family law litigation refers to the process of going to court to resolve disputes about domestic issues.
Unless the parties reach an agreement first, a judge or similar judicial officer decides the issues according to the family code in that location.
Many family law disputes are resolved without going to court — that is, without litigation — either by the parties on their own or with help from a lawyer or mediator.
Staying out of court is highly recommended for most family law disputes because litigation is stressful, expensive and can cause further breakdown in the family.
Here's what you need to know when deciding whether to litigate a family law dispute.
Visualize your schedule. Get a written parenting plan. Calculate your parenting time.
Types of family law litigation
Family law covers a wide range of issues, including:
Divorce: When spouses end their marriage
Legal separation: When spouses divide property and custody but don't end their marriage
Annulment: When spouses cancel their marriage so that legally it never happened
Custody and visitation: When parents divide responsibility for and time with their child
Child support: When one parent pays the other to help with their child's expenses
Paternity and parentage: When someone is named a legal parent
Termination of parental rights: When the court takes away someone's status as a legal parent
Adoption: When the court names a new parent or parents for a child
Guardianship: When someone besides a child's parent is appointed to care for the child
Emancipation: When a minor is declared legally independent of their parents
Protection from domestic violence: When the court takes measures to protect a person from a partner or family member
Child abuse and neglect: When the court takes measures to protect a child
Using a family litigation lawyer
Many people in family law cases represent themselves. As a result, most courts have extensive resources for representing yourself in family court.
However, using a family litigation lawyer is recommended, especially if your case has any complexity. For example, when spouses agree on the terms of a basic divorce, they may not need legal representation. (To cover their bases, they might instead share the cost of having a lawyer review their agreement.) But when parents can't agree on custody, they would each be better off hiring a family lawyer, if they can afford to.
Family litigators understand the local law and usually have experience with the court and judge you'll work with. Their insider knowledge can help you get what you believe is best and avoid hiccups that would delay your case.
Getting family law legal advice
There are ways to get family law legal advice besides hiring a litigator to represent you.
You can do just a consultation with a lawyer (or do a few consultations to get a wide range of opinions). Initial consultations are often free or priced low. Getting more extensive advice from a lawyer may cost more, but it will still be cheaper than hiring a lawyer to do all your paperwork and appear with you in court.
Your court might have a lawyer on staff who helps self-represented litigants for free.
You may also be eligible for free or low-cost help from a local legal aid organization.
Using family law apps
Numerous apps exist today to help you stay organized and understand what's needed in your family law case.
If your case is about child custody, use Custody X Change to take charge of it.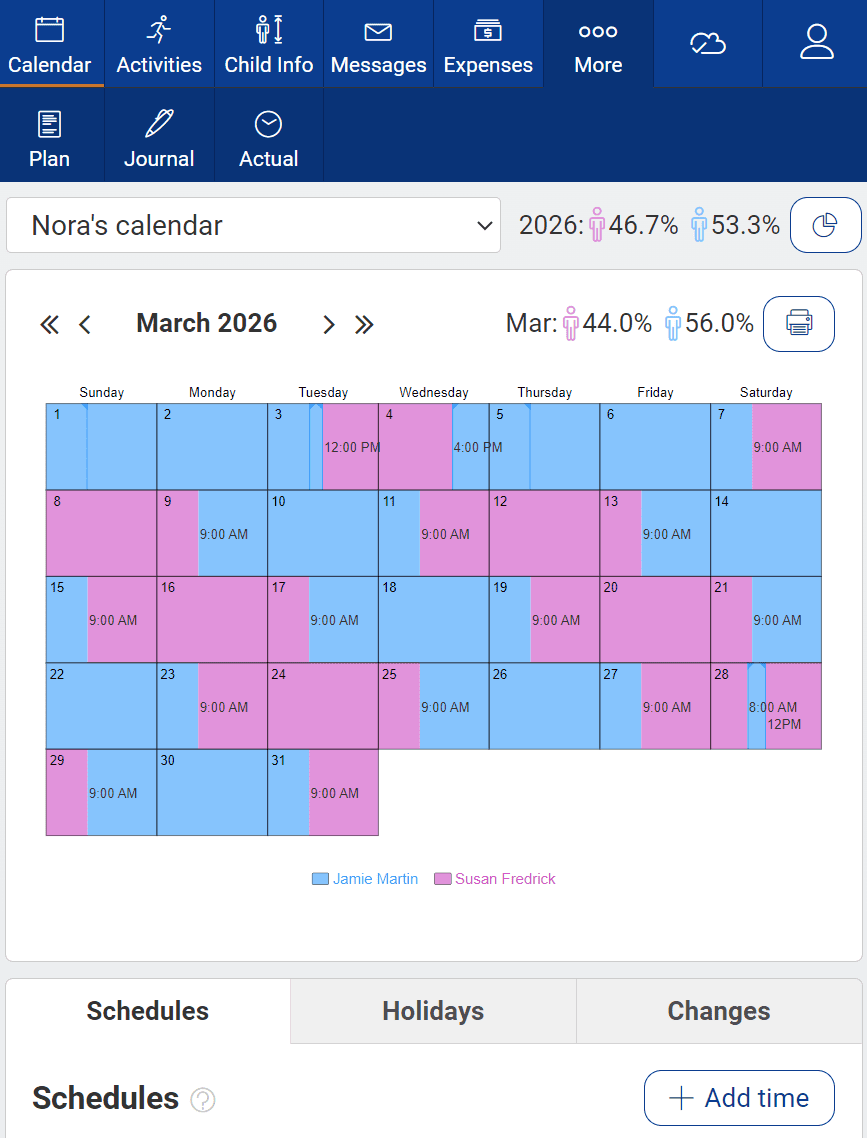 With custody calendars, a parenting plan template, an expense tracker and more, the Custody X Change online app makes sure you're prepared for whatever arises in court and in co-parenting.
Take advantage of our technology to stay on top of all the moving parts of your case.
Visualize your schedule. Get a written parenting plan. Calculate your parenting time.