Primary Physical Custody: Benefits, Rights and More
Primary physical custody is a common type of child custody. It places the child with one parent for the majority of the year.
A parent secures primary physical custody by agreement with the other parent or by court order. In either case, the arrangement must be in the child's best interests.
Visualize your schedule. Get a written parenting plan. Calculate your parenting time.
What is primary physical custody?
Primary physical custody means the child lives with one parent most of the time. Your location may say a child has to spend a certain percent of their time (e.g., at least 61 percent) with one parent for that parent to be considered the primary physical custodian.
The parent with primary physical custody is responsible for providing the child with a safe and stable living environment. They must also ensure that the child is fed, clothed, educated, and provided with the support and care they need on a daily basis.
The primary physical custodian must follow any visitation arrangements the court has ordered for the other parent. If the other parent continuously misses visits or presents a safety risk, the primary custodian can ask the court to modify the visitation order.
Primary physical custody versus sole physical custody
In some locations, the terms primary physical custody and sole physical custody are used interchangeably.
Elsewhere, the primary custodian is the parent who spends more time with the child in a joint physical custody arrangement. To figure out which parent this is, calculate your parenting time.
Benefits of primary physical custody
Maintaining consistency for the child: When one parent has primary physical custody, the child usually doesn't travel between homes as often. The child can settle into a routine and comfortably follow household rules.
Spending more time with the child: The primary custodian gets to spend ample time with the child. From preparing meals to helping with homework, it all goes toward building a closer bond with your child. They'll know they have your support and can confide in you.
Sparing the child from conflict: Even when parents are no longer in the same household, conflict they have can negatively impact their children. If the child spends more time with one parent, less communication and interaction between parents is needed.
Collecting child support: The parent who provides the child's primary home typically spends more on child-related costs. To make sure both parents are contributing financially, the other parent pays child support.
Claiming the child on taxes: The parent with primary custody can claim the child for tax purposes. As a result, you may pay less tax or get a larger refund, which can help with child-related expenses.
What are my rights with primary physical custody?
With primary physical custody, you have the right to choose where the child lives. This also includes the right to move with the child, though you may need the other parent's permission or a court order to leave a certain geographic region.
You also generally have the right to collect child support on your child's behalf, but you'll need a court order.
You do not have a right to prevent the other parent from having contact with your child unless there's a safety risk. In that case, consult with a lawyer or go straight to court to get an order to protect your child.
Joint legal custody with primary physical custody
It's common for the other parent to have a voice in child-related decisions even when one parent has primary physical custody. In other words, joint legal custody often pairs with primary physical custody.
When parents disagree, the primary physical custodian may get the deciding vote. Make this clear in your parenting plan.
Primary legal and physical custody
Though rare, courts may give primary legal custody (usually called sole legal custody) and primary physical custody to one parent. The court may order this if the other parent is unavailable (e.g., incarcerated) or lacks parental fitness.
Primary physical custody and school
Typically, the child attends school in the district where the primary physical custodian lives. Determination of the child's school is one reason why joint physical custody arrangements name a primary physical custodian.
You cannot simply name a parent the primary physical custodian to put them in a better school district. The child must actually spend most of their time with that parent. If you enroll your child in the wrong school district, you may face penalties as severe as jail time.
The easiest way to manage child custody
It may seem impossible to juggle all the different aspects of child custody.
But the Custody X Change online app has all the tools you need to stay organized.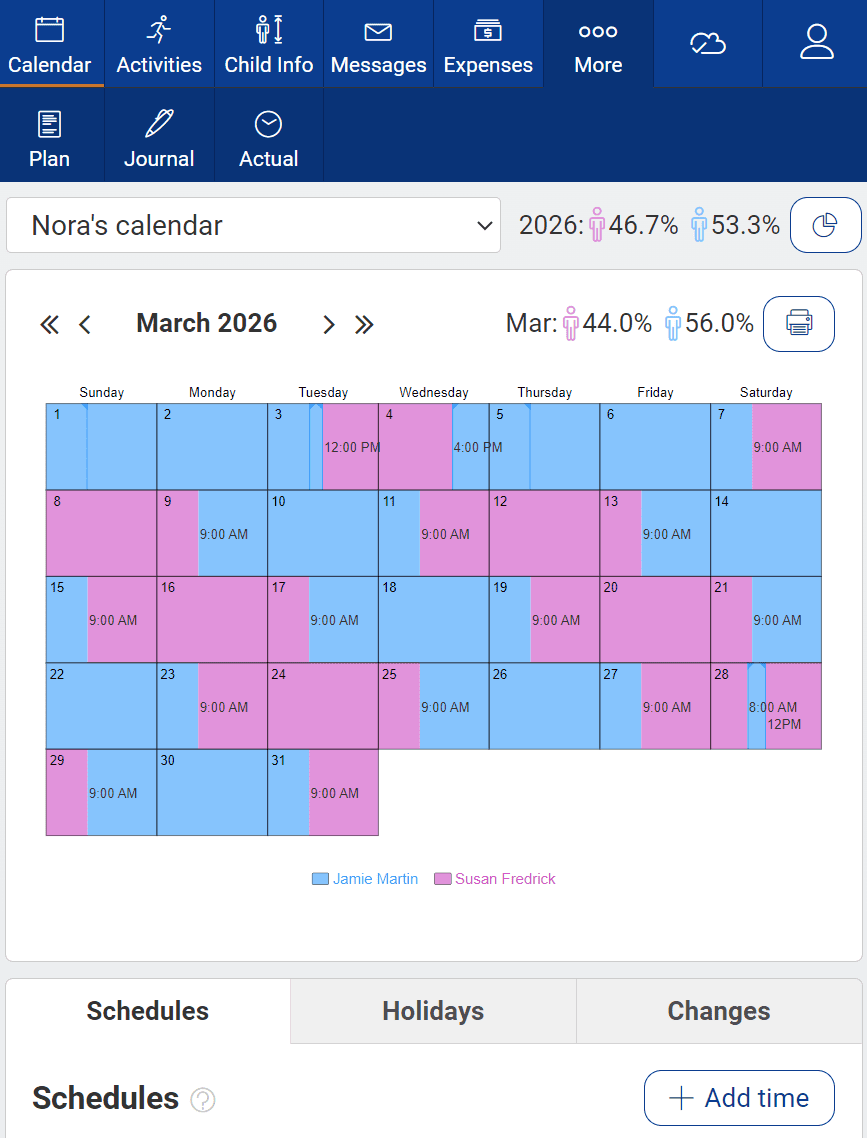 Use Custody X Change to get what's best for your child and stay on top of your child custody arrangement.
Visualize your schedule. Get a written parenting plan. Calculate your parenting time.