Tennessee Parenting Time Schedules (Visitation)
A parenting time schedule details when the child will be with each parent. It is one part of your parenting plan.
As with the overall parenting plan, parents can either agree on a schedule or let the judge decide at trial. In the latter case, each parent can submit a proposed schedule (required for divorce) to the judge.
Visualize your schedule. Get a written parenting plan. Calculate your parenting time.
Even though Tennessee law obliges courts to give parents as much time with their child as possible, dads here often get just 22 percent of parenting time — less than anywhere else in the U.S., according to a 2018 Custody X Change study.
Consider your children's unique needs before mapping out a parenting time schedule. For example, ask yourself whether you will write visits with grandparents or other people into your schedule.
Types of schedules
In almost all custody arrangements, both parents get some time with the child, which is considered shared parenting. One parent is named the primary residential parent (PRP), while the other is the alternative residential parent (ARP). These designations influence where the child goes to school and who pays child support.
The child may spend roughly equal time with each parent, or the child may live with the PRP for more than half the time and visit the ARP, whose time can be supervised if it's unsafe for the child to be alone with them.
If a parent is in the military, you might need a separate schedule to implement during the parent's deployment.
Writing a schedule
In divorce and separation cases, parents must use Tennessee's Permanent Parenting Plan as their template, but they can attach a visual calendar and extra details using the Custody X Change app.
Unmarried parents can use the Permanent Parenting Plan template, an alternate template or a combination of the two. By using a customizable template like Custody X Change, families can make more-detailed schedules and calculate parenting time, which may prevent returns to court.
Your schedule must be written in clear language. The schedule should specify:
If/when parents will spend time with the children on weekdays
If/when parents will spend time with the children on weekends
If/when parents will spend time with the children during school breaks
If/when parents will spend time with the children on holidays and special occasions
If/when parents can take the children on vacation
If you're using an alternate template, be sure to say which events take priority. For example, the holiday schedule should override the day-to-day schedule.
You can review Tennessee's Permanent Parenting Plan as a guide to writing your own schedule. Here are some additional details to consider adding:
Specify when school breaks begin and end in a way that's applicable to any year:
"The summer break schedule begins at 5 p.m. CDT on the last day of the school year, and it ends at noon two days before the first day of the new school year."
If you have more than one child, note if there are any differences in their schedules:
"Anna will visit the PRP every weekend from Friday at 5 p.m. to Monday at 8 a.m. Central time. Brandi will attend these visits every other weekend."
Detail what's to happen if the child gets sick:
If the child falls ill while visiting the ARP, the child should return to the primary residence and remain there until their condition improves. Any missed parenting time will be made up at a later date."
Common schedules
You can create your own schedule from scratch or look at popular parenting schedules for ideas.
Unequal parenting time
Tennessee provides a schedule to illustrate the minimum amount of parenting time an ARP should receive. It grants them every other weekend, an evening visit during the week, two weeks during summer break and half of the holidays. If parents opt to use another schedule, it should give the ARP at least this much of the child's time (roughly 25 percent).
The 1st, 3rd and 5th weekends schedule is the most common arrangement in Tennessee. It has your child spend the first, third and fifth weekends of each month with the ARP. If the month only has four weekends, the child will spend just the first and third weekends with them.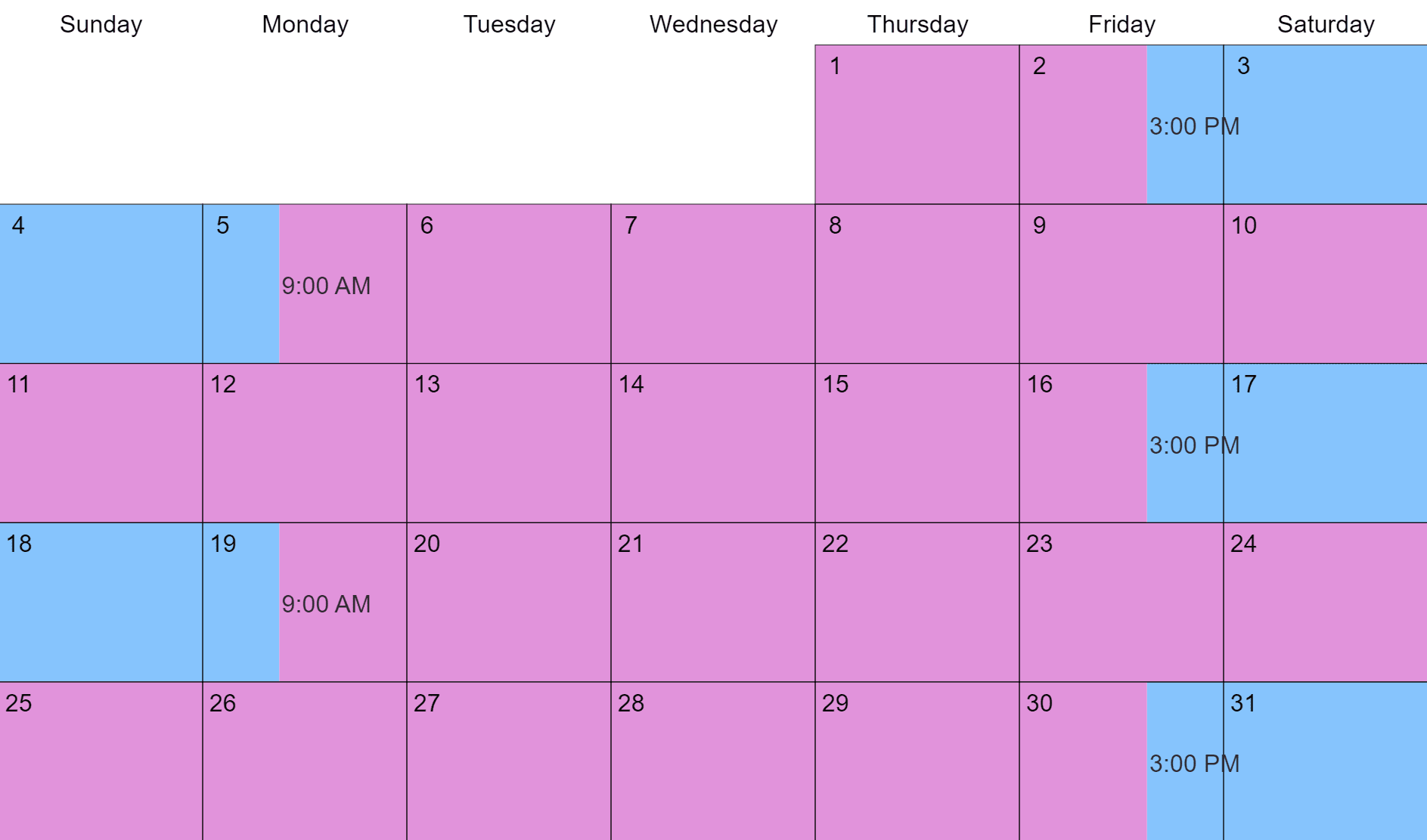 To give the ARP additional time, you can use summer visits, holidays or midweek visits.
When schedules include weekend visits, the weekend typically starts on Friday and ends Monday morning, but extended weekends of Thursday to Monday and even Wednesday to Monday are emerging.
Equal parenting time
With the alternating weeks schedule, your child lives with one parent for a week, then the other parent for the next.

The 2-2-3 schedule has your child spend two days with one parent, the following two days with the other, then return to the start parent for three days. The next week, the order switches.

The easiest way to make a schedule
If you're like most parents, creating a custody schedule will feel daunting. How do you write something that meets legal requirements and doesn't leave any loose ends?
The Custody X Change app makes it easy. First, click and drag in your color-coded calendar.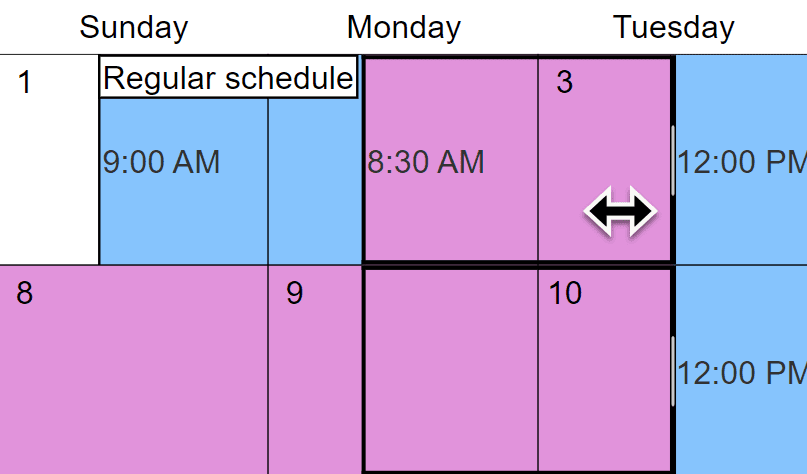 Then watch a full description appear in your parenting plan.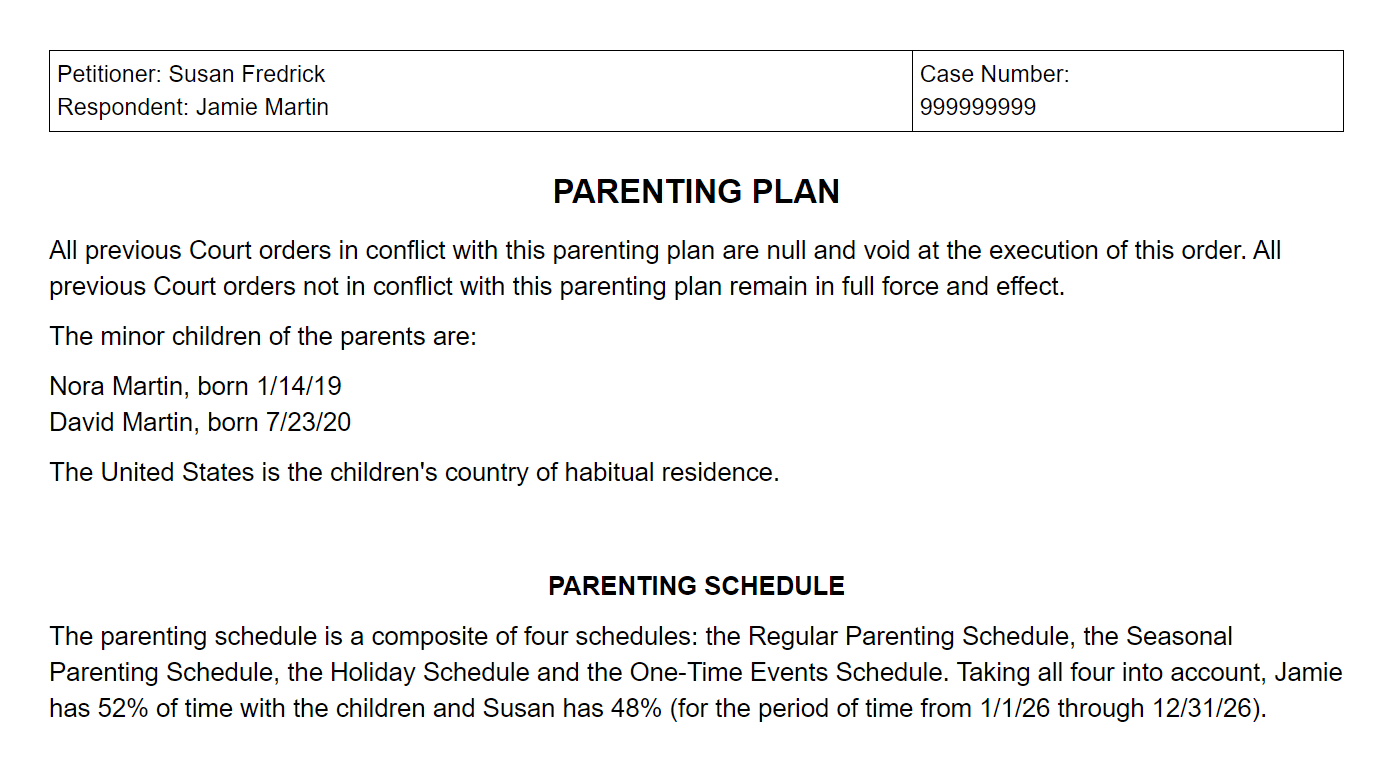 The combination of a visual and written schedule means your family will have no problem knowing who has the child when. Take advantage of Custody X Change to make your schedule as clear and thorough as can be.
Visualize your schedule. Get a written parenting plan. Calculate your parenting time.