Massachusetts Child Custody Overview
Parents can request court orders for child custody and parenting time through many types of cases: divorce, separate support (also known as legal separation), annulment, paternity or simply custody. If necessary, they can open a new case to modify the court orders later.
When parents agree on custody terms, they can settle by drafting a parenting plan together. With the judge's approval, the plan becomes the final custody order.
If parents don't agree on custody, a judge decides the final order for them based on the evidence presented at trial.
Some aspects of child custody vary by case, judge and county.
Visualize your schedule. Get a written parenting plan. Calculate your parenting time.
Legal and physical custody
There are two types of child custody: legal and physical.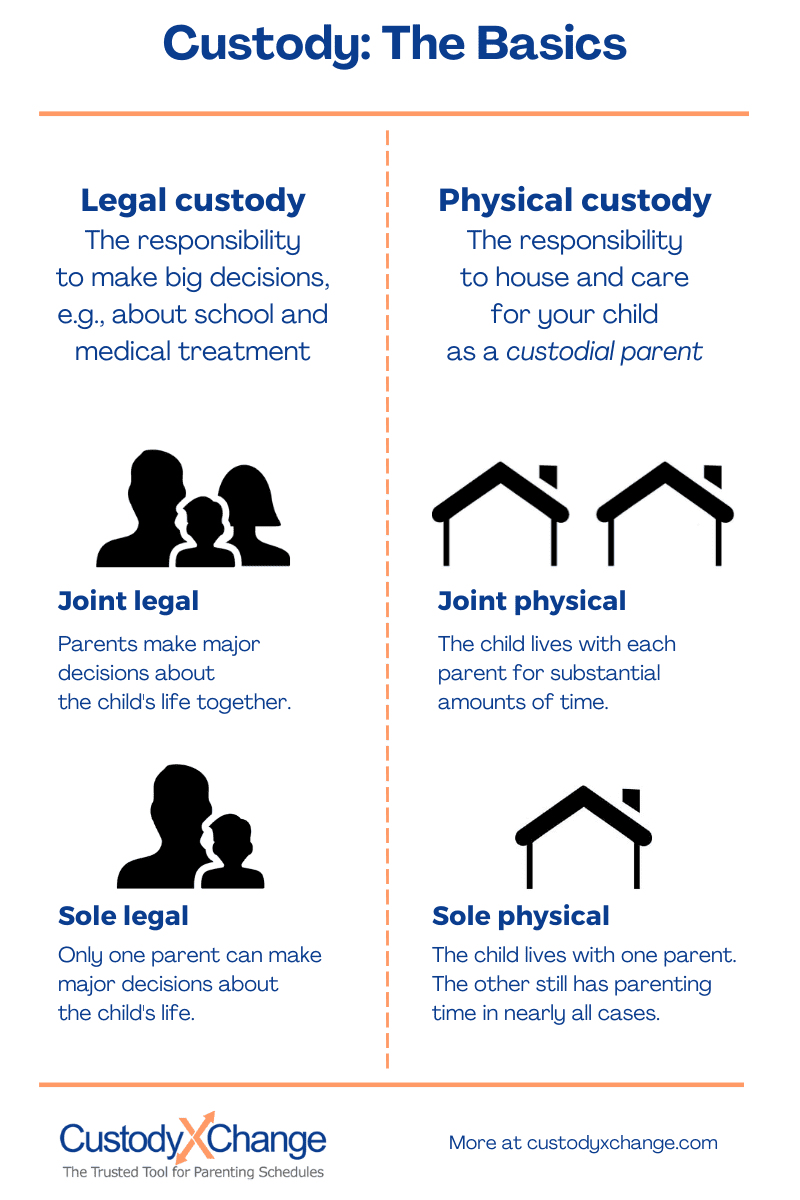 Legal custody determines who can make decisions regarding the child's health, education, religion and welfare. Parents might have:
Shared legal custody: Both parents can make major decisions in their child's life. (Massachusetts courts prefer this arrangement, when appropriate.)
Sole legal custody: Only one parent makes major decisions for their child. The other parent can still make minor, day-to-day decisions.
With shared legal custody, parents can make all decisions together or split them. For example, one parent might make health care decisions, while the other handles educational decisions and both make religious decisions. Their parenting plan or court order should specify the breakdown.
Physical custody determines where the child lives. Parents might have:
Shared physical custody: The child regularly lives with both parents. (Massachusetts courts prefer this arrangement, when appropriate.)
Sole physical custody: The child primarily lives with one parent, though the other still gets frequent time with the child, in most cases.
Shared physical custody doesn't necessarily mean each parent gets equal time. The division depends on the child's needs, the parents' schedules and other factors in the case.
How to start your case
To request custody, open a case in the Probate and Family Court.
For divorce and annulment, file in the county where you and your spouse lived together, if either of you still live there. Otherwise, open the case in the county where either of you currently live.
If you're filing for separate support, paternity or simply custody, file in the county where the child lives.
Massachusetts uses the home state rule, meaning the child must have resided within the state for at least six months before a parent can file for custody there. The court may make an exception if the child only lived with one parent in the other state.
Your child's involvement
The child's preference can factor into the judge's final verdict. However, judges rarely ask children to testify in court due to the traumatizing effect it can have.
If the judge wants to question the child, they'll do so in their chambers. Attorneys are usually present, but parents aren't allowed to attend.
In some cases, the court assigns a guardian ad litem (GAL) to look out for the child's best interests. The GAL presents the child's preference to the court and states their own opinion, as well, if it differs.
Your child should not attend court sessions with you (unless the judge specifically requests it).
Parental rights and paternity
The court must recognize you as a legal parent before you can request child custody or child support.
A mother is automatically recognized as her child's legal parent upon giving birth.
If the mother was married to a man during conception, he is recognized as the child's legal parent, too. This is true even if the spouses separate by the birth.
If the parents weren't married at conception, they can both sign a Voluntary Acknowledgement of Paternity form in front of a notary and file it with the court to have the father legally recognized. Parents have 60 days to change their minds, which triggers genetic testing.
If either parent refuses to sign the acknowledgement form, genetic testing is the only way to confirm paternity. Parents can agree to a test voluntarily, or either one can open a paternity case to have a court order require it.
Same-sex couples have a harder time establishing rights. Non-biological parents must legally adopt the child before asking for custody.
If you haven't adopted and aren't biologically related to the child, the court often recognizes you as a de facto parent, meaning you are a part of the family and contribute to the well-being of the child. De facto parents can ask for court-ordered time with the child.
Representing yourself
If you don't want to or can't hire an attorney to represent you in court, you can represent yourself. Due to the complexity of custody law, experts don't recommend this.
Pro se (self-representing) parents must follow the same rules and procedures as lawyers. You'll need to complete all paperwork correctly, meet deadlines and gather evidence to support your case. Missing a step can negatively impact your case.
Even if you decide to represent yourself initially, you can later choose to hire an attorney. Alternatively, you can have an attorney help you with certain parts of your case. For example, you can have an attorney look over your settlement agreement before submitting it to the court.
Length of custody proceedings
The timeline to get custody of your child varies depending on your case type.
Massachusetts law expects divorce proceedings to resolve within 14 months. Though some divorces exceed this limit, most cases that go to trial last between 10 and 14 months. After filing for divorce, parents must wait six months before they can request a trial.
Divorce cases that settle typically resolve five to eight months after parents submit their separation agreement. There is no waiting period for a hearing.
After the judge issues a final divorce judgment, parents must wait before remarrying — 90 days for cases that went to trial and 120 days for cases that settled. During this nisi period, all custody and child support orders are in full effect and parents can change their mind about the divorce, though this rarely occurs.
Separate support and parentage cases do not have waiting periods, so they typically resolve faster than divorce cases.
Costs to expect
The more time you spend in court, the more expensive your case will be. Reaching a settlement early is the most cost-effective way to decide custody matters. Alternative dispute resolution methods like mediation and collaborative law tend to cost less than litigation due to their speed.
Divorce cases that settle often cost each parent $1,000 to $4,000 in attorney fees, while a divorce that goes to trial might cost them each $5,000 to $10,000. The parent opening the case will need to pay a filing fee of $200.
Paternity and separate support cases typically cost less. It costs $100 to open a paternity case and separate support case.
If your case requires a custody evaluation or guardian ad litem, the costs can increase significantly.
Parents with lower incomes may qualify for pro bono (free) legal aid. If you're representing yourself, you won't have any attorney fees, but experts recommend against this.
Privacy
Custody hearings and trials are open to the public. In some cases, the judge may limit access for security reasons or for high-profile cases.
Details of mediation or other alternative methods used to resolve your case are not available to the public.
Victims of domestic violence can request to have their personal information concealed, which courts typically allow.
You can request confidentiality for other documents, but courts don't grant these requests easily.
Massachusetts custody laws
For more details, see Part II, Title III of the General Laws of Massachusetts.
Staying organized
The process of deciding custody requires serious organization. You may need to create a parenting plan, draft multiple parenting schedules, track your time with your child, calculate expenses and beyond.
The Custody X Change app enables you to do all of that in one place.

With a parenting plan template, custody calendars, an expense tracker and more, Custody X Change makes sure you're prepared for whatever arises in your journey to child custody.
Take advantage of our technology to stay on top of all the moving parts of your case.
Visualize your schedule. Get a written parenting plan. Calculate your parenting time.