Massachusetts Child Custody Trials: What to Expect
If you and the other parent don't settle, your case will end up at trial.
After hearing all arguments, the judge will review any witness testimony and other evidence before making a final judgment.
Some trial procedures vary by case, county and judge.
Bring calm to co‑parenting. Agree on a schedule and plan. Be prepared with everything documented.
Scheduling
Trial usually begins 10 to 14 months after you open a case, depending on the court calendar.
In the interim, the judge schedules a pre-trial conference to give you a chance to settle your case. If there isn't a settlement, you proceed to trial.
Most trials conclude after a single day, though some can stretch over a few days or weeks. The court tries to schedule your trial for consecutive days if multiple dates are needed. However, court schedules are often congested, so there could be weeks or even months between trial dates.
Preparation
Evidence, in the form of exhibits and witnesses, is an important part of your trial.
Exhibits may include:
A proposed parenting plan
Medical reports, criminal records and other documents
Photos and videos of you and your child
Witnesses are anyone with knowledge relevant to the case. Expert witnesses provide professional opinions and are appointed by the court or hired by a party. Lay witnesses testify about their personal experience of a situation. Parents often serve as lay witnesses in custody cases. No witness can testify to hearsay (something they did not directly observe).
Parents learn about each other's evidence through a process called discovery, which can last weeks or months. During discovery, each parent can interview the other's witnesses and request personal documents relevant to the case, such as emails or financial statements.
Procedure
Trials take place in a courtroom in front of a judge and without a jury. They are open to the public, but extraordinary circumstances may require the court to limit access.
If you have an attorney, they will question you and your witnesses, present exhibits and speak with the judge for you. If you represent yourself, you will have to do all this on your own, giving your testimony without prompting questions.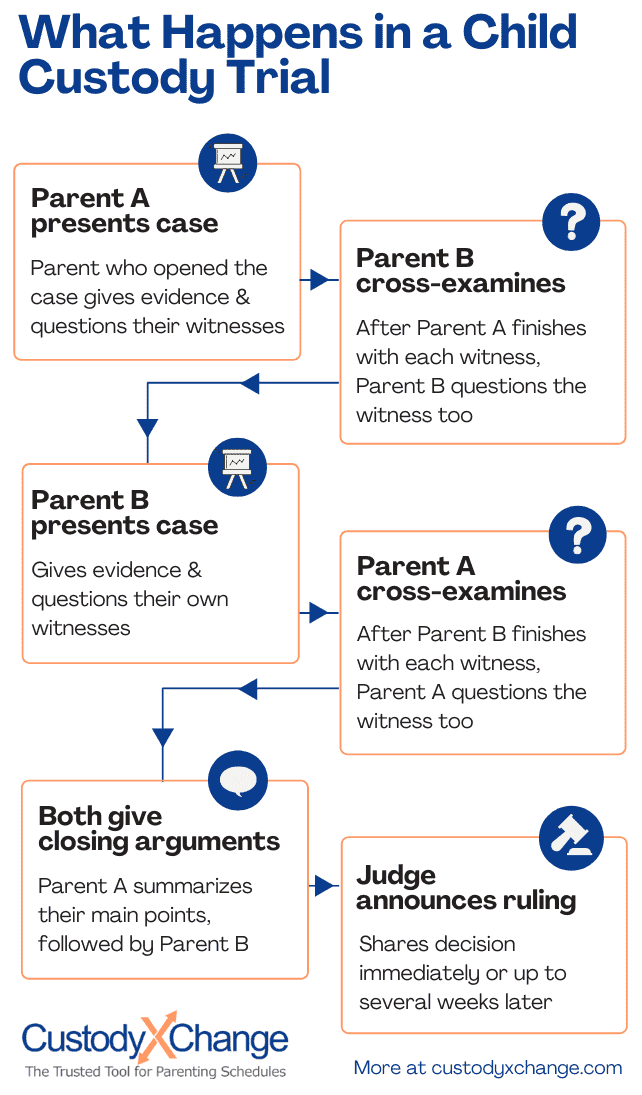 The parent who filed the case (the plaintiff) questions their witnesses and presents their exhibits first. The other parent (the defendant) can also question these witnesses through cross-examination.
Next, the defendant repeats this process, questioning their own witnesses and presenting exhibits. The plaintiff can then cross-examine.
Finally, both parties give closing arguments to summarize their points.
The judge may announce their ruling immediately afterward or wait days or even weeks. Once it's written and signed, the ruling becomes the final judgment, which replaces any temporary orders in the case.
The custody aspects of the judgment go into effect immediately. However, divorces don't finalize until 90 days later, so divorcing parents must wait until after this nisi period to remarry.
Your options for changing a final judgment include appealing to a higher court within 30 days (if there was a legal error) or applying for a modification (if your circumstances change substantially).
Tips
Wear business casual dress (no t-shirts, sandals, flip flops, or ripped clothing).
Arrive early to allow yourself time to check-in and find the courtroom.
Treat everyone, including court employees and the other party, with respect.
Do not bring your child, unless they are testifying (which is rare).
Only speak when asked to.
Speak clearly, and don't rush.
Don't start arguments with the other party; the court is not the place to vent frustrations.
Don't let personal issues with the other parent interfere with what's best for your child.
Avoid getting overly emotional, especially when the judge announces their decision.
Staying organized
Custody trials require serious organization — especially if you're representing yourself.
You'll need to present evidence, which could range from messages with the other parent to a calendar showing when you care for your child. You should also present a proposed parenting plan and schedule to the court.
The Custody X Change app lets you create and manage all of these elements in one place.

With parent-to-parent messaging, personalized custody calendars, a parenting plan template and more, Custody X Change makes sure you're prepared not only for trial but for every step of your case.
Take advantage of our technology to get what's best for your children.
Bring calm to co‑parenting. Agree on a schedule and plan. Be prepared with everything documented.