Resolving Child Arrangement Disputes Out of Court (ADR)
Parents in the U.K. can use three processes to resolve conflict out of court: mediation, collaborative practice and arbitration.
These alternative dispute resolution (ADR) methods are preferred over court litigation, especially when children are involved, because:
They are less expensive than court proceedings, which can be extremely costly.
They resolve issues relatively quickly.
They can be much less stressful and traumatic for the parents and child.
Mediation and collaborative practice are particularly favoured because:
They let parents decide the outcome.
They aim to improve communication between parents.
They give parents a strong chance at moving forward amicably.
Bring calm to co‑parenting. Agree on a schedule and plan. Be prepared with everything documented.
In England and Wales, the court expects parents to attend a Mediation Information and Assessment Meeting before applying for a court order. In the meeting, a mediator helps parents assess ADR options for their case.
Courts in Scotland and Northern Ireland do not require such a meeting, but they still expect you to explore ADR options before requesting court orders.
ADR methods are not recommended for cases involving domestic abuse, and parents in such cases don't have to attend the informational mediation meeting.
Mediation
In mediation, parents sit together with an impartial, trained mediator to try to sort out differences. Mediation helps parents communicate more effectively with one another, conveying their concerns and wishes calmly.
A less common version known as shuttle mediation — where parents sit in separate rooms and have representatives relay their wishes back and forth — is sometimes available for high-conflict circumstances.
Occasionally, the child involved also attends mediation to have their voice included in discussions.
Mediators have extensive experience resolving family conflicts and an in-depth understanding of the laws and processes involved. However, they cannot give legal advice or make decisions for you. They simply give you the tools to reach a consensus.
The Family Mediation Council and Resolution are good places to start the mediation process.
The typical cost for mediation is around £120 an hour per person. Each parent can expect to pay between £500 and £1,250 to reach a full resolution, depending on the complexity of your situation. Usually parents meet with the mediator several times.
Going to mediation with a clear idea of what you want helps speed up the process and cut costs. Drafting a parenting plan and a residence and contact schedule prior to your first meeting gives you a concrete way to present suggestions.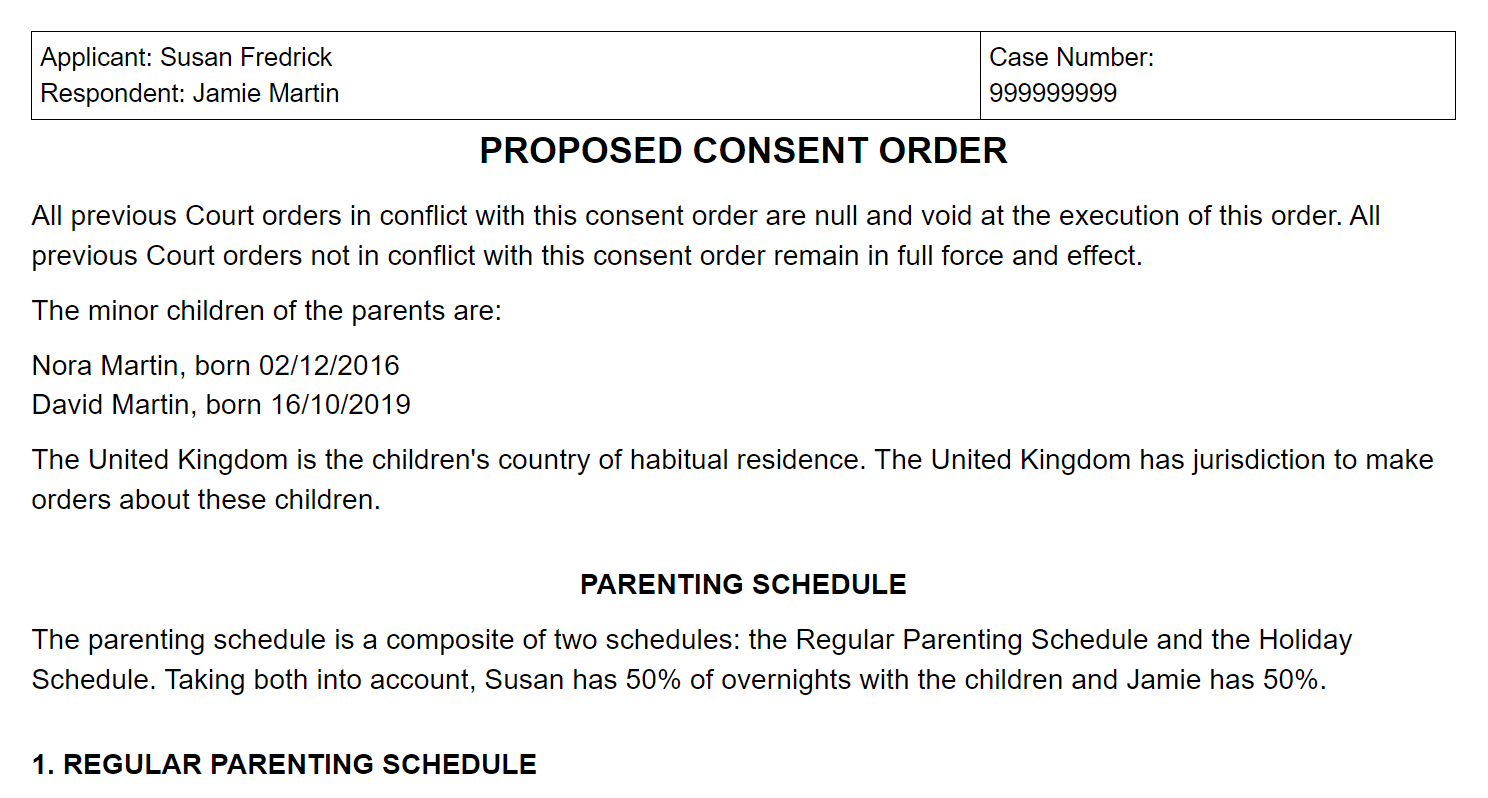 If you reach an agreement in mediation, you should create a parenting plan with the other parent. You can refer to this informal contract at any point to remind yourselves what was agreed. You can also formalise it by taking it to court for approval.
Collaborative practice
Collaborative practice is useful when parents feel more comfortable negotiating with the support of legal representatives.
Each parent has their own representative (usually a lawyer trained specifically in the collaborative method) who takes a non-confrontational approach to finding common ground with the other side.
If required, the legal representatives can help find other professionals like family counsellors and arbitrators to resolve specific issues.
Collaborative practice follows a more formal process than mediation. To begin, both parents sign a commitment to avoid court. Generally, at least a handful of meetings follow, which parents and lawyers attend. If the parents — who always have final say — reach consensus, they sign a legally-binding agreement.
Costs are considerably higher for collaborative practice than for mediation because two lawyers participate. Even straightforward cases are unlikely to be less than £10,000 per parent. You can trim costs by arriving to meetings focused and organised — for example, bring your lawyer a draft parenting plan to quickly illustrate your goals.
Despite the extra costs, collaboration can prove worthwhile for parents who want lawyers to look out for their rights, especially parents with significant conflict or complex child arrangements.
Law firms that assist you in collaborative practice are barred from representing you in court should negotiations break down. This incentivises the lawyers to help you to settle out of court.
Arbitration
Whilst the collaborative process can last many months, arbitration normally lasts only a day or two (not counting preparation time).
In arbitration, a solicitor or other legal professional decides a specific dispute for you. The arbitrator's decision is final and becomes a binding court order.
Arbitration is particularly useful when one issue is holding up proceedings, especially in collaborative practice.
The process involves one or more hearings where your legal representative presents evidence to the arbitrator and questions the other parent's witnesses. These hearings are usually held in a formal setting like a boardroom.
The arbitrator may ask a social worker to report on the child's wishes and any welfare issues. Each parent can expect to pay around £80 per hour to the social worker, who usually spends around five hours on a full report.
Family law arbitrators must be a member of the Institute of Family Law Arbitration (in England, Wales and Northern Ireland) or the Family Law Arbitration Group Scotland.
Arbitrators can cost up to £2,500 per day in addition to what you pay your solicitor, so arbitration may not be your most affordable option.

Preparing for an alternative dispute resolution
Preparation is as important when you decide parenting arrangements through an alternative method as when you decide them in a courtroom. You still want to present convincing information — but to the other parent or the arbitrator rather than to the court.
In mediation and collaborative practice, start by proposing a parenting plan, including a residence and contact schedule.
In all three methods, you may want to bring a parental journal, a list of child-related expenses and other data.
The Custody X Change app enables you to prepare all this in one place.

With a parenting plan template, customisable custody calendars, a parenting journal, an expense tracker and beyond, Custody X Change makes sure you're prepared for any method of deciding your child arrangements. It makes sure you're prepared to get what's best for your child.
Bring calm to co‑parenting. Agree on a schedule and plan. Be prepared with everything documented.