Parenting Time Schedules in British Columbia
A parenting time schedule helps parents who are no longer together keep track of when the child will be in their care. A schedule should cover where your child will be day-to-day as well as during holidays, vacations and special occasions.
Only the child's guardians have parenting time. All others who spend time with the child are said to have contact.
Visualize your schedule. Get a written parenting plan. Calculate your parenting time.
Parents agree on which schedule they follow, or a judge decides after a trial. If you agree on a schedule, you'll describe it in your parenting plan. Adding a visual calendar is optional.
Some parents agree to reasonable parenting time instead of a set schedule. Reasonable time means parents arrange transitions between their households as they go. Having a set schedule is recommended as it prevents confusion and lessens the chance of arguments over parenting time.
You can have a parent's time with the child supervised to ensure the child's safety. The supervisor can be a friend, family member or professional. The arrangement is often temporary.
There are many schedules to work with, or you can make a new one entirely.
Shared parenting time schedules
Courts in BC strive to give each parent the maximum parenting time that is appropriate. If both parents are capable and safe for the child to be around, they usually share parenting time, meaning that the child spends at least 40 percent of the year with each one.
These shared parenting time schedules are the most popular.
2-2-5-5 schedule
With the 2-2-5-5 schedule, your child lives two days with one parent, then two days with the other parent, followed by five days with the first parent, and five days with the second parent.

3-4-4-3 schedule
The child spends three days with one parent, then switches to the other parent's home for four days. The following week, they spend four days with the first parent, then three days with the other. This is known as the 3-4-4-3 schedule.

4-3 schedule
In the 4-3 schedule, your child spends four days of the week with one parent and the other three days with the other parent.

Alternating weeks schedule
The alternating weeks schedule has the child live with one parent for a week and then the other the next week.

Other schedules
It's rare for a parent to have less than 40 percent of parenting time. But if this is the best solution in your case, the following are a couple of your schedule options.
Alternating weekends schedule
The alternating weekends schedule is a common choice. Consider adding a weekday visit so the child can see their parent more often.

5-2 schedule
With the 5-2 schedule, the child spends five days of the week with one parent and two days with the other.

Holidays and vacation schedules
Parents often overlook the importance of holidays and vacations in their schedule. There are many ways to split this time.
If you have a school-aged child who gets an extended school break in the summer, you can split that time in half. Or, if one parent doesn't get as much time with the child during the school year, they can get all of the summer vacation.
You might alternate who gets parenting time on major holidays by odd- and even-numbered years. For less-important holidays, you could simply follow your regular schedule.
Another option is to give one parent the day of the holiday and allow the other to celebrate on a different day.
For vacation time, you can set specific dates or put vacation allowances in your parenting plan. These give parents a certain amount of vacation time each year that they choose when to exercise.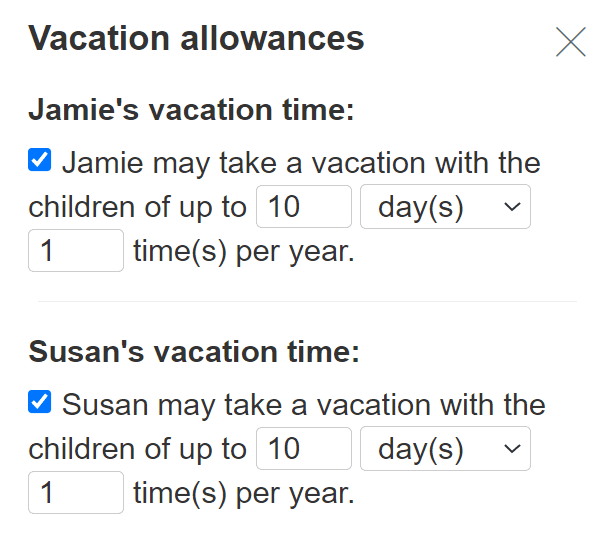 Tips for following a schedule
Pay close attention to how your child adjusts. Starting a parenting time schedule can be tough for kids. Check in with them to see how they are adjusting. If they're struggling, you may have to make changes.
Keep scheduling talk between you and the other parent. Your child shouldn't relay messages about parenting time. If you need to change a visit or two, talk it out with the other parent.
Communicate in advance. If you anticipate that you're going to be late for or miss a visit, tell the other parent as soon as possible.
Use a parenting app. Apps like Custody X Change allow you to link accounts with the other parent. You can suggest scheduling changes and compare how much time you spent with your child versus the time you were scheduled to spend.
The easiest way to make a schedule
If you're like most parents, creating a parenting time schedule will feel daunting. How do you address holidays, school breaks and birthdays while ensuring the schedule will work in the years to come?
The Custody X Change app makes it easy. First, click and drag in your colour-coded calendar.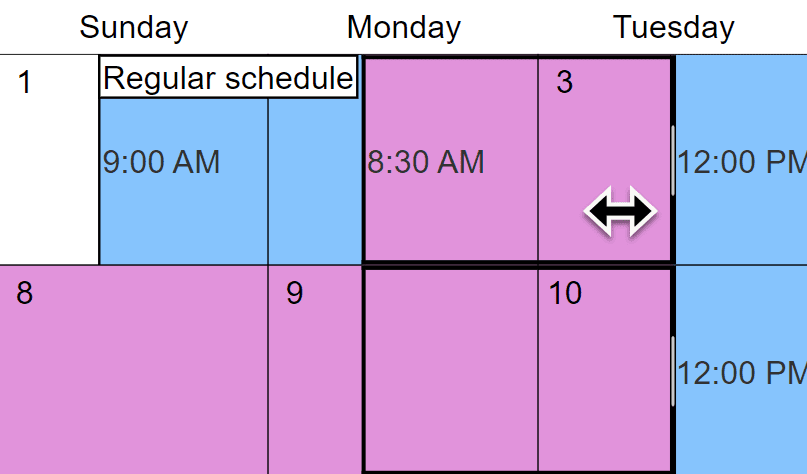 Then watch as your choices automatically apply to future years and a full description appears in your parenting plan.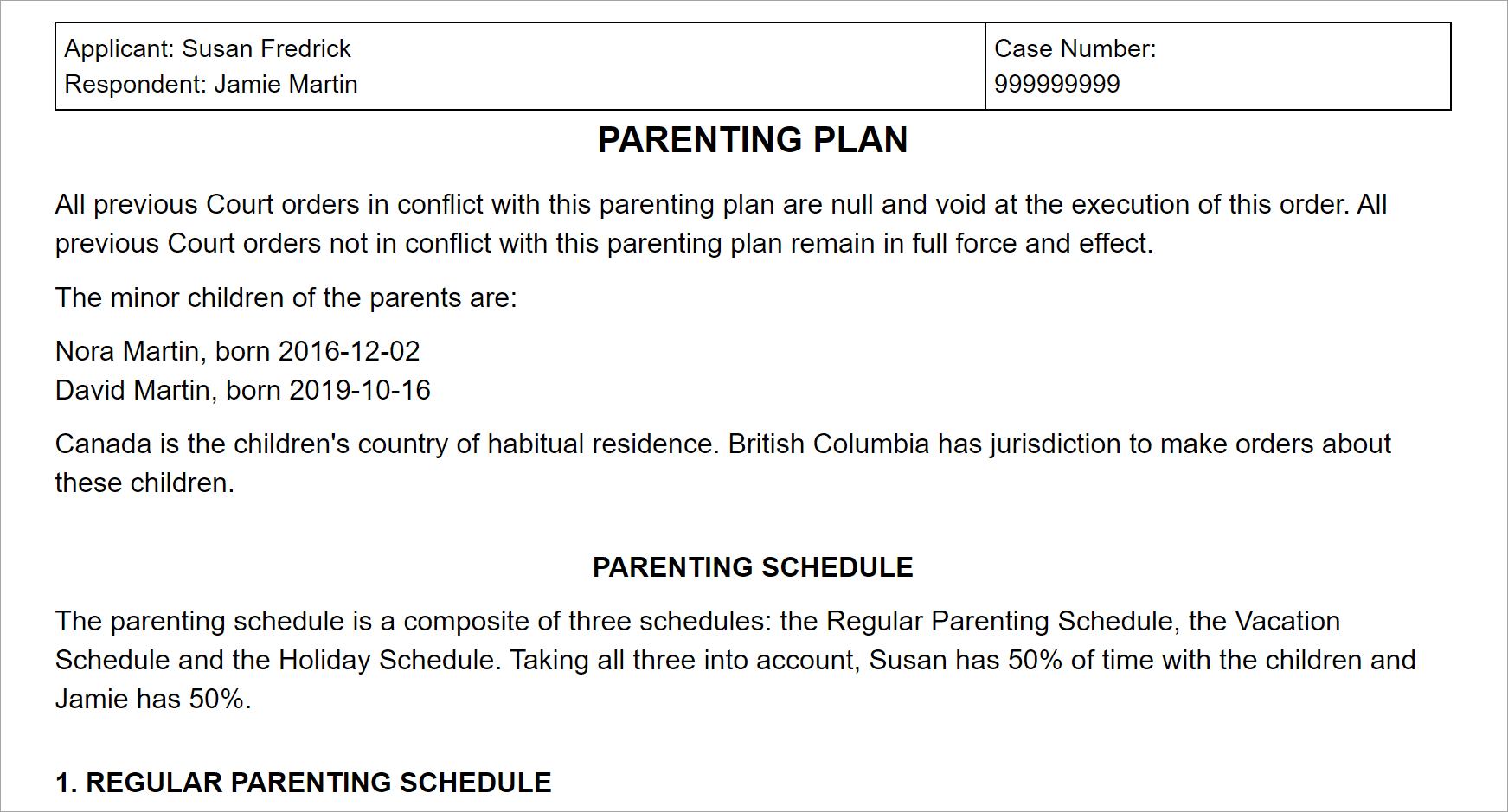 The combination of a visual and written schedule means your family will have no problem knowing who has the child when. Take advantage of Custody X Change to make your schedule as clear and thorough as can be.
Visualize your schedule. Get a written parenting plan. Calculate your parenting time.