Figuring Out Vacations in Your Parenting Plan
Vacations can be a difficult subject for divorced and separated parents, unless they have it figured out in their parenting plan and custody agreement. Because all parents want to have fun with their children, here is how to handle vacation time in a parenting plan.
Custody X Change is software that creates professional parenting plan documents and parenting schedules.
Scheduling vacations
First, parents need to decide how they will schedule the vacations.
Some parents choose to have specified vacations — meaning that each parent has specific dates every year (often during summer break). Others choose to have unspecified vacations — meaning that each parent is allotted so much vacation time per year that they can take with advance notice to the other parent.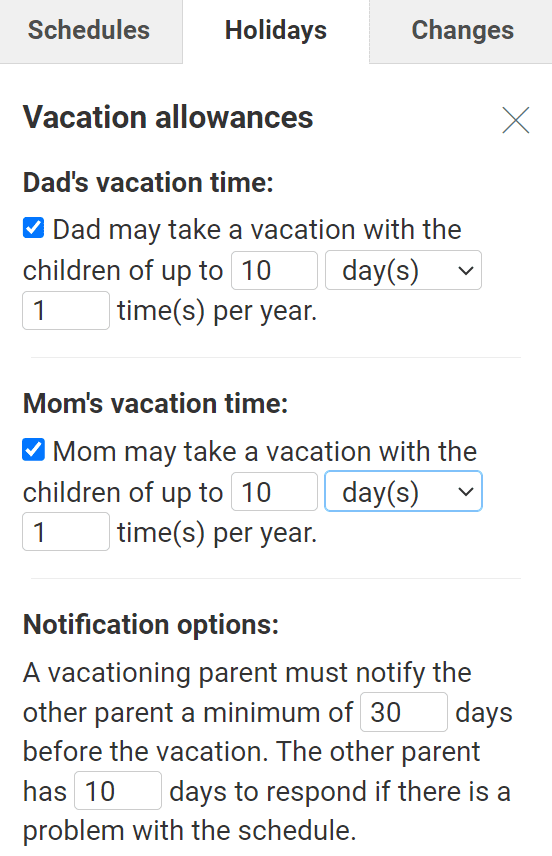 Generally, to take an unspecified vacation, the parent must let the other parent know 30 days in advance.
Both parents should have equal vacation time in the parenting time schedule, unless they agree otherwise. The parents should also decide if there is make-up visitation for the other parent when the children miss it because they are on vacation.
Set ground rules
Once the parents have determined the vacation schedule, they should set some rules for vacation time. What are acceptable areas to travel to? Can the parents take the children out of state? How about out of the country? Does the parent planning the vacation have to get permission to take the child far away?
Parents can also choose to require each parent to give the other parent a travel itinerary before going on vacation. This can help the parents feel more comfortable with what is going on.
The plan should also include rules about acceptable activities to do with the children while on vacation. Are the children allowed to go skydiving? How about rock climbing? Parents can make a rule in the plan that the parent must discuss certain activities with the other parent before taking the children on them.
It is best to establish these rules right in the custody agreement so that the parents know exactly what to do. Then, a parent can head to the beach and relax with the children.
The easiest way to make a parenting plan
Incorporating vacations in your parenting plan can be difficult. You have to figure out how vacation time will fit in your regular schedule, and include provisions to detail how you'll handle communication and other important matters.
Use technology to take the guesswork out of the equation. The Custody X Change app walks you through each step of creating a plan. As you build a schedule, the terms are automatically written into your plan with airtight legal language.
The result will be a professional document that demonstrates your competence as a parent and secures your child's future.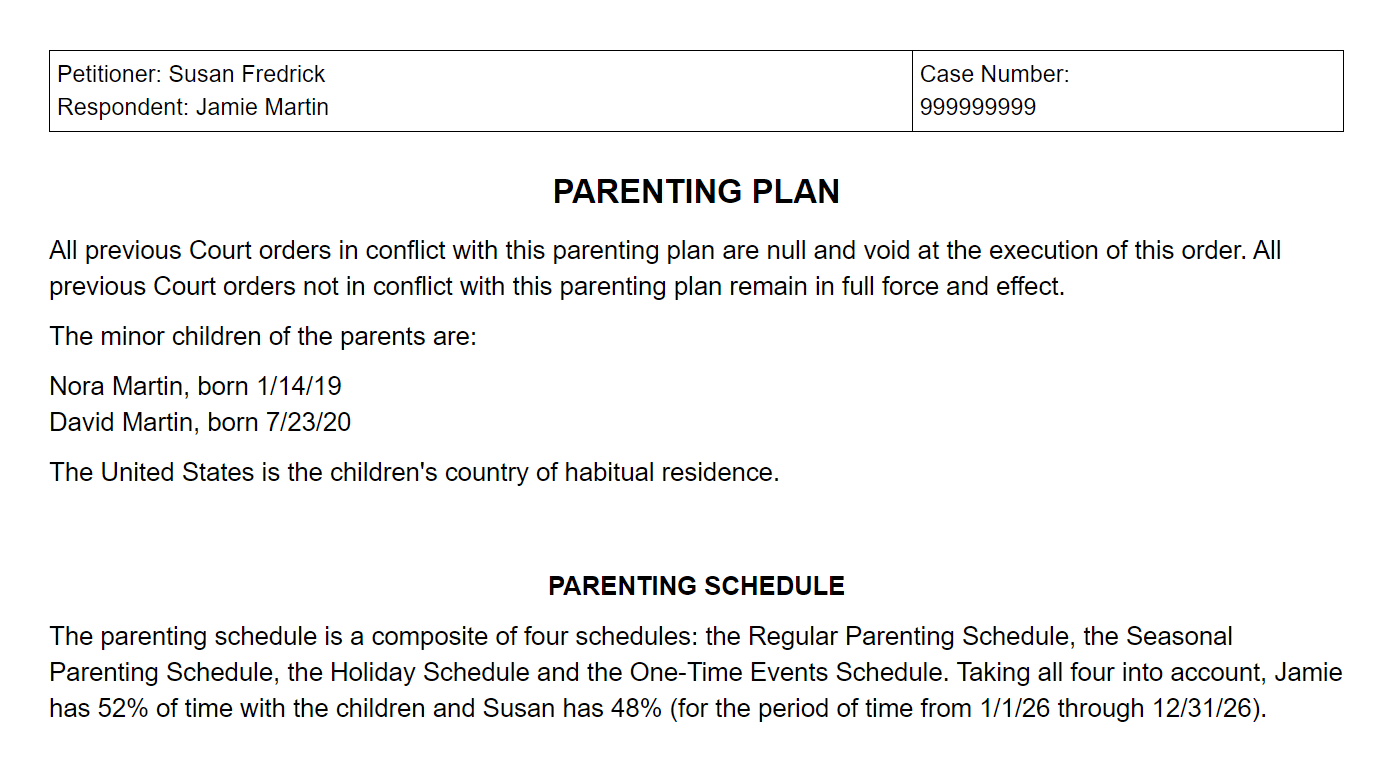 The easiest and most reliable way to make a parenting plan is with Custody X Change.
Custody X Change is software that creates professional parenting plan documents and parenting schedules.