Co-Parenting Apps: Why Divorced Parents Need One
A co-parenting app can be vital to making your parenting relationship work during and after divorce.
The best co-parenting apps (also called custody apps) offer shared calendars, printable messaging, customizable court documents and other tools. They help co-parents collaborate calmly and can keep attorneys or other professionals in the loop automatically.
Custody X Change is software that creates parenting plans and schedules to help you keep track of your custody situation.
Why co-parenting apps are important
Technology can do things that humans cannot. A key value of co-parenting apps is the ability to store and organize massive amounts of information. This makes it easier to handle the often-complicated matters of child custody.
A parenting app gives you a permanent digital account of all things custody-related, allowing you to:
Keep child custody information in one place
Make changes without starting from scratch
Collaborate with the other parent rather than returning to court
You don't need to have a smooth co-parenting relationship or a 50/50 parenting schedule to use such an app. Parenting software helps exes in all types of parenting arrangements. It may even be extra helpful to exes with contentious relationships, since it allows them to resolve issues without being in the same room.
What the Custody X Change app offers
The Custody X Change online app ensures the best possible future for your children, thanks to a thorough set of tools. More than a million parents have used our software to help them transition from parenting in one household to two.
Co-parenting calendar
Many parents try to write or type out their custody schedules only to be left with a stack of paper to sort through.
Custody X Change walks you through each step of building a custody calendar. The color-coded calendar lets you easily see when the child will be with each parent, and it instantly calculates your parenting time.
If you link accounts with your attorney or the other parent, you can collaborate on calendars and see whenever they make a change.
You can also privately track parenting time in Custody X Change. For example, you could note when a parent picks your child up late.
Co-parenting communication
Communication between parents can be troublesome regardless of how well you get along. Use Custody X Change as your parent communication app to ease some of the biggest challenges.
Some parents search through hundreds of texts and emails — or hire an attorney — to highlight when the other parent was less than cordial. Our hostility detector highlights harsh language automatically so you can print instant reports (and keep your own language in check).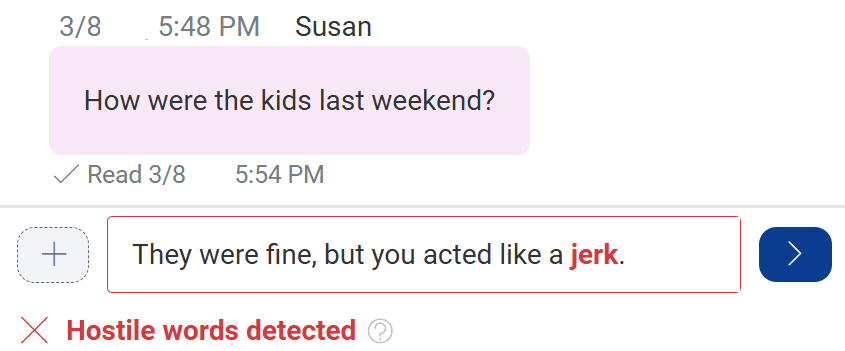 Custody X Change messaging also saves you the hassle of dealing with a co-parent who lies to the court about your conversations. It keeps a complete record of every conversation and shows when a parent has read a message.
If a court puts orders in place that limit contact between parents, a parenting app could be your only means of communication.
Custody documentation
Keeping track of all the dates and documents related to your child can feel like a full-time job, and consolidating them into a professional format can seem downright impossible.
Your Custody X Change journal solves these problems and more. It helps you:
Recall important dates or discussions
Record your child's milestones and data
Track behavior patterns for children or parents
Retrieve documents quickly
Present professional-looking evidence if you need to return to court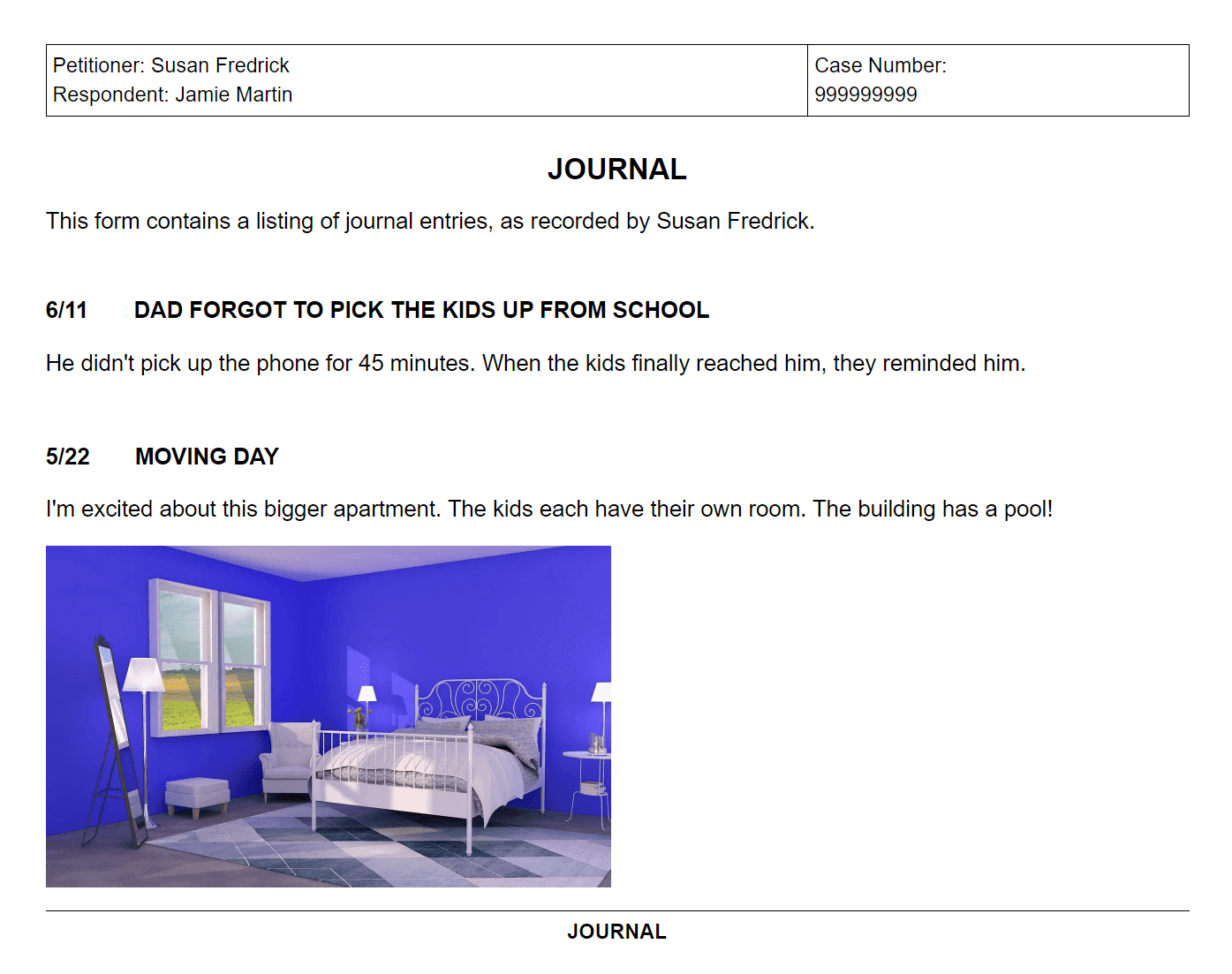 Family expense tracker
Family law attorneys often advise clients to track child-related expenses. These records can help prove your involvement with your children, not to mention get the other parent to reimburse you.
Paper receipts are a hassle to organize. With Custody X Change, you simply add information about an expense and how much the other parent owes. The app calculates totals for you and organizes your photos or other attachments for quick access.
Child custody agreement template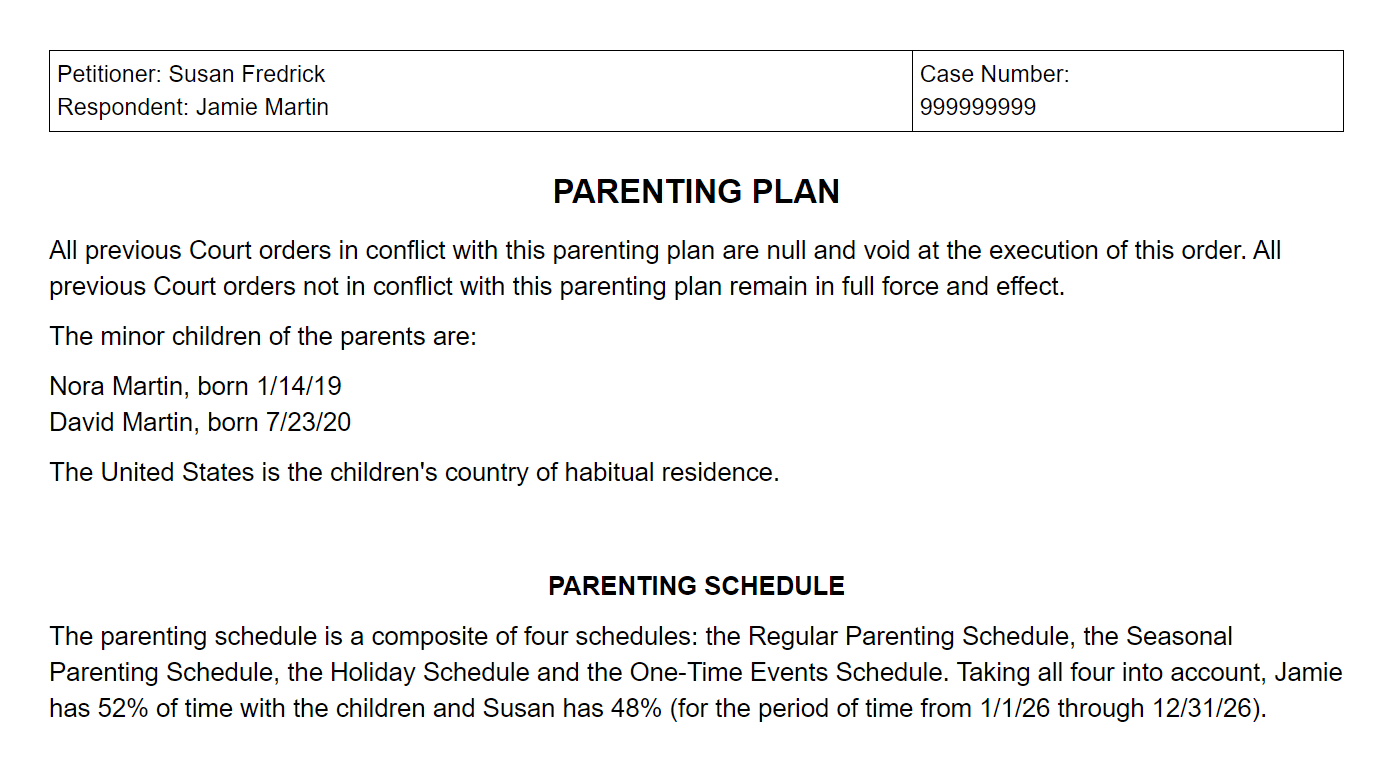 Many parents choose our co-parenting app because of the ability to make a custody agreement (also called a parenting plan). This spells out how you'll handle parenting.
The Custody X Change template helps you build an agreement by offering hundreds of popular provisions (parenting rules) to choose from. Your co-parenting calendar appears in your plan automatically, along with a description using legal terminology.
Purchase a subscription to add extra provisions and print your custody agreement for court.
Choosing the best co-parenting app
The custody app that will work best for you depends on your family. In some cases, the family court assigns a specific app for you to use.
Custody X Change is trusted by families in a wide variety of circumstances, with provisions for supervised visitation, supervised exchanges and more.
Choose an app for divorced parents that provides guidance but lets you make customizations. Most importantly, make sure it empowers you to work productively with your ex-spouse for the benefit of your child.
Testimonials
Here's what some of our customers have said:
The judge adopted my plan that I came up with using custody exchange. ... It was invaluable.
Stacie Staples – Arroyo Grande, CA
The billing cost from a lawyer to prepare the documents would exceed the cost of the program and would be inferior to what you have developed. … It is a truly valuable tool!!
Russell King – Jacksonville, FL
It has saved several hours of pushing a pencil and rearranging days back and forth. The best part is that it figures out ... time with each parent each month. Well worth the money, do it yourself and hand it to your attorney.
Ruth Ballard – Standish, ME
Custody X Change is software that creates parenting plans and schedules to help you keep track of your custody situation.