Shared Custody Schedules for Newborns
A shared custody schedule divides the newborn's time between parents in a way that's developmentally appropriate.
You and the other parent can make the schedule on your own, hire a lawyer to write it, or try an alternative dispute resolution method for help reaching an agreement.
Bring calm to co‑parenting. Agree on a schedule and plan. Be prepared with everything documented.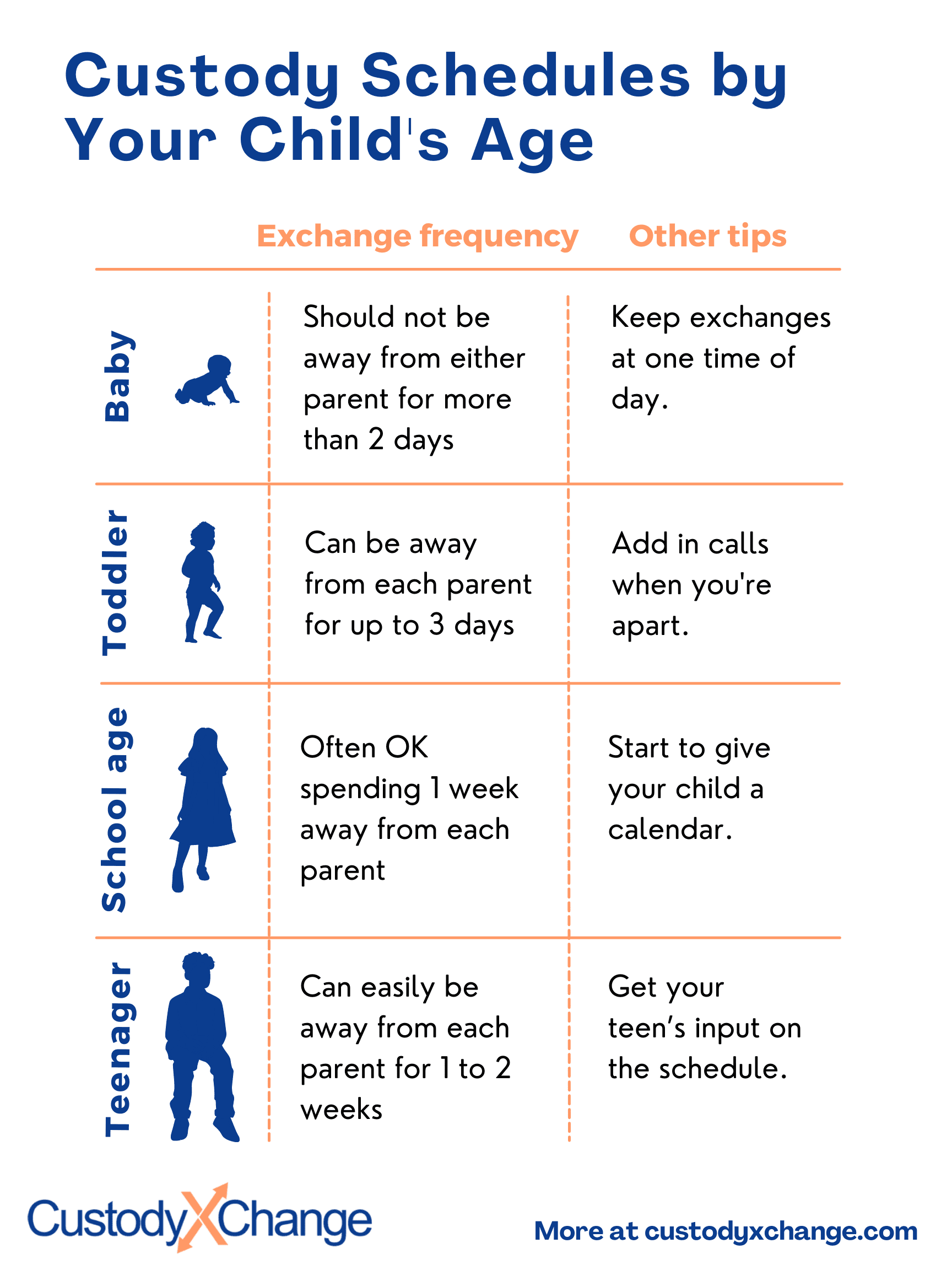 Creating your schedule
Before parents meet to discuss their ideas and negotiate, they should learn what is best for their newborn. Keep these key points in mind as you put your ideas in writing.
Newborns bond with their parents when they are held, played with, fed, soothed, diapered and bathed.
Newborns generally don't follow a predictable schedule of sleeping, eating and waking.
Newborns can experience stress from significant disruptions in their daily routine.
Newborns need to have short, frequent visits with both parents rather than long absences from either parent.
On the whole, your schedule should focus on what will be least stressful for your baby. While it may not be ideal or convenient for you, accommodating your baby should always be the first priority. You can make modifications as your child ages, and you can even write future adjustments into your parenting plan now.
Ensuring your newborn's healthy development
A well-developed schedule tailored to the baby' needs will not hinder development. If anything, a shared custody schedule positively impacts your newborn's development as it helps them build healthy attachments to both parents.
To ensure your baby's comfort, your schedule should be consistent and predictable. The following tips can help you avoid any hiccups.
Establish one home as the child's primary residence.
Have short, frequent visits by the nonprimary caregiver at the primary residence.
Hold visits where both parents can provide major caretaking tasks.
Avoid overnight visits at the nonprimary residence.
Allow short trips outside the home with either parent.
Agree to introduce any changes slowly and gradually.
Your newborn should have a feeding and sleeping schedule, but know that it'll take several months for the baby to fall into a fairly predictable pattern. In the first three to four months, try to find a balance so your schedule sets a daily routine yet isn't too strict.
Newborns have the best chance of developing healthy bonds with both parents when a stable custody schedule is implemented. The early months of your baby's life should focus on providing love and care so that they develop trust. As your baby matures, you can add longer, more varied visits.
Adding feeding time to your schedule
Breastfeeding is a positive and healthy process for which you'll need special accommodations in your schedule. Formula feeding is also fine for the health of newborns, but they may experience nipple confusion when alternating between breast and bottle. Specify in your parenting plan and custody schedule when and if the baby should be given a bottle.
Newborns need to be fed every three to five hours. If you choose exclusive breastfeeding, avoid a schedule that takes the baby away from the mother for more than a couple hours. You can make adjustments to your schedule as your infant moves toward a less frequent feeding schedule and begins eating solid food.
Determining your schedule's effectiveness
You'll know that your schedule is working when there's minimal conflict with the other parent and your baby isn't showing signs of stress.
Here are some signs that your shared custody schedule needs adjusting:
There's frequent miscommunication about pickup and drop-off times.
Neither parent has a clear understanding of the schedule.
You or the other parent miss key caretaking opportunities with your newborn, such as bathing or feeding.
You or the other parent constantly rearrange your visitation times.
Your newborn's naps or feedings are often delayed to accommodate the schedule.
Your newborn seems stressed, with excessive crying and flexing.
The custody schedule should put your newborn's needs first. When you and the other parent make adjustments, discuss ways you can reduce your baby's stress level and provide the care he or she needs to thrive.
Revising your schedule
Consider revising your schedule when your baby reaches 6 months old. At that age, infants begin to eat solid food, follow a more predictable napping schedule and go longer between feedings.
Introduce changes gradually to reduce frustration in your infant. For example, allow the secondary caretaker to spend an evening with the baby in the primary home every two weeks. This lets the other parent do plenty of feeding, bathing and comforting so the infant feels comfortable with them and ready to transition to overnights at their home.
Other aspects of the schedule that may need revision as your newborn ages include:
The length of the newborn's outings
Visits with third-party family members like grandparents
Day care options
The infant's diet
When to reexamine your parenting plan and schedule
Tracking the details of your schedule
Keep a parenting journal specifically for making notes about co-parenting issues. You can do this on your own or simplify the process with a Custody X Change journal. With the Custody X Change web app, you can attach photos and documents, add tags, share with your lawyer and print or export.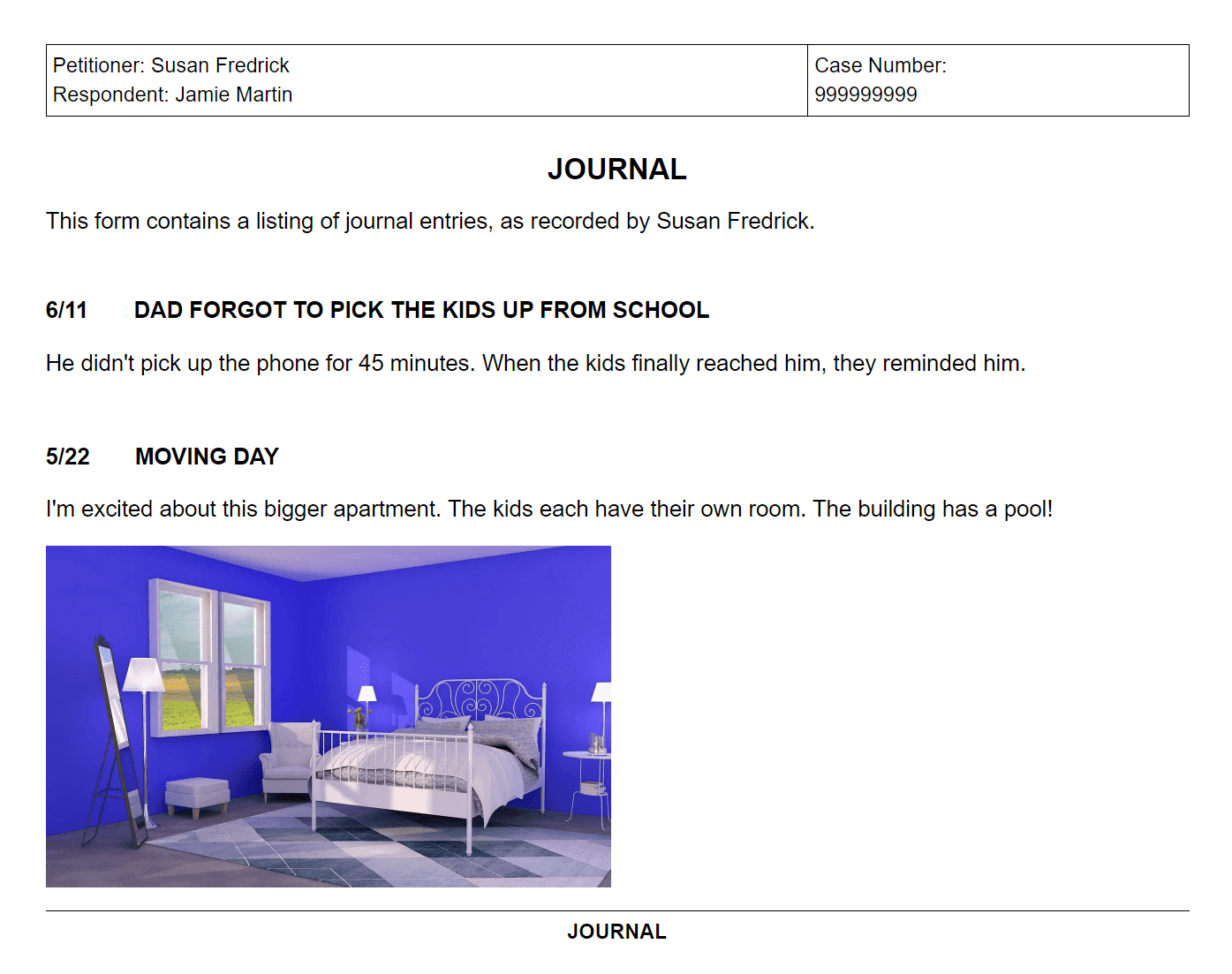 A parenting journal helps you figure out what is working in your schedule and what is not. When you want to implement some kind of change, it's helpful to have documentation that backs up your position.
Some things to keep track of in your parenting journal include:
Any unusual behavior your newborn exhibits
When the other parent is late or misses a visit
When you are late or miss a visit and why
Attempts at communicating with the other parent
Your newborn's major developmental milestones
Any symptoms of illness shown by your newborn
Any medications given to your newborn, including time and dosage
A parenting journal helps you monitor the events surrounding your newborn's life and helps you back up your position should you have a disagreement with the other parent. If you end up in court again, a detailed parenting journal can strengthen your case for a formal change to the schedule or custody arrangement.
The easiest way to make a shared custody schedule for newborns
Creating a newborn schedule on your own can feel overwhelming. You have to be sure to use airtight legal language and can't omit any required information.
The Custody X Change app takes the guesswork out of the equation by helping you build a schedule piece by piece.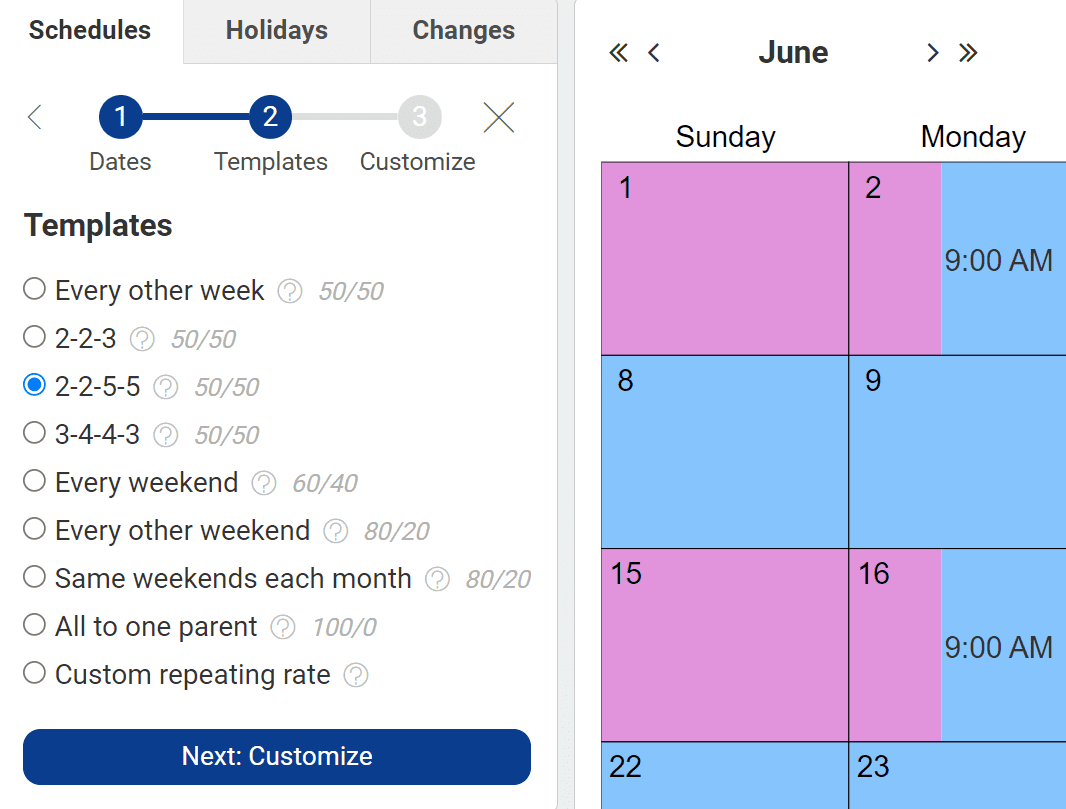 As a result, you get a written schedule and a visual calendar. They meet your family's needs, as well as the court's standards.
For quick, reliable and affordable help making a custody schedule, turn to Custody X Change.
Bring calm to co‑parenting. Agree on a schedule and plan. Be prepared with everything documented.