50/50 Custody Schedules: 2-2-3 | 2-2-5-5 | 3-4-4-3
50/50 custody schedules are becoming a more popular option when determining child custody. Parents and the courts love this schedule because the child is frequently a part of both parents' lives.
Once you decide to have 50/50 child custody, you will need to choose a child custody schedule. This is basically the schedule you, the other parent, and child will follow. Below are three very popular choices for a 50/50 custody schedule.
Custody X Change is software that creates professional parenting plan documents and parenting schedules.
2-2-3 custody schedule
The 2-2-3 child custody schedule is very simple and easy to understand. With this schedule, your child will spend the first two nights of the week with you, the second two nights with the other parent, and the three weekend nights back with you. The following week the schedule changes so the second parent gets your child at the beginning and end of the week.

This schedule is great because it is easy to implement. Many parents like the simplicity and ease in having this schedule. It also allows the child to spend time at both parents home each week while rotating weekends.
Your child will go back and forth a few times so you want to make sure they can handle frequent exchanges and completing homework on time. Some children struggle with this since they may feel like a visitor and not a part of the home or family. You need to know your child and choose what will work best for them.
2-2-5-5 custody schedule
The 2-2-5-5 child custody schedule is a bit more complex but once understood, it's very simple. This schedule is easier to comprehend if you know each parent has two set weeknights with the child and the weekends rotate.
How it works is your child spends two weeknights with you and then the next two weeknights with the other parent. They then come back to your house and stay for the three weekend nights and the first two weeknights you are assigned, equaling five nights. Then, they go back to the other parent's home and have their two assigned nights along with the three weekend nights, again equaling five nights.

A strength of this schedule are the assigned weeknights. It is easier for the parents and the child to schedule meetings, activities and other events. Also, rotating weekends allow each parent to enjoy fun activities with their child.
Because this schedule is more consistent, it is easier for a child who can be anxious about going back and forth. You want to make sure your child can handle their school work and responsibilities while they are exchanging homes multiple times a week.
3-4-4-3 child custody schedule
The 3-4-4-3 child custody schedule is very easy and only has two exchanges during the week. Your child will spend first three nights of the week with one parent and the last four nights with the other. The following week it changes so your child spends four weeknights with the first parent and three with the second.

The strength of this schedule is one parent always has the first part of the week and the other parent always has the second part of the week. The only day that changes is one mid-week, usually Wednesday. Many people find this works for them because it is a simple and straightforward schedule.
The downfall with this schedule is one parent has every weekend. Depending on your situation, this may work really well but some parents have struggled with not having their children during the weekend.
The easiest way to make a 50/50 custody schedule
There's a lot to think about when you're building a parenting time schedule. You'll want it to address holidays and school breaks, give the right amount of time to each parent, and work for years to come.
The Custody X Change app makes it easy. Just follow the steps to make a common custody schedule.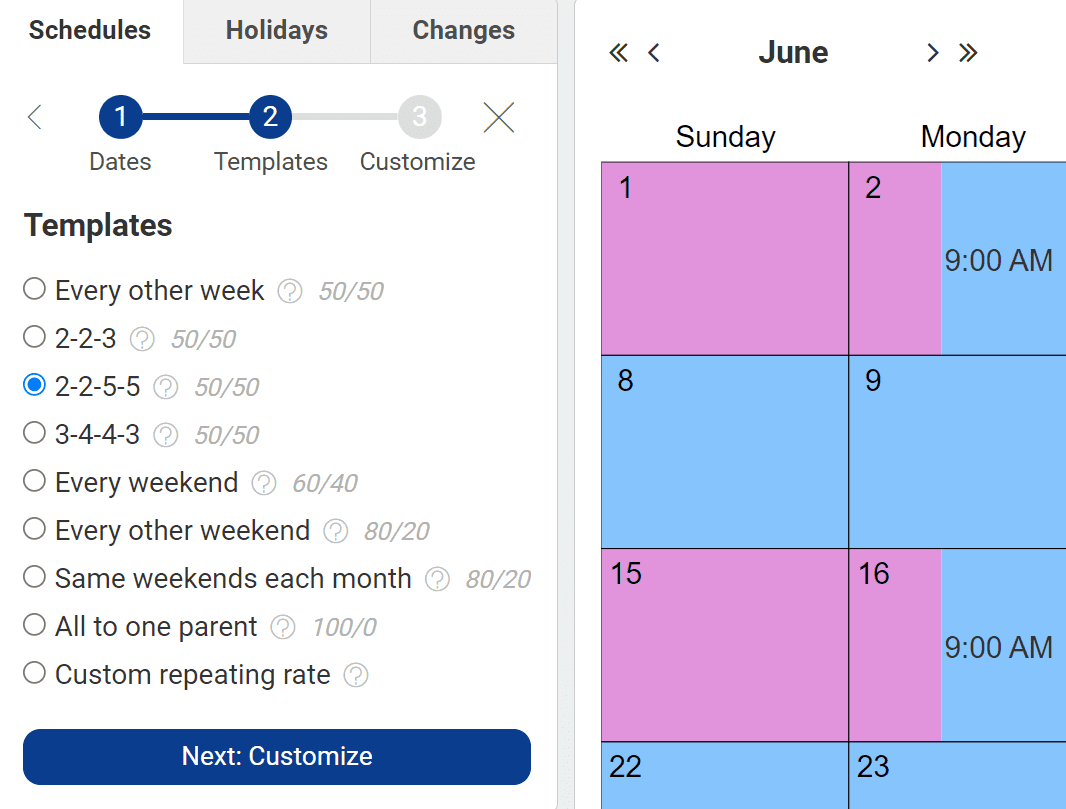 As a result, you get documents and calendars that meet your family's needs, as well as the court's standards.
For quick, reliable and affordable help making a custody schedule, turn to Custody X Change.
Custody X Change is software that creates professional parenting plan documents and parenting schedules.