Successful Custody Agreements for Newborns
How do I make a custody agreement for my newborn?
You can write up your own custody agreement (on your own or with the other parent) or you can work with a lawyer or legal professional and have them create it. If you don't want to pay the high cost of a lawyer, and want to easily make your own agreement, you can use the Custody X Change software.
Custody X Change is software that creates custody agreements for children of all ages.
What should I consider when making a newborn custody agreement?
The most important thing to remember when creating a custody agreement for a newborn is that it should be done with the best interest of the child as the main priority. The court will also consider all of the factors relevant to the best interest of the child prior to making a ruling.
Some of these factors include:
The mental and physical health of the parents and the baby
The moral fitness of each parent
The motives of each parent as they pertain to custody
The ability of each parent to provide the baby with basic needs such as food, clothing, shelter, and proper care
The ability and willingness of each parent to provide the baby with love and affection
Basically, the court wants to make sure that both parents are willing and able to take good care of the baby and there aren't any circumstances that could harm the baby (such as domestic violence, substance abuse, physical abuse, etc.).
The key to getting your custody agreement approved by the court is to create one that puts the needs of your newborn above your own wants and desires. You will want to make sure your custody agreement contains adequate information so that you will be able to execute your agreement without problems.
Custody X Change is the perfect tool to create the custody agreement for your newborn because the software is designed to make sure you won't leave anything out of your plan.
How do I make a custody agreement that grows with my child?
Creating a custody agreement for a newborn can be challenging because the needs of a newborn are much different than the needs of an older child and the needs of babies can change as rapidly as the baby grows.
As you create your custody agreement, you will want to address the current needs of your newborn and also include plans for the custody arrangements in the future.
If you don't want to have to return to court every few years to change the terms of the custody agreement, you will need to include visitation schedules for these stages of your child's development:
Newborn
Infant
Toddler
Preschool age
Elementary school age
Teenager
When you hold your tiny baby, it can be hard to imagine him being fifteen years old and even harder to try to determine how you should make a custody schedule so far in advance. You should use your best judgment now and make an effort to make the schedule as best as you can.
You can also include a method for a periodic review of the agreement so you can modify the custody arrangements to suit the ever changing needs of your child. With Custody X Change, you can easily make changes to your agreement and print out copies for your ex and the court.
What kind of visitation schedule should I include in my custody agreement?
It is very important for a newborn to be able to bond and connect with both of her parents. It is also important that the baby feel comfortable and secure.
The exact details of your visitation schedule will depend on your individual circumstances and your own personal views.
Some people feel that infancy is a crucial time for bonding and development and that one parent should be the newborn's primary caregiver. If both you and the other parent agree with this philosophy, you may want to create a visitation schedule that designates one parent as the primary caregiver and allows the other parent to have short yet frequent visits with the newborn.
An example of this would be the nonprimary parent having visitation with the child two to four hours at a time several times a week. As the child grows, the visitation time can grow as well, working towards overnight visitation.
Another point of view that some people have is that a newborn should spend as much time as possible with each parent so that the baby can have an equal opportunity to bond with both parents and not develop a stronger attachment to just one of them.
If both of you concur with this, you will want to have a schedule that allows both of you to spend a significant amount of time with each of you.
One way to make this work would be if one parent had the newborn during the day and the other parent would have the baby in the evenings and at night. This works well for parents that work opposite shifts because it keeps the baby out of daycare.
How you make your schedule is really a matter of personal preference and as long as you are able to agree with each other on the custody schedule, the judge should approve it.
You can use the Custody X Change time-share percentage reports to get an accurate tally of how much time each of you will have with your child.
The easiest way to make a custody agreement
Creating a custody agreement on your own can feel overwhelming. You have to be sure to use airtight legal language and can't omit any required information.
Use technology to take the guesswork out of the equation. The Custody X Change app walks you through each step of creating a comprehensive custody agreement.

The result is a professional document that demonstrates your competence as a parent and secures your child's future.
The easiest and most reliable way to make a custody agreement is with Custody X Change.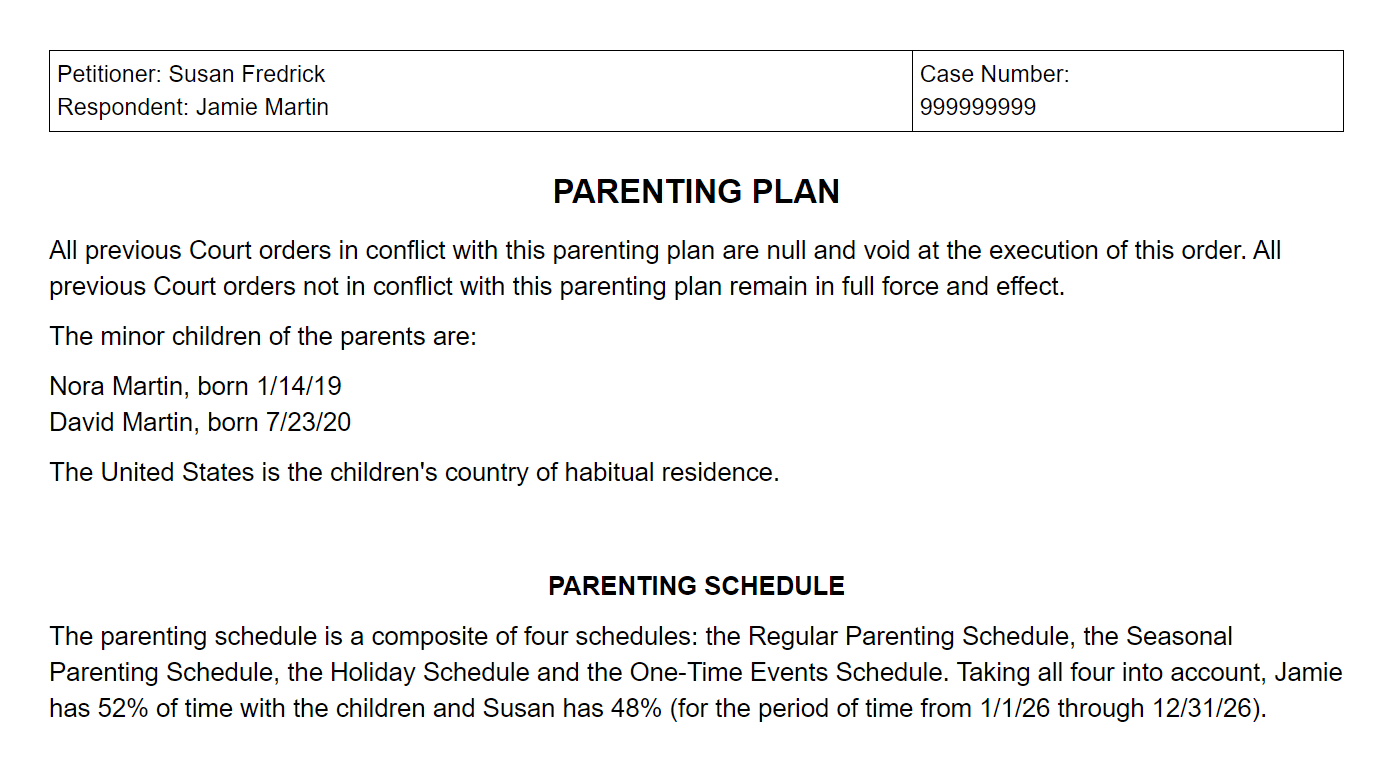 Custody X Change is software that creates custody agreements for children of all ages.