See Mom for Thanksgiving Weekend
On the fourth Thursday of November, families and loved ones gather for Thanksgiving, a day of gratitude and hearty feasts.
For many kids, Thanksgiving recess begins the day of the holiday and lasts through Sunday. If you're a separated mom, you probably want to make sure you see your children during that time. Here are some ways you can.
Visualize your schedule. Get a written parenting plan. Calculate your parenting time.
Scheduling options
Creating a holiday schedule is crucial so you and your children can get the most out of this special time.
To figure out whether one of the arrangements below will work for you, consider factors like work schedules, your children's ages and how much time each parent has in the regular custody schedule.
Give all the time to Mom
One possibility is that Mom gets to see the kids for the entire Thanksgiving weekend.

In return, you might assign Dad another holiday attached to a long weekend — for example, Labor Day.
Give Thanksgiving Day to one parent, Thanksgiving weekend to the other
To give both parents time during the holiday, you could let Dad keep the kids on Thanksgiving Day, and the kids could then celebrate a late Thanksgiving with Mom over the weekend.

You could also switch the order — perhaps every year or every other year — assigning Thanksgiving Day to Mom and Thanksgiving weekend to Dad.
Split Thanksgiving weekend
If you want the kids to see both parents for multiple days, split the holiday recess as evenly as possible. In this example, Mom gets Thursday and Friday, while Dad gets Saturday and Sunday.

Divide all the holidays within the year
Consider all the holidays within the year, and assign some to each parent. This allows both parents significant time with the children during holidays.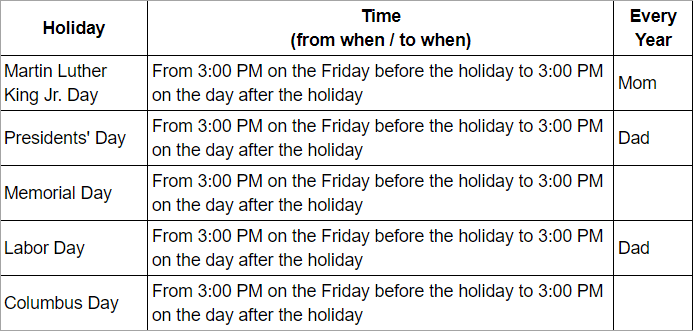 The easiest way to make a holiday visitation schedule
There's a lot to think about when you build a holiday schedule. You'll want it to address weekend and midweek holidays, reflect special occasions unique to your family (like birthdays) and work for years to come.
The Custody X Change app makes it easy. Just open your Custody X Change calendar and follow our steps to make a holiday schedule.
To make a custody schedule quickly and affordably, turn to Custody X Change. You'll get written and visual versions that meet your family's needs, as well as court standards.
Visualize your schedule. Get a written parenting plan. Calculate your parenting time.