Teenager Custody on Christmas Day
Because Christmas (December 25) is widely celebrated by both Christians and non-Christians, most families address it in their holiday custody schedule, even if they already have a special schedule for winter break.
Christmas Day custody can be particularly tricky when your child reaches their teenage years. Your traditions may not look the same as they once did, and your teen may have strong opinions regarding which parent they spend the day with.
To keep the custody arrangement fair and your teenager feeling heard, make sure to plan for the day well in advance.
Custody X Change is software that creates custody schedules, including for holidays.
Scheduling options
Take a look at the following schedules to get an idea of what could work for your family. Letting your teenager have a say as you consider options can help reduce conflict.
Give one parent the entire day
So your teen gets to spend time with both parents during the holidays, you could give one parent Christmas Eve and the other Christmas Day.

Alternate the holiday yearly
It's common for teenagers to spend a holiday with one parent in even-numbered years and with the other parent in odd-numbered years.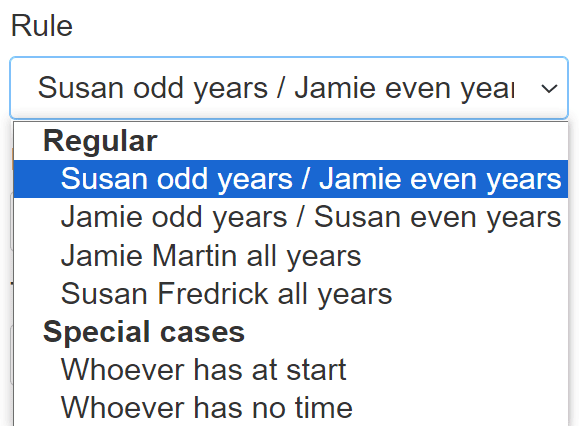 Unlike young children, teens have the maturity and foresight to understand that they will eventually get to celebrate with both parents.
Split Christmas Day
Your teen could stay with one parent from the morning until the afternoon, and with the other parent from the afternoon until the evening. A perk of this schedule is it allows the kids to get all their gifts on Christmas Day.

To determine who gets which part of the day, consider the religious services or other events that are part of each parent's holiday celebration.
Factor in the winter break schedule
Christmas is just one day in the weeks-long winter break. Think about Christmas Day as part of that bigger picture.
For example, your child could spend Christmas Eve and Christmas Day with one parent, and New Year's Eve and New Year's Day with the other parent.

The easiest way to make a holiday visitation schedule
There's a lot to think about when you build a holiday schedule. You'll want it to address weekend and midweek holidays, reflect special occasions unique to your family (like birthdays) and work for years to come.
The Custody X Change app makes it easy. Just open your Custody X Change calendar and follow our steps to make a holiday schedule.
To make a custody schedule quickly and affordably, turn to Custody X Change. You'll get written and visual versions that meet your family's needs, as well as court standards.
Custody X Change is software that creates custody schedules, including for holidays.