5 Important Questions to Ask Your Family Law Attorney
The idea of ending your marriage can be overwhelming. But, when you and your soon-to-be ex-spouse have children together, it makes the whole procedure that much more daunting and important.
While much of what the future will hold for your family rests on its past, making sure to hire the correct attorney is equally essential.
Visualize your schedule. Get a written parenting plan. Calculate your parenting time.
Real advice from practicing attorneys
When meeting with attorneys for your initial consultation, here are some questions you should consider asking so you learn more about their experience and what to expect moving forward.
What is your approach?
Not all attorneys focus on family law. Additionally, not all attorneys take the same approach to divorce, especially when children are involved.
Lisa. L. Stewart of the Vaught Law Firm, P.C. suggests getting right to the teeth of the matter and to start off straight away with a simple, "What is your approach to child custody cases?"
She elaborates, "Nothing is more important than your children. As board specialized family law attorneys, we have the experience to know how to advocate for a child's needs and how to prepare complex child custody orders. We approach child custody cases with compassion and zealous advocacy."
What are my options?
Another question to ask the attorneys you meet with that is related to the first one is what your options are. You should now know how the attorney or firm prefer to manage custody cases, but you should also find out if they're giving you the whole picture.
For example, Anita Savage of Goranson Bain, PLLC suggests asking, "How can you help me keep my family out of a courtroom?"
While this might be something you will want to ask every attorney you meet with, you may want to dig a little more into this specifically with any attorney that seems overly zealous about getting you into litigation.
Am I being reasonable?
Divorce is a time of extreme emotional strain. When children are involved it's that much more amplified.
When emotions run high it sometimes clouds judgment. What you may feel is extremely reasonable in regards to your assumptions of how much parenting time you will have compared to your ex-spouse, attorneys may not agree.
Kelsey Mulholland of the Ruvolo Law Group, LLC weighs in with, "I think the most important questions for a parent to ask a divorce attorney at the very beginning of a litigation is whether the attorney thinks that parent's idea for a custody/parenting time arrangement is fair or not. Most parties come to an attorney with an idea as to what the custody/parenting time arrangement should be. If the party can provide his/her attorney with that idea and explain why they think it is fair, the attorney can then provide feedback and let the party know the likelihood of that custody or parenting time schedule being put into place by a Court or by agreement."
Getting on the same page with the attorney you hire right from the start will only make the entire process that much smoother.
What exactly am I getting myself into?
After you have a basic grasp of how an attorney operates and whether or not you're starting off eye-to-eye as far as your expectations, getting a feel for the whole process from start to finish is a great idea.
Karen Grayson-Rodgers of The Salvo Law Firm, P.C. says, "It is important to ask about the procedure when custody is in dispute. Custody cases are heard on an expedited track and are the most important part of the divorce. Many think they will jump to trial but before a Court will allow a trial, the parties must first attend mandatory mediation, if unsuccessful, custody evaluations with a psychologist will follow. The next important question would then be, who to hire for the evaluations, should I retain my own expert or use a court appointed joint expert?"
By asking these questions, you also get to learn more about how your attorney plans to approach your case.
Can I afford this?
Attorney fees are not miniscule. Even well-prepared parents that handle much of the preparation on their own, like using child custody software to develop a parenting plan, can spend a small fortune on fees. Depending on the complexity of your case, as well as whether you reach a divorce settlement agreement, the financial burden of your divorce can escalate quickly.
However, it's important to remember that life post-divorce requires upkeep as well. Todd Spodek, the managing partner of the Spodek Law Group P.C. recommends keeping that in mind and asking, "What are the short-term and long-term financial effects of this proposed custody split?"
Knowing what you're looking at financially ahead of time can help you make any necessary adjustments so your post-divorce life gets a smooth start for both you and your children.
Staying organized
Finding the right attorney is only the beginning of your journey to child custody. You may need to create a parenting plan, draft multiple custody schedules, track your parenting time, calculate expenses and beyond.
The Custody X Change app enables you to do all that in one place.
With a parenting plan template, custody calendars, an expense tracker and more, Custody X Change makes sure you're prepared for whatever issues may arise during your case.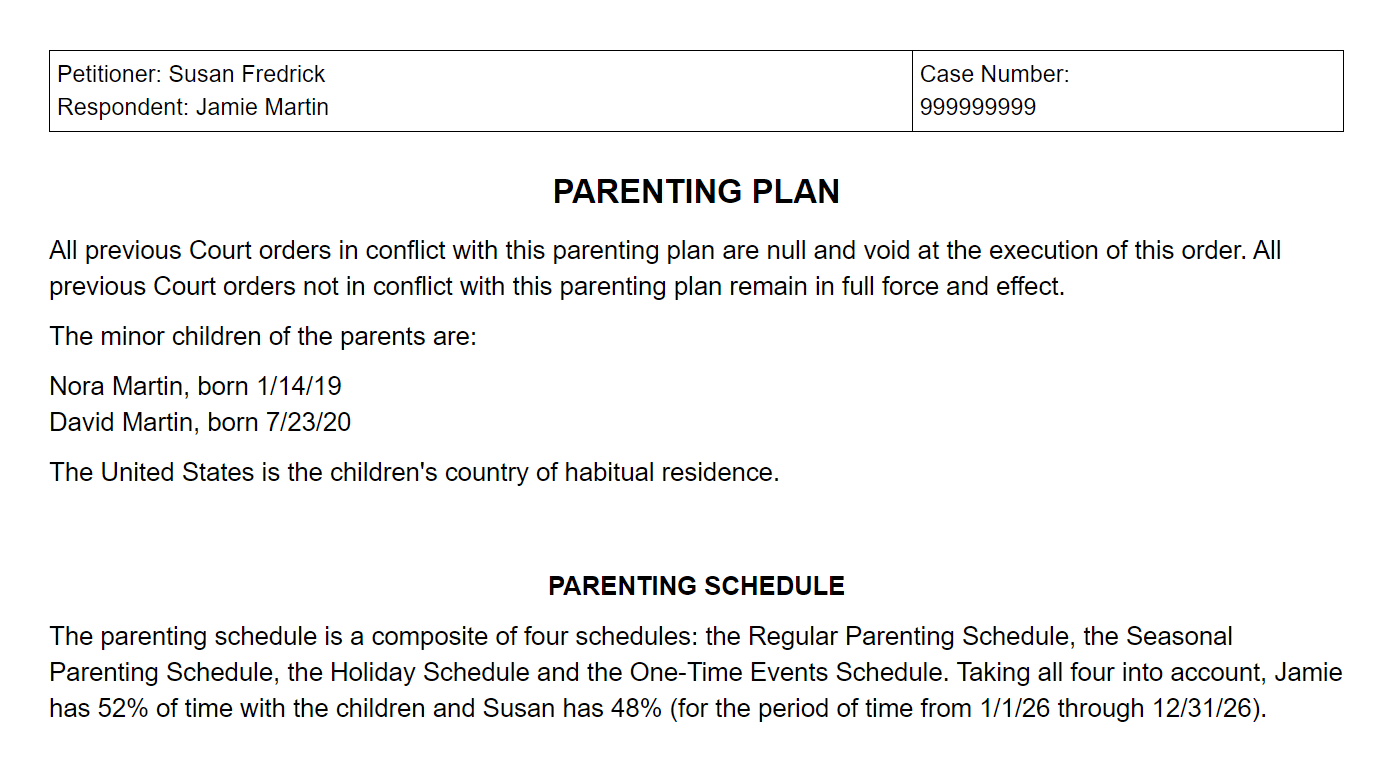 Take advantage of our technology to stay on top of all the moving parts of your case.
Visualize your schedule. Get a written parenting plan. Calculate your parenting time.