How to Use the Custody X Change App in NY Family Court
The Custody X Change online app allows New Yorkers to create their own parenting plans and visitation schedules with guidance, flexibility and independence.
It can help parents representing themselves, parents working with lawyers and parents settling custody through mediation or collaboration.
Custody X Change professional software is commonly used by lawyers and others working in family law, as well.
Below, find six ways to use the Custody X Change app in New York.

Visualize your schedule. Get a written parenting plan. Calculate your parenting time.
1. Presenting options to the other parent
When you put your ideal parenting situation on paper, it's easier to express what you want for your children. Share your preferred parenting plan and schedule with the other parent to help them understand your vision. It will also help them identify points where they agree with you.
You should bring your Custody X Change documents whenever you discuss custody with the other parent, whether it's in mediation, collaborative law, at a court conference or on your own.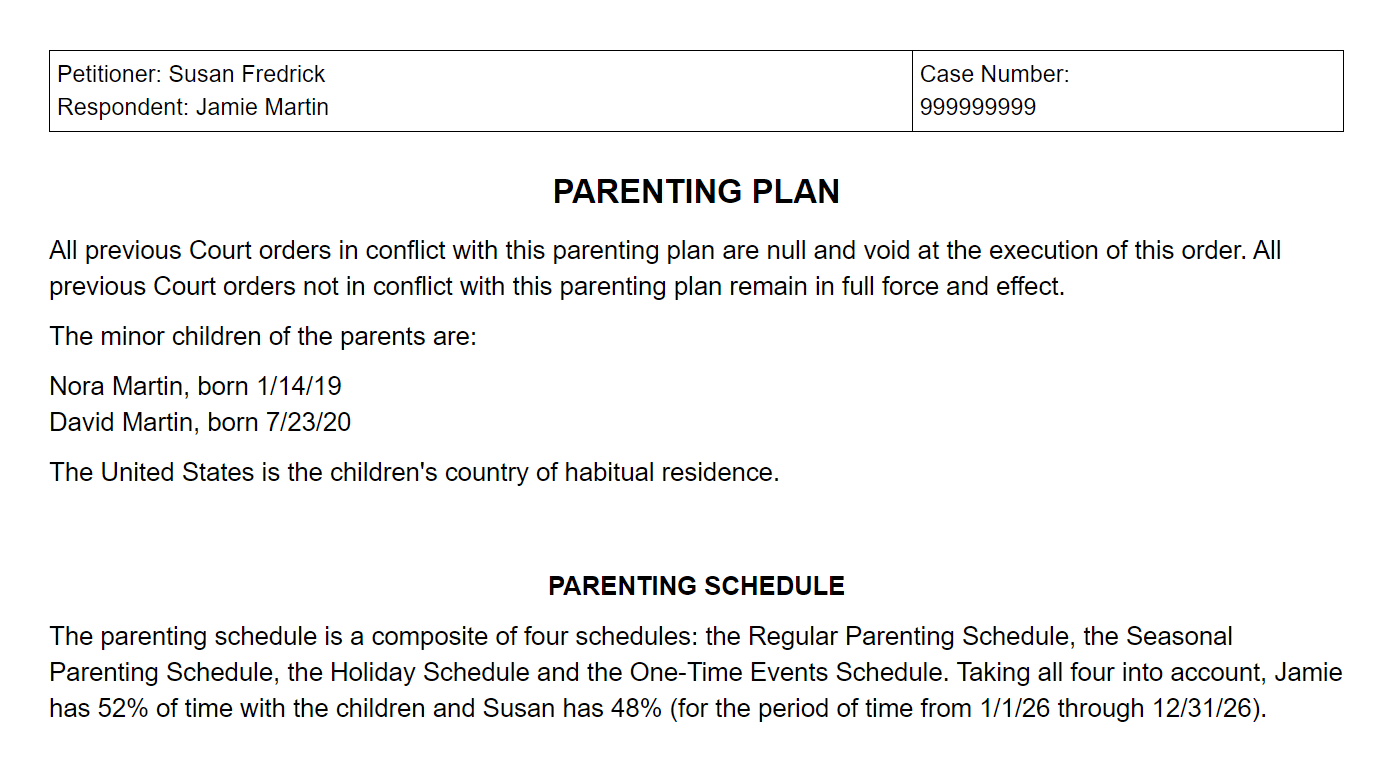 2. Presenting a proposal to the judge
The more information you provide the judge, the better they'll understand your family's situation. Help them by presenting your preferred Custody X Change parenting plan and calendar as evidence. The judge will take these into consideration when deciding the details of your final order.
3. Filing a settlement
You can file an agreement with the court to make it a final order. Submit your Custody X Change parenting plan as part of your settlement. It details the stipulations you agree to in a personalized yet court-compliant format.
4. Tracking your actual parenting time
Prior to receiving court orders, track your parenting time with Custody X Change to show the court who has been caring for your child hour by hour. Judges often rule in favor of the parent who has spent the most time with the children.
After the court gives orders, use the app to compare the time you were awarded with the time you really receive. Mark your calendar when a parent is late or cancels a visit, then instantly print or export a report calculating the effect on custody time. Data is crucial when you ask to modify an order and when a judge considers how temporary orders are working.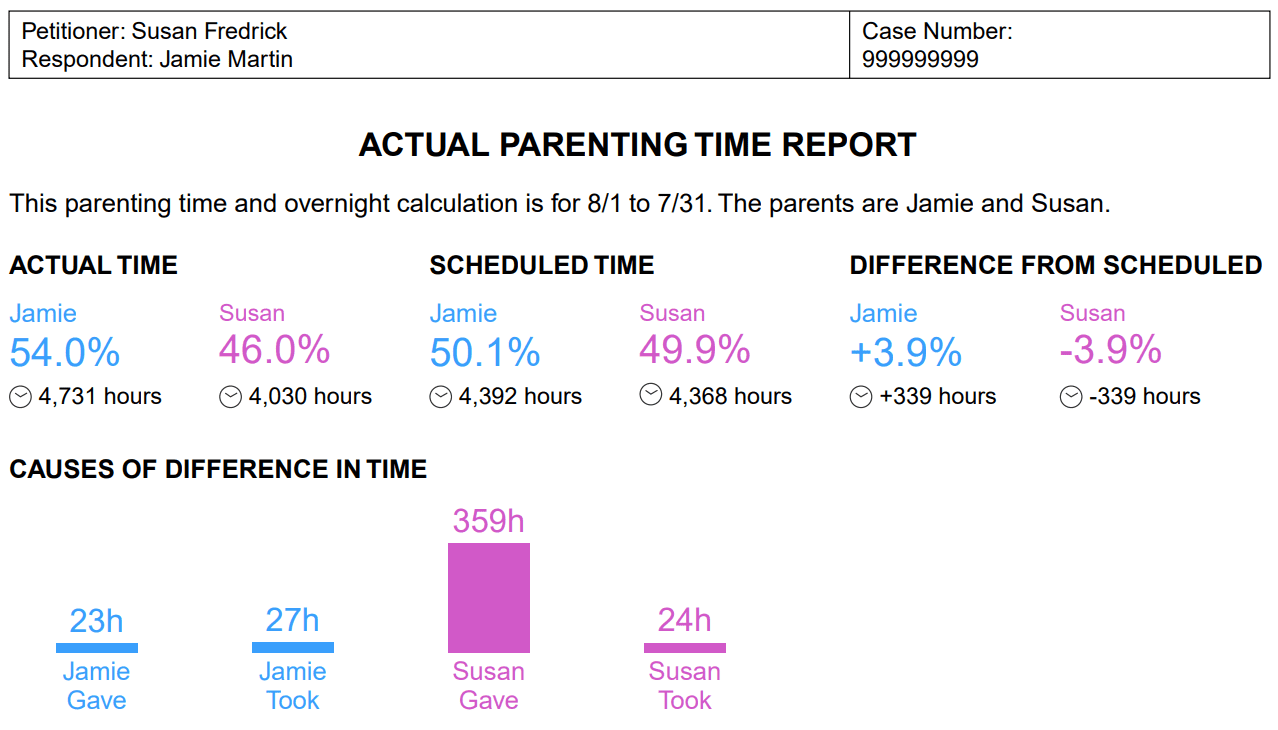 5. Journaling evidence
Keeping a digital journal can help your case in court or in alternative dispute resolution.
The entries should highlight your care-taking abilities. Details like taking your child to doctor's appointments or celebrating their achievements help demonstrate how you positively impact your child.
The journal can be also used to log problems with the other parent. Writing issues down every time they happen lends you credibility.
Use Custody X Change to keep a journal you can present to support your custody requests.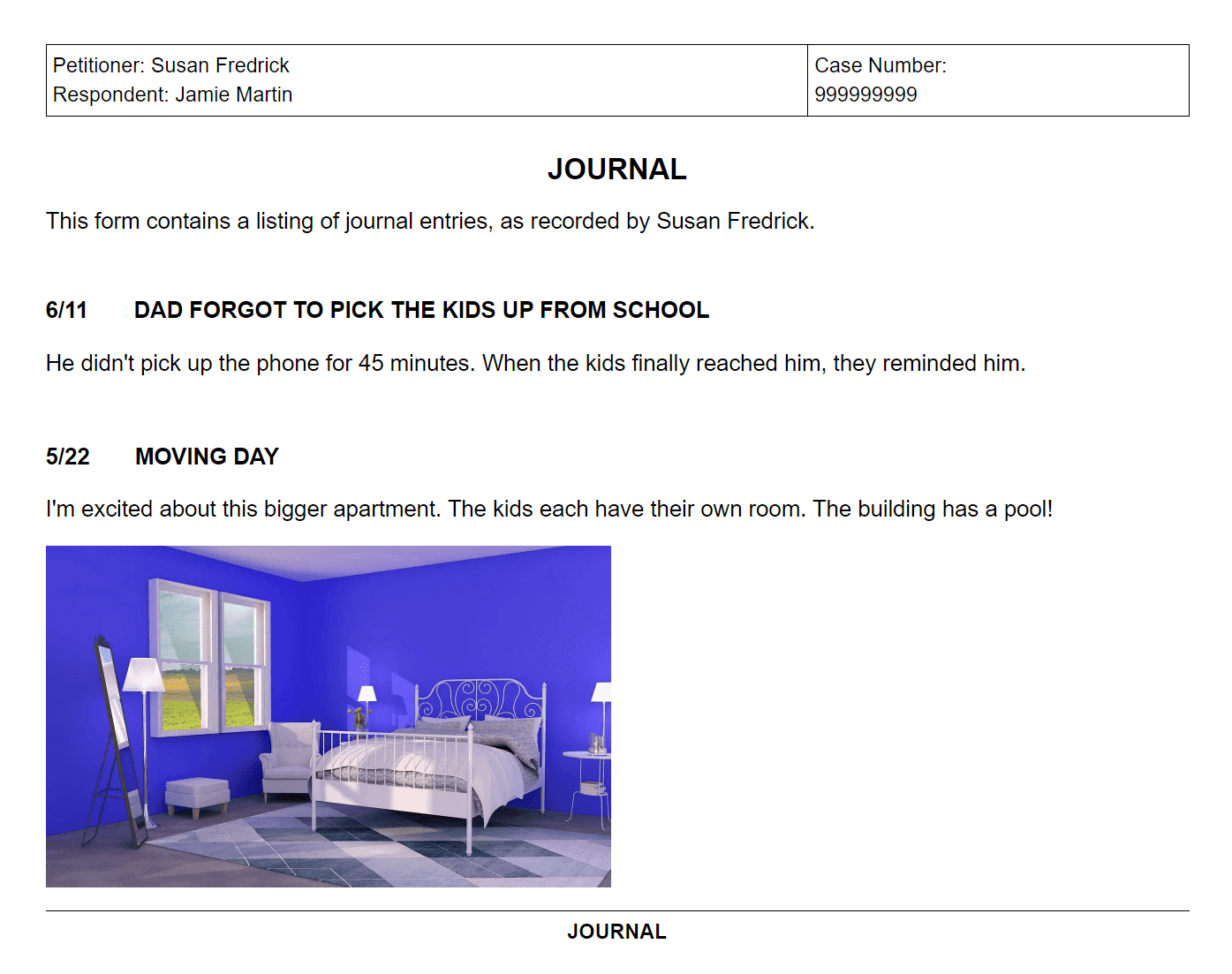 6. Implementing court orders
Once the court issues orders, follow them to the letter. If you don't, you can be brought back to court and even charged with a crime.
Orders for physical custody and visitation can be particularly difficult to decipher. When exactly does "week 2" begin this month? How long is a dinner visit?
Use Custody X Change to transform your order into a shareable calendar with optional push notifications so you'll never have to wonder whether you're following the order correctly.

Visualize your schedule. Get a written parenting plan. Calculate your parenting time.